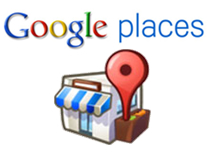 Google is the world's most used search engine and holds a 93.47% market share in Australia alone.

So if you own a business, you'll want to be embracing Google Places, which now also goes under the name Google+ Local. In this blog I will provide you with a quick summary of what Google Places is and why it is a beneficial move to have one set up for your business.
What is Google Places?
Any time you've done a search on Google and found a result which is accompanied with a map listing of the business, you've seen exactly what Google Places is. Places allows businesses to display the exact location of their business on a map and include additional details such as opening times, contact and website information, payment options, customer reviews and even special offers/coupon deals.
Why is Google Places important for businesses?
In a word, it's free. But not only is it free, but Google Places results are akin to a form of free advertising. Ever since its integration into Google+ Local, Google Places has offered businesses even greater opportunities to make their search results more substantial, whether through Google, Google+ or Google Maps.
As a business, you can use Google Places to show the most important information straight away, such as the aforementioned contact details, opening times, etc. Along with that, though, you also have the opportunity to show images of your place of business, your employees, customers and more.
So just like Facebook allows you to create a Business Page, Google Places allows you to create a fleshed out business listing full of valuable information. Unlike Facebook, though, you can advertise offers on Google Places for free. So if you mention a deal or coupon special happening in your business listing, you can do so at no cost to you.
Finally, if you're a local business, Google Places will truly benefit you. Say someone searches for "restaurants" on Google Maps on their phone and they have location services turned on, Maps will list nearby restaurants relative to their current location. So if you run a restaurant in their vicinity, you could pop up. The more information you have about your business in the results, the more likely it is that person will check you out.
How to optimise your Google Places listing
First of all, setting up you business listing on Google Places is simple. All you have to do is visit the Google Places page and sign up or sign in with an account you would like to tie your listing to. From there you'll be taken through a step-by-step process that includes business name, your location, service details and more.
Take your time and make sure you include all the information you believe will attract prospects and leads. At the very least, ensure you cover the following:
You have a well written and engaging description for your business that also is categorised correctly - you want people to find you from the right categories as well
Include your phone number, address, and any other contact information you deem important
Have your business's logo or an image that represents your business well
If you want to, have your coupon or special offer ready to advertise - remember, it's free
It's also extremely important to ensure you get the location of your business as exact as possible. That way when people follow the directions to your business, they won't get lost because you left the marker in the wrong place. Having an accurately listed location also helps make your business more discoverable to people searching for your business via location services.
The last factor worth mentioning is you need to embrace SEO on your website. When you tie a Google Place to your website it means the more discoverable your site is, the more discoverable your Google Places listing will be as well. Particularly on desktop Google searches, if your business is ranked number 1, your Google Places information has a greater chance of being displayed along with it.
What do you think of Google Places? Has it brought your business valuable business? Share your thoughts with us in the comments below.