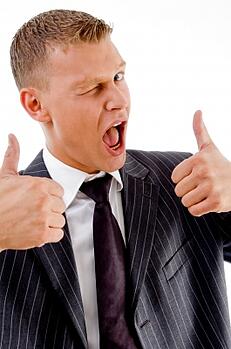 Inbound marketing is a fantastic avenue that all businesses should take advantage of, whether as a stand alone method or in conjunction with other marketing approaches.

Yes, you may not react to the positive results inbound marketing can earn you like the guy in the photo to right, but you'll certainly be happy. In this blog, I have listed some of the key advantages that inbound marketing can present for those willing to give it a try.
It's cost effective
Because all inbound marketing efforts are carried out online, it means you can achieve quite a lot of them at a notably cheaper price than traditional marketing approaches. For example, your website could be entirely developed without any real cost via a freeware/open source CMS such as WordPress. Social media is another inbound marketing avenue that can be free of charge initially.
Of course, eventually you will have to invest money into such projects like this - whether it's because you want to use a paid CMS or you want to hand off the numerous inbound marketing projects to your staff or outsource it to a marketing agency. Regardless, you'll find that these operation costs will still be more cost effective than the prices associated with traditional marketing.
It captures quality leads
One of the problems that can exist with traditional marketing methods such as TV and radio advertisements is that a business/brand can be throwing its message out to an uknown audience. Besides basic summaries of potential age and gender demographics, traditional marketing can be a bit of a shot in the dark to an audience that may not care about what you have on offer.
With inbound marketing, you can gauge not just your audience's age and gender, but their interests, relationship status, education, etc. On social networks such as Facebook, you can target your ads based on these very types of parameters. Even when people sign up to your email list or download an offer, you can ask them to provide information such as their occupation and challenges they're facing related to what you specialise in, so you know how to craft your emails/lead nurturing content.
Along with that, you can tailor your content - such as your blog and social media posts - to draw in that ideal target audience.
Inspires engagement
Another advantage that inbound marketing presents is that allows for greater engagement over traditional marketing. For example, a radio plays, people listen and then maybe they follow through on your ad and visit your store or call you - but beyond that there's no sense of engagement between you and your audience.
Online, you can utilise social media to build a rapport and relationship with your audience. By doing so, you go beyond the simple company-customer relationship, and can take on a personable persona. The more human your business is and the more your audience can relate to you, the better.
Keeps your business front-of-mind
With an online presence, you can utilise it to keep your business front-of-mind for longer among your audience, regardless of whether they're prospects, leads or current customers. Social interaction is a great way to achieve this, be it via social media platforms or lead nurturing efforts.
Email marketing also allows you to maintain correspondence with your subscribers so that they have a consistent reminder of what's going on with your business. Even if they don't open each email, seeing your message in their inbox will remind them of your business.
Margin Media is an inbound marketing company based in Brisbane. We offer a range of digital marketing solutions to help your business increase its website traffic, qualified leads and customer base. To find out more about our services, give us a call on 1300 798 848 or visit our contact page.
* Image source: imagerymajestic / FreeDigitalPhotos.net