If you have a brand page on Facebook, you may have noticed a recent addition that has popped up towards the top of your page.

The classic 5-star rating is now making an appearance on a wide range of brand pages on the social network, part of a progressive test and, most likely, global rollout for the feature. I have provided an example image below of a local Fortitude Valley business.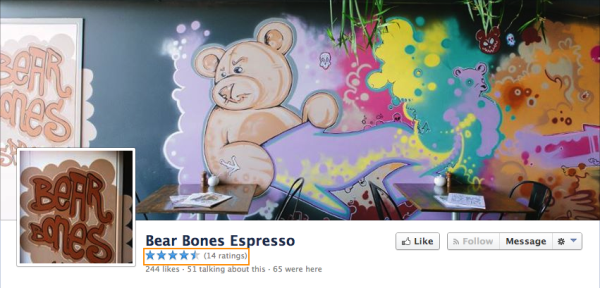 Do Facebook ratings apply to all brand pages?
There are two factors to take into consideration in answering this question. On a general basis, however, the ratings feature does not apply to all brand pages. The first factor is that for your brand page to be eligible for this feature, you need to have a physical address listed on your brand page.
So if your page only says "Brisbane, Australia" or something to that effect, then your brand cannot be rated by Facebook users. But if you have a complete physical address that has also been verified by Facebook (so including street name and property number), then your brand can be rated and the overall score displayed at the top of your timeline.
The second factor is that it's not 100% clear as to whether this feature has seen a full rollout or is still being temporarily tested. That said, however, I've noticed almost all Australian businesses with a physical address that I've checked out on Facebook appear to have ratings at the top of their timeline. So regardless of whether it's still being tested or has fully rolled out, it appears as though this feature is being widely implemented and will likely stay.
And as far as choice goes, it doesn't look like you can opt out of this feature, meaning that a rating will be placed at the top of your brand page whether you are a fan of it or not.
The good and bad of this feature
The introduction of this feature in many ways turns Facebook into a type of alternate choice to the likes of Yelp and Urbanspoon. That, in turn, means that if your brand is a well-regarded business among Facebook users, then that high rating is going to be an absolute asset to your marketing presence on the social network. Because when you make a search such as "Restaurants in Brisbane, Queensland, Australia", Facebook tends to surface the most highly rated restaurants to the top (and, of course, the restaurants your friends have visited/liked). So the better your business's rating, the better it is for you.
The flipside is if your business hasn't been receiving such crash hot reviews. If you rating is dropping into the 2-and-a-half-stars or lower category, then your business won't be surfaced by Facebook as much in Graph Search results. Worse than that, the rating is placed at the top of your timeline for all the world to see. As a feature, it offers users greater insight into the value of a brand/business. But while it simplifies things for users, it could also hurt your business.
All things considered, however, the introduction of a visible rating system on Facebook is no different than the way in which people have been able to rate your business via Google+, Yelp or Urbanspoon. And ultimately, provided your business does a good enough job, then it's likely your rating will be of an admirable level anyway. If anything, the introduction of ratings on Facebook brand pages solidifies the fact that good customer service and business practices is what matters above anything else.
Margin Media is an inbound marketing company based in Brisbane. We offer a range of digital marketing solutions to help your business increase its website traffic, qualified leads and customer base. To find out more about our services, give us a call on 1300 798 848 or visit our contact page.