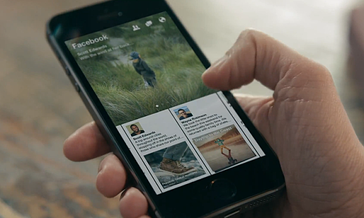 The rumours had been mounting that Facebook would be set to unveil an app to rival the likes of Flipboard, and on Thursday (US time) the company did just that.

Known as Facebook Paper, the mobile app is designed to offer an experience similar to that of news reader app Flipboard, but with a few of its own unique touches. In a way, however, it's these unique touches that could redefine the way people use Facebook in a mobile environment.
The basics of Facebook Paper
First and foremost, Facebook Paper is designed to be a mix of your news feed stories and stories based off topics you have an expressed interest in. Along with being able to check out your Facebook friends' updates and photos, you will also be able to choose different 'sections', which are basically categories that will help surface different news stories on the app à la Flipboard.
These sections include the likes of tech, sports, pop culture, and so on. Once you select the sections you're interested in, they are added to the app along with your account's news feed. So, on a fundamental level, Paper bears several similarities to Flipboard.
What makes Facebook Paper unique
Just yesterday, I wrote an article discussing the fact that Facebook needs to take greater measures in offering users unique experiences to remain relevant. While Paper may not be a 100% unique product, it will prove to be the biggest change the social network has ever offered in how the news feed is designed.
You apparently don't need a Facebook account to use Paper, but if you want to access your news feed on the app, you simply sign in and link it with your account. But unlike any of Facebook's current apps and news feed designs, Facebook Paper is drastically different, both visually and functionally.
First of all, the classic Facebook blue is completely absent from Facebook Paper. The look is a cleaner, tiled design. News feed stories are presented in a larger typeface with photos taking up the entirety of the screen. If there's a photo such a panoramic shot, the app will allow you to pan across the image by tilting your phone right or left. The app itself allows you to perform typical functions such as liking and commenting on status updates / photos.
Last but not least, you'll also still be able to make your own status updates. And with Facebook Paper, you're provided with a WYSIWYG editor that offers a true preview of how your status update will look on Facebook Paper once submitted. Updates done through Paper will also go through on classic Facebook.
With a design that is so much neater and fitted for mobile devices, Facebook Paper could end up being a preferred alternative for many over the current Facebook app. However, Paper still won't offer the same level of functionality. It is chiefly a better news feed. That said, a superior news feed is a big thing. You can get an idea of the improved news feed in the reveal video below.
For now, Facebook Paper will only be available to US iPhone owners starting February 3. No dates have been provided regarding and Android version, nor when the app will receive a release outside of the US. Hopefully word will be offered regarding this soon.
What do you think of Facebook Paper? Will you use it when it's released in Australia? Let us know in the comments below.
Margin Media is an inbound marketing company based in Brisbane. We offer a range of digital marketing solutions to help your business increase its website traffic, qualified leads and customer base. To find out more about our services, give us a call on 1300 798 848 or visit our contact page.