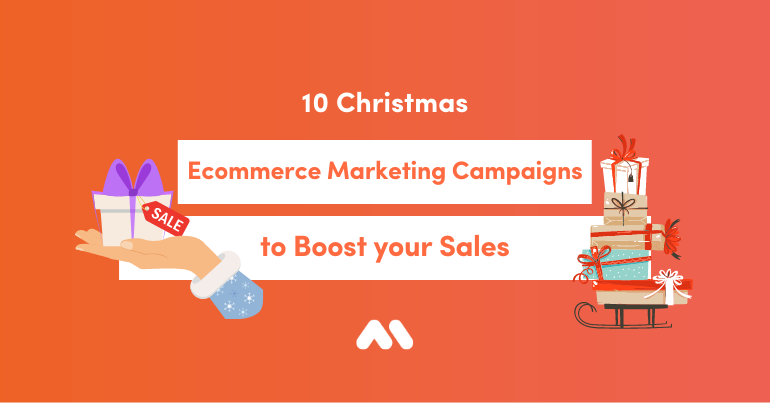 The most wonderful time of year is fast approaching, and that means now is the perfect time to start preparing your ecommerce marketing campaigns.
Following on from Black Friday and Cyber Monday, the Christmas period is the chance to drive some serious sales. If you want to make the most of the holiday season to boost sales for your ecommerce business, then you need a well-executed and creative campaign.
To cut through the festive noise, your campaign needs to evoke emotion and encourage social sharing. Create a unique shopping experience in your ecommerce store that surprises and delights customers.
Here's some ideas to jazz up your Christmas ecommerce marketing campaigns:
Decorate your store: Decorating your ecommerce store with a dedicated Christmas-themed

landing page

is a great way to get customers into the holiday mood. Create a page that is on-brand, visually appealing, and guides customers through the shopping process with ease. Make sure to include stunning product imagery, user-generated content, social proof, important delivery information and clear call-to-actions.


Run a 12 Days of Christmas campaign: Create a fun, twelve-day promotion that keeps your brand top of mind. Through offering twelve-days of deals, you can create a sense of anticipation, build excitement, and also build traffic. For example, you could reveal new sale items each day to give your customers a reason to return to your store everyday. This is also a great way to get people talking about your brand on socials.


Source
Use a branded Christmas hashtag: To make your brand stand out on social media during the highly competitive holiday season, consider using a branded Christmas hashtag. Through this, you can grow brand awareness, build engagement, promote your sales, and track any mentions of your brand. Make sure your hashtag is unique and not just #merrychristmas, or it will get lost in the crowd. Also make sure to consistently use it on every social post you create.


Create gift guides: Inspire your customers to purchase your products through creating appealing gift guides. This is a simple way to drive organic traffic to sales. At Christmas, lots of people are looking for ideas on what to buy that tricky relative, and so search for 'gift ideas for teenage boys'. You could publish your guide on your blog or create collections within your Shopify store.


Source


Host a pop-up shop: For ecommerce, Christmas can be a great time to create a pop-up shop in your local area. This gives you offline exposure and builds a physical brand presence. This is a fresh way to connect with existing and new customers and create a buzz about your brand. Plus, the short-term nature of a pop-up shop helps build a sense of urgency and FOMO, encouraging visitors to make a purchase.


Create Christmas email campaigns: Email marketing drives

20%

of all holiday sales, so can't be ignored. Through emails, you can both engage with current customers and reach new ones. Build a relationship through sending welcome emails, Christmas promotions, cart abandonment emails, product recommendations, and loyalty programs. Engage with your customers through creating a sense of urgency, capturing attention and generating sales.


Create interactive content: Encourage your customers to actively get involved with your brand through interactive content on socials. This creates a sense of community, builds customer loyalty, and can double your rate of

conversions

. For example, you could create quizzes, polls, competitions, games, secret santas, live events or interactive videos. Make sure that it's all got a consistent festive theme.


Source



Offer free stocking fillers: Give a free gift with every purchase to drive sales and create an enjoyable shopping experience. A free gift is a way to surprise and delight the customer. It also gives them extra value, enticing them to complete their purchase. For example, you could give away Christmas themed socks, mugs, or chocolates. Just take a look at your finances and ensure that giveaways won't cost your business too much.


Leverage SMS marketing: Reach out to your customers through SMS marketing to promote your Christmas sales and create a buzz. Since SMS marketing has an open rate of

98%

, it's well worth including in your Christmas campaigns. For example, you can thank loyal customers, send special discount codes, run festive competitions, and share your latest deals. Make sure to include a clear call to action.

Source


Donate to a charity: Christmas is a great time to donate some of your profits to a charity. This helps to establish

social proof

and build your brand's reputation, and so encourages customers to spend more money. Through donating to a worthy environmental, social or humanitarian cause, you can promote your brand as one that is socially conscious and responsible. Plus, this helps to reduce your customer's feelings of guilt or buyer's remorse if they spend more than they should.
Is your ecommerce business ready for Christmas?
Now that you've got some ideas, it's time to start putting your Christmas ecommerce campaign together. Christmas is just around the corner, so here's some tips to set up your ecommerce store for success:
Prepare your Content:
Create a content calendar to get organised
Plan out copy and visuals for social posts, emails, SMS and blogs
Create specific landing pages for your sales
Prepare your Shop:
Prepare your website technically: ensure your website is updated, runs smoothly, and will be able to cope with increased traffic
Ensure your Shopify shop is ready to go and that checkout process is simple
Prepare delivery: check your stock levels and prepare shipping and delivery systems to cope with the increase volume of sales
Follow our tips to create a cracking campaign for Christmas that boosts sales and generates new customers for your ecommerce business.
Looking for more advice on how to recharge your marketing efforts for your ecommerce business? Talk to Margin.