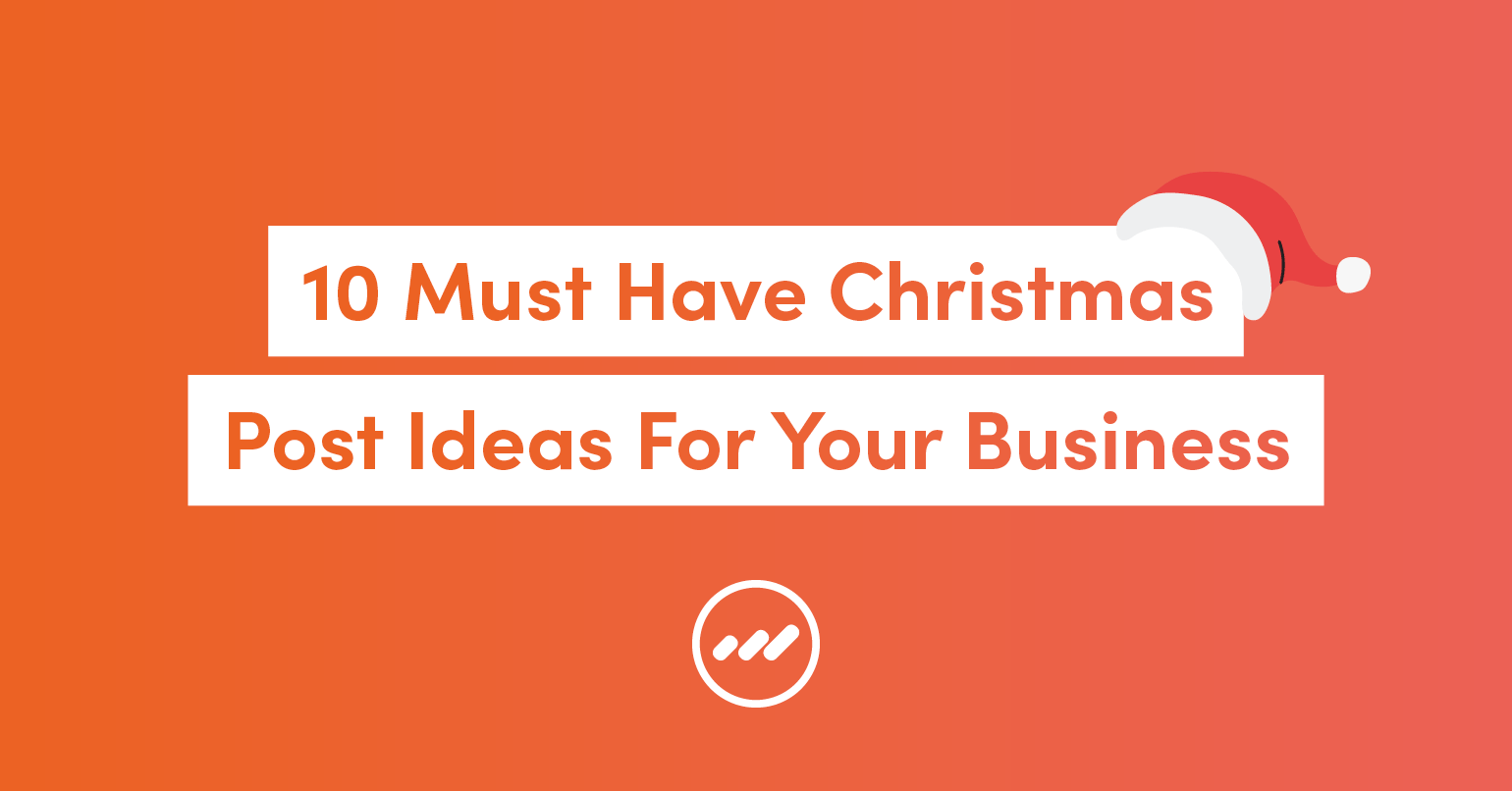 The holiday festivities have begun once again…
The Christmas tree goes up, our favourite holiday tunes start playing, and the presents are flowing.
It's also a time where social media posts in the lead up to Christmas are exponential, and it's a great time for business owner's to boost excitement in audience engagement.
Whilst we understand that the Christmas period is one of the busiest all year round, a little jazzing up of the social media platforms to get into the spirit won't take too much time off your hands.
Here's why we have created 10 Must Have Christmas Post Ideas For Your Business, this silly season!
1. Add Christmas Icons To Your Socials
Nothing says Christmas spirit better than a good old Santa sticker. You don't have to be good at design to add a Santa sticker onto your Facebook or Instagram profiles. By adding a little flare to your logo images, you're bound to grab your audience's attention and get them excited about the silly season.
2. Delicious Christmas Recipe Classics
Even if your business isn't focused on food, it's still interesting and exciting to add something new to your socials! Your audience is bound to follow food posts and use some of the recipes you share. It's also another way to attract reach to your business and of course spread the Christmas cheer with some classic Christmas dishes we all know and love. Check out the 18 Christmas Party Food Recipes ideas that are easy to ho-ho-hold.
3. Holiday Themed Videos Promoting Your Business
What better way to promote your business than by adding some Christmas flare? - Instead of posting the usual video relevant to your business's products or services, you could include some Kris Kringles, or even add a simple edit that shows your enthusiasm for the holidays.
4. Create a Christmas Offer For Your Customers
Offering your loyal customers a special promotion or gift for their support can be as simple as sending out a link on your Facebook page that directs them to receive a 10% voucher to get their favourite Christmas vino for less, or anything else you can think of that customers will love around this time of year.
5. Give Back
Christmas is that time of year that we enjoy with our loved ones, but it's also a time to give back to those in need. It's important to let people know that giving back during Christmas is not only a part of your work culture, but it aids in bringing us all together. Ultimately, you can do something as simple as starting a hashtag to spread awareness, or if you want to donate, start a go fund me page, of course with your business kickstarting the donations.
6. Interactive Content
Creating a few interactive games or quizzes for your followers on social media is a great way to enhance engagement and see how well customers know your business. It's also a great way to get around the Christmas spirit and include some fun Christmas prizes for the followers who answer the most questions correctly! Who doesn't love a prize?
7. Show The Behind The Scenes Of Your Business
Get your work mates together and create an epic video to post to your Instagram or Facebook pages that show your audience how fun your team is. Dress up in your favourite Christmas outfits, put up your favourite decorations, and show your followers that your work environment is as fun and loving as you make it out to be! Loyal customers and followers love supporting businesses that know how to enjoy themselves in a work environment too
8. Christmas GIF's
We all know how fun GIF's are to play around with, right? - Well, what better way to attract the attention of your followers? When making a post via any social account, you could include a cute Gif that spreads holiday cheer! Or you could even create your own! They're easy to consume and fun to share, especially around Christmas time.
9. Christmas Countdown
Think of this count down like an advent calendar - except without the chocolate. You could design a Christmas countdown starting on the first of December until the 25th. Whether you post each day between the 1st and 25th of December on Facebook, Twitter or Instagram, you can keep your followers excited for the lead up to the big day! This is just a fun way to engage your audience in the Christmas festivities and have them excited for that early morning wake up to opening presents under the Christmas tree with their loved ones.
10. Post Instagram Stories
Upload stories of your team in the office, doing work, or getting into the Christmas spirit. Not only is this a great way to engage with your followers, but it's a great way to bring your employees together. You could even put up a poll on your stories asking your followers a variety of questions and answering them in the following story. Not only is this another way to interact with your followers, but it keeps their engagement levels high when entering into the new year!
Christmas is that perfect time of year to interact with your followers on a personal level, and it gives your business the opportunity to show your loyal customers just how much you appreciate them. These 10 Must Have Christmas Post Ideas are bound to amp up your social media engagement this Christmas.