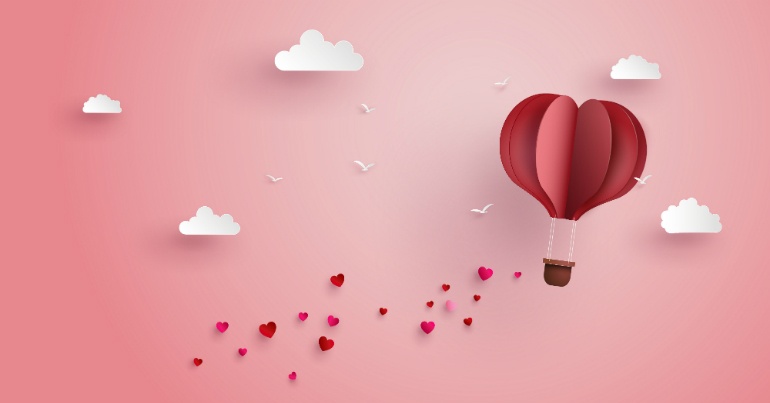 Valentine's Day - no matter if you're a romantic or a cynic, it's the time of year when brands and marketers try their very best to tug at our heartstrings.
And it's no wonder they pull out all the stops, in the U.S. alone, consumers spent over $18 billion dollars on Valentine's Day this year. Love means big business.
2017 saw some innovative, touching, and downright hilarious ad campaigns from the likes of supermarkets, cosmetic giants, and airlines. Rather than the cliche chocolate and roses, brands went a bit deeper this year with their love-themed campaigns, celebrating inclusivity and love in all it's forms and expressions.
Here's 10 of the best Valentine's Day ads and campaigns from this year:

1) Woolworths
User-generated content is always an effective tactic to portray sincerity and build trust with customers. Supermarket giant Woolworths used their own unsuspecting customers to spread the message of love.
You can't help but crack a smile during this ad, as it celebrates every kind of love, between friends, families, and partners.



2) Coles
Coles went for a simple but effective approach to their Valentine's marketing, encouraging engagement from their social media followers. They took to their Facebook business pages to ask followers to vote for their favourite type of bouquet: roses, strawberries, or bacon.
With over 55,000 votes and 1.9 million views, it's clear that sometimes simplicity is key. Coles went even further to engage with their customers and responded to a large number of the 5, 776 comments on the post.
3) ANZ
ANZ Bank moved away from the obvious product plug and instead looked at tolerance and inclusivity in their campaign. The simple but provoking act of holding hands was the focus of their #HoldTight campaign.
Not only does it appeal to and unite a broad audience, but it has a larger and further reaching impact than just on Valentine's Day.
4) L'oreal Paris
The cosmetic giant took advantage of Snapchat to spread the love and the lipstick. They created a branded filter that allowed users to try on different shades of lipstick and send kisses to their followers and loved ones.
The brand used selfies to promote their new range of Infallible lipstick and the power of self-love, while everyone else was looking outwards. Clever.



5) Fans of Love
Taking advantage of the popular tradition of the Jumbotron kiss cam at American NFL games, the Ad Council campaign for nonprofit movement Love Has No Labels looks at love of every kind. The campaign focuses on fighting bias, from gender, cultural, racial, disability, age, etc.



6) Omaze
This clever campaign is a good example of the power of influencer marketing. Omaze is a platform for charities to raise money, and they took full advantage of the day of love to raise money for charity W.E. Can Lead.
The campaign features English actor Idris Elba on the hunt for a date. Hilarious things happen when Idris asks kids for some dating advice. Watch the ad and try not to laugh. We dare you.



7) Galaxy
Mars' Galaxy chocolate created a dramatic ad campaign for the day of love, giving us 'Galaxy Chase'. Cupid chases a mystery woman all over the city, shooting arrows and narrowly missing her, until finally an arrow (and a bite of chocolate) bring her face to face with her love.
The ad is beautifully shot, dramatic, and elegant. A clever way to use cliches (Cupid and chocolates...yawn) but add something a little different to the mix.



8) Burger King
Burger King Israel got a little naughty with their campaign, launching an exclusive 'Adults Meal' only available on February 14th.
A tongue-in-cheek take on the ever-popular kids Happy Meal, this product featured adult toys instead of the usual kids toys and got tongues wagging all over the world.



9) Snickers
It's one of the biggest days for chocolate sales, and Mars-owned Snickers put a twist on their ongoing campaign that "you're not yourself when you're hungry". They created a billboard campaign around London to help forgetful people pick up a Valentine's Day card. Each of the 15 billboards had 300 replaceable cards that could be peeled off and given to a loved one.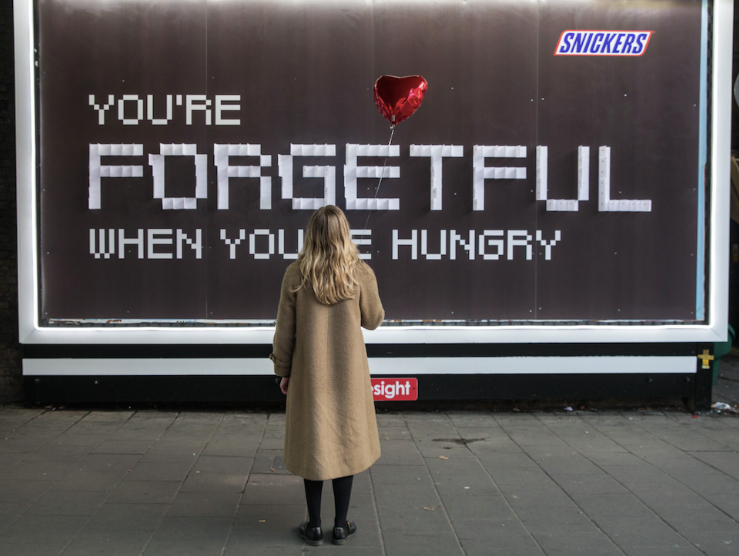 10) Air NZ
Air New Zealand have nailed their advertising and marketing recently, and this ad was no exception. The ad asks travellers if they will be #goingthedistance for their loved ones and encourages them to engage with the campaign, asking viewers to share who they will be missing on the day.


Who do you think nailed their Valentine's Day advertising? Let us know in the comments.