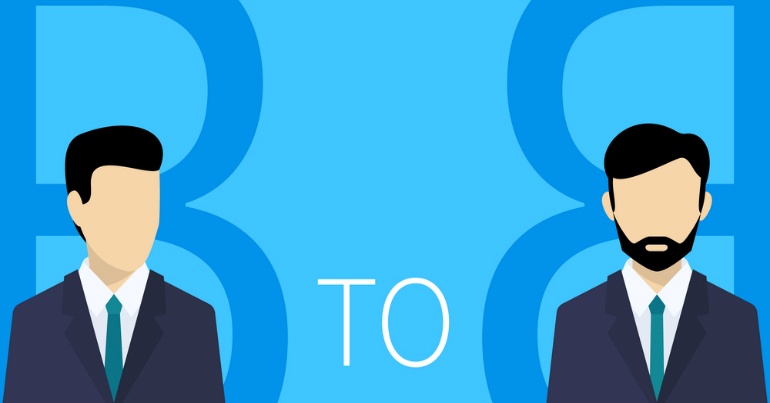 The world is turning to mobile and customers are more self-educated than ever before. For B2B companies, it can be difficult to know how to market themselves in the ever-changing tech world. Traditional forms of marketing are on their way out and more and more businesses are turning to inbound marketing.
But how can B2B companies use inbound marketing to generate leads?
Here's 10 powerful tactics:
1. Know your customers
This should be your first step when honing your inbound strategy.
Just as Business to Consumer (B2C) companies have a target audience, Business to Business (B2B) companies also need to define who they want to target.
If you don't know who your customers are (or map out your ideal customer) you won't be able to understand their wants and needs and be able to offer them a product or service they will find invaluable.
Think about the kind of businesses you want to attract, the industry, size, location, budget, use of technology, industry problems they may face, and the kinds of people behind the company that you want as customers.
By knowing who to target you will be able to customise your inbound marketing strategy and increase the chance of generating real leads.
2. Invest in your blog
Blogging is just for food and fashion right?
It's that's way of thinking that could be costing your business countless potential leads and customers.
Blogging is an integral part of inbound and every business should use it in their marketing strategy. The benefits of content marketing for B2B businesses include improving website SEO, discoverability, traffic, leads, and ultimately, customers.
By providing valuable content, particularly in-depth and helpful content, customers will be more likely to find you and find value in your business.
It's also been proven that Google favours long-form content and content-rich websites, which will improve your chances to rank higher in search results.
Start by researching what your competitors are blogging about and what types of content get the most engagement. Then look at the topics being discussed in your industry and where information or helpful blogs are lacking. By going more in-depth or providing information that your competitors aren't, you have a better chance of attracting customers.
3. Utilise visual content
What humans see (as in images and videos) is processed 60,000 times faster than what we read. Visual content is a quicker and more powerful way of reaching potential customers and business to business companies should definitely tap into that.
It could be as simple as utilising visual content and sharing images on social media. Making sure images are included in your blogs is also a good way to keep readers engaged.
Some industries are easier than others to source relevant visual content for, but there's one image type that nearly every business can use. Infographics are a powerful and direct way of communicating a lot of information in a short amount of time, and they are infinitely shareable.
Video content is also one of the fastest growing avenues for advertisers, so it's an important visual component that businesses should consider using. Although it may not work for everyone, things like Facebook Live and YouTube can be very effective ways of reaching customers in a more convenient and memorable way.
4. Recycle and reformat
Reformatting content is a clever way of giving your hard work more longevity. Recycling existing content into a different format, like multimedia or infographic, breathes new life into it.
Duplicate copy negatively affects your website SEO, but if existing content is repurposed into a different format you will avoid this problem and double your amount content without having to spend time writing anything new.

Think about using a blog to make a podcast or short video, turning an eBook into a shorter blog post, or a numbered blog article into an infographic. There are many options to make your content work harder.
5. Curate content
There is endless content available online covering almost every topic under the sun. And while it's important to create your own valuable content, curating popular content that already exists is an efficient way of sharing industry knowledge and boosting your blog's search engine optimisation.
This will save you time and energy while keeping up with consistent blogging, but it will also add value to your content with outbound links to high-ranking pages. By linking to popular sources and pages, search engines like Google look more favourably on your website.
You could start by thinking about what resources you find helpful or have assisted your business and put together a numbered blog post, for example "The Best 5 Workplace Resources For Tourism Operators".
By sharing helpful resources with customers and leads, you are showing your business to be helpful and valuable as a knowledge leader in your industry.
6. Don't ignore social media
Your business might not be an obvious contender for social media marketing, but there are ways that every industry can use social platforms to grow their business.
Although platforms like Twitter and Snapchat might not be professional enough for your industry, social networks like LinkedIn are more business-friendly and have been proven to be powerful platform for generating leads.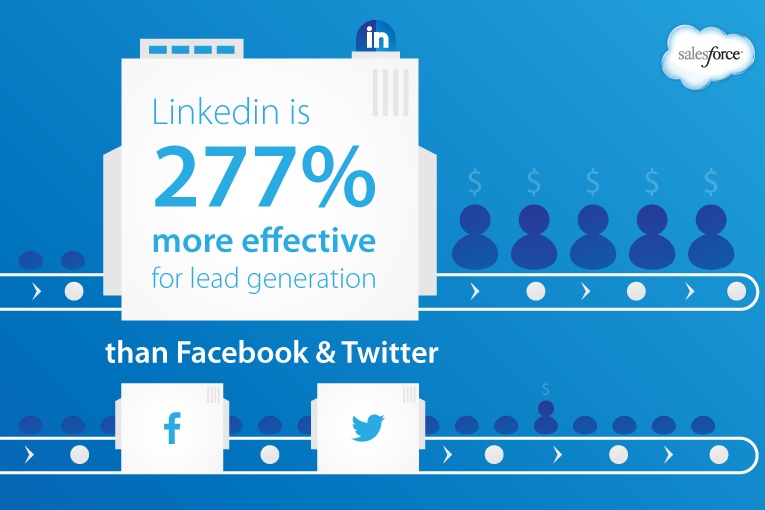 Do a little research and find the social media platform that's right for you and your business and use it to share valuable content and connect with your target customer.
7. Collaborate
Reaching out and connecting with industry experts is a great way to boost your authority. Building relationships with influencers not only improves your industry standing but also increases the potential of your business being shared with a broader audience.
Inviting an industry influencer to write a guest blog post, webinar or podcast will add to the quality of content on your website and increase brand awareness.
Spend some time researching experts or authorities in your industry, or think about influencers you turn towards when you need questions answered. Reach out to people in a professional and friendly manner and explain how both parties will benefit, not just your own business.
8. Optimise landing & thank-you pages
If you don't make the most of your landing and thank-you pages, then you are missing key steps in the inbound marketing methodology.
Landing pages should always include a call to action and direct people to engage with your company further, like providing their contact details. Doing this will help you convert visitors into leads. Make sure you highlight your worth to these visitors to increase the chances of them returning.
Once a lead has say, downloaded an eBook or subscribed to your newsletter, you should direct them to a thank-you page to help nurture that lead. Include an additional call-to-action such as a survey, promotion of other products, or showcase new content or resources.
Inviting people to engage with your business further gives them more chance and reason to become a customer, whether that's now or further down the line.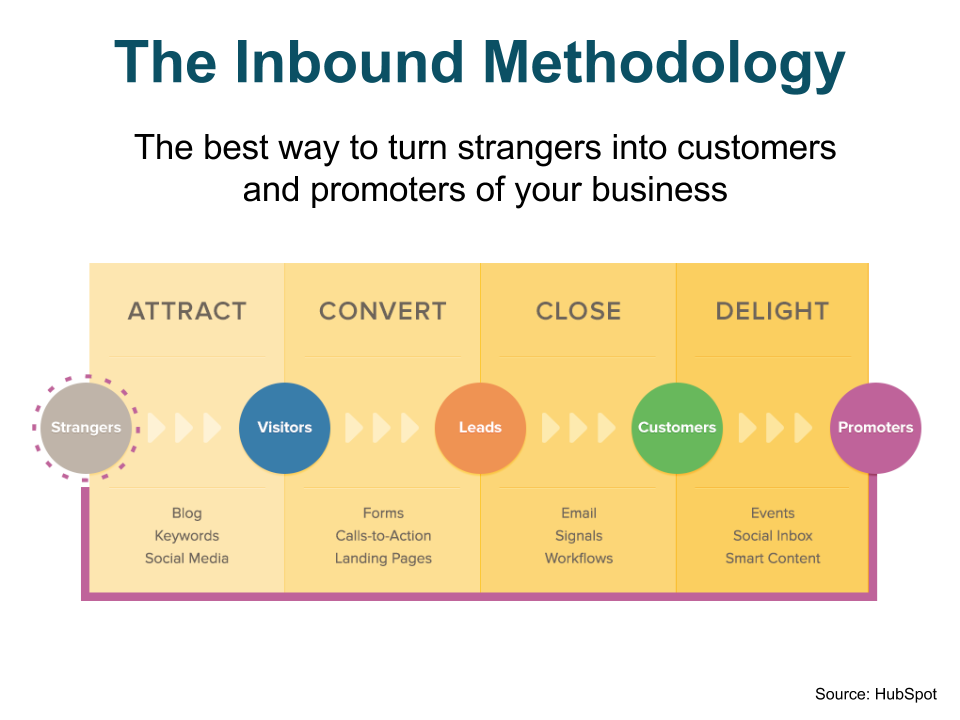 9. Improve speed and load time
A quick website is important for any business. If your site is slow or functionality isn't smooth, people won't want to hang around.
It's been proven that people wait no more than 3 seconds to abandon a retail or travel sight if it's too slow to load. Don't let that happen to you.
Time is money, particularly for B2B companies, so a fast and efficient desktop and mobile website is key to successfully marketing your business.
Take a look at how you can optimise the speed and load time of your website here.
10. Build website SEO
Website SEO is one of the most important parts of your website getting found online. If your site is not optimised, the chance of people finding you without searching your exact URL is minimal.
Take a look at these tips for improving your website's overall SEO.


So there we have it, 10 ways for business to business companies to make the most of inbound marketing. Is there anything we've missed that works well for you? Let us know in the comments below.