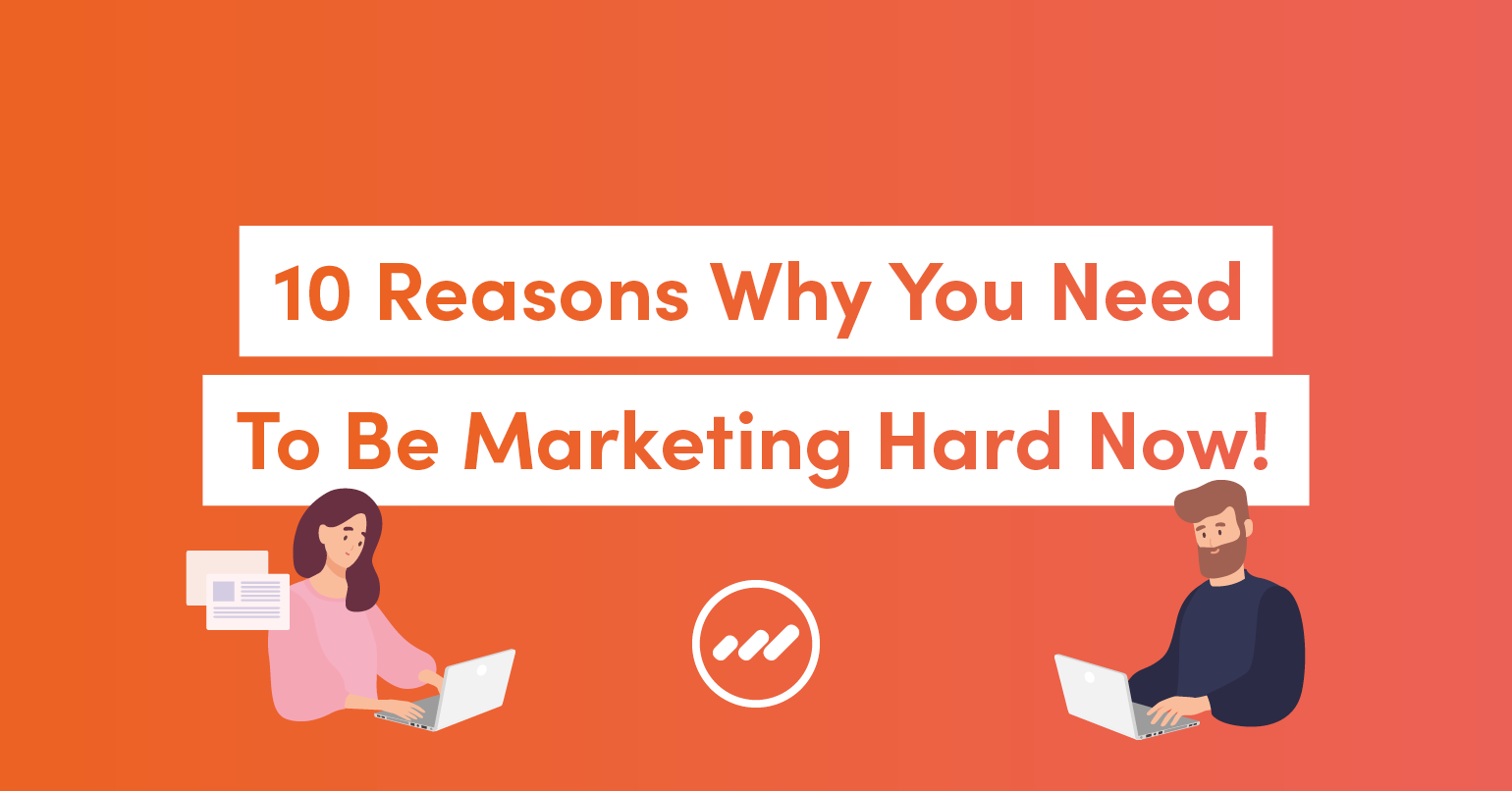 The COVID-19 pandemic has taken a hold of the world for the foreseeable future and businesses are being hit hard. Many are shutting down, going remote, cutting staff and reducing spend. Some may not recover. But if your business has a predictable system for attracting and engaging with customers, you have a sound footing to weather this storm.
There's no doubt that this is a pivotal time for businesses to review, think and act.
Keeping your footing in these uncertain times and even coming out the other end in a better position requires marketing effort now!
Why? I hear you say. No one needs my products, everything is cancelled, what's the use?
This article explains…
The 10 reasons why you need to be marketing hard right now!
1. Buyers are now spending more time than ever online, doing research, reading content, shopping, checking Facebook, Instagram, LinkedIn, etc. You simply have to be present online. If you aren't where your customers are, you will fall behind.
2. Today's marketing is tomorrow's sales. Even though new business will slow down for many businesses and there seems to be no use in marketing, by neglecting your marketing strategy now, you will seriously prolong the effects of the current situation.
3. Online doesn't just mean ad spend. There is a huge risk associated with relying on ads. With businesses and individuals being more risk averse and less likely to buy, investing money in ads could see a pretty significant immediate outlay for not much return. This is the time for more sustainable long-term approaches to lead generation. I.e. inbound marketing.
4. Brand will win in the long run. You need to create great content which is helpful and educational that builds trust with your audience. People will only buy from companies they know and trust - make sure your marketing takes that into account.
5. You have time now to build for the future. One opportunity that the current situation has presented is that you can now focus more time and attention to that thing you've been talking about and putting on the long finger for months (e.g. HubSpot/Inbound implementation). Put the work in now and build the foundation and infrastructure for a sustainable future. Also, all of your onboarding/training is held virtually online - you and your team can all login from home.
6. We could be looking at a recession where budgets get cut.
It's more important than ever to make sure you're cutting the ad budgets that aren't yielding any return, and optimising the ones that are. Time to start making smarter money decisions with your ad budget.
It's also important to focus on your cost to acquire new customers (CAC). By leveraging the time you have available from a slower workload, to create content and focus on organic channels, your lead flow will increase from a marketing channel that is essentially free (except for your time). This provides an opportunity for you to massively reduce CAC and keep your margins healthy throughout this tough period. And you would have established a new marketing channel that will potentially outperform paid channels once business returns to normal.
7. Event marketing is all but over for the next quarter, perhaps the year. Just look at all the major events globally that have been cancelled. Relying on your booth at those trade shows you had planned for your leads for the year is unrealistic. Even if some events do go ahead, decision makers will not be attending. Time to reallocate that spend into digital channels so you can meet your customers where they're going to be - online! It also gives you the opportunity to "try out" digital marketing strategies that have been put on the back burner.
8. Visibility! You need to know what is working and what is not. If you're not sending the right messages, to the right people, at the right time, you're wasting your time (and money). Making informed decisions about spend is not an option now. Ensure you utalise analytics effectively. Time to stop campaigns that simply don't provide a return and optimise on the campaigns that do. Ad spend is about to get super competitive with big brands out-bidding smaller businesses, so unless you have an unlimited budget you need to know where the ROI is coming from.
9. Businesses need leads. More deals are going to be lost for some businesses than ever before, churn will increase, invoices will be taking longer to get paid, there will be immense strains on cash flow. If you don't backfill this with new enquiries and leads, it's a matter of time before revenue begins to dry up.
10. Your audience's pain points have changed - big time. Many people are not buying non-essential items... their priorities and interests have changed, they are noticing and researching new things. So, it's vital your business has a great digital marketing presence and starts selling in a more inbound way; personalise your sales process to the buyer's context by understanding the buyer's journey. You can then identify those who are actively researching, connect in a timely manner and focus on experience the whole way through the sales process. Do this and you can separate yourself from the pack and win.
There you have it, 10 reasons why you need to be marketing hard now.
Is marketing important for your business during this pandemic? You bet it is.
What your business does now to prepare for recovery matters more than ever. And although focusing effort and resources on marketing is not a quick fix for the situation your business may be facing, neglecting your marketing strategy will seriously prolong the effects of the current situation.
How is your company planning to market itself in these uncertain times? Share your tips.