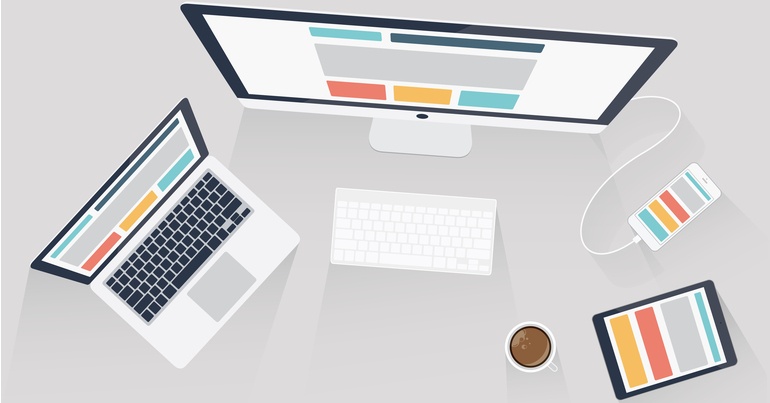 Ensuring that potential customers have a great experience when visiting your website for the first time is one of the most important things you can do for your business.
With 88% of people saying that they are less likely to return to a website after a bad experience, digital first impressions are crucial. In no particular order, here are 10 things we think every successful business website should have.
1. A pleasing design

Your website needs to be easy on the eyes, it's as simple as that. You could have a great product, service or value proposition, but you will have a hard time attracting and convincing customers if your website looks like it was designed during the dot-com boom of the late '90s.
Websites nowadays can trend towards minimalism as a design language, but your website doesn't have to be minimalistic. It just needs to be clutter-free, visually. That means limiting yourself to a couple of different fonts, font sizes, and colours throughout the website. You should also ensure that the first thing a visitor sees on your homepage (everything above the fold) is well designed because you don't want to make a potential customer bounce right back.
2. Mobile friendly layout

New research indicates that around half of all web traffic now comes from mobile phones, and 85% of adults think that the mobile version of a website should be as good as, if not better, than the desktop version. If your website isn't mobile friendly by now, you are essentially cutting off half of your potential customers. Seems like a poor business decision to me.
3. User friendly website structure

Your website needs to be intuitive and easy to navigate for a first-time visitor. A visitors' attention span is short, and if a customer struggles to find any specific page on your website, you are likely to lose their attention all together. They might end up taking their business elsewhere.
You should also make sure that there is an easy way to get back to the homepage regardless of where a visitor has arrived. Visitors arriving from search results can often find themselves deep in the jungle of a website, and providing them with an escape rope to the homepage could ensure that they stick around to explore a little more.

4. Great content

Providing visitors with great content has become more and more important, exponentially so over the last decade. It used to be the case that you could build a great company, invest some money into marketing, and the rest would just sort itself out. With the sheer amount of competition found in the digital space these days, this has become very hard to pull off.
Running a company blog is more important than ever. A blog could be the cornerstone of your company's content marketing strategy, and high quality content will be driving visitors to your website for many years to come through search traffic. It allows you to reinforce your branding as well as establishing your company's expertise to readers, and could therefore be important in convincing potential customers.

5. Social media

Like a blog, a strong social media presence will contribute to your branding, allow you to showcase your work, and it also opens up a direct communications channel with your customers. Not only should you be on social media by now, but you also need to provide links to your social media accounts on your website. Like we do, just below the end of this blog post.
Make no mistake, social media is incredibly important in 2018. Fresh data from August shows that 15 million Australians are active users on Facebook, with other social media platforms also clocking in at several million users. Successfully tapping into that audience could be very valuable for your business.
6. Clear and complete contact info

You should make sure that you give customers basic, practical information like directions, opening hours, phone number and email address. It should be readily available and extremely easy to find. For example, this information could be in the footer of every page. Having dedicated pages in your menu, inventory or list of services could also be very important, as this is information a new visitor will be likely to seek.
It is also becoming more important to provide potential customers with ways of interacting with your company beyond just calling or sending emails. Conversational marketing chatbots allows an AI employee to help visitors, ask qualifying questions, and connect the visitor with the appropriate sales team member.

7. About you

Every business website should have an "About us" type page. This is a great way to solidify your company's branding, but there are pitfalls that you need to avoid when creating this page. As much as you love your company and want to shout it from the rooftops, a random passerby will not feel as strongly as you do. Keep it short and sweet so that a visitor can skim the information and catch the important points. People's attention spans are short, and getting shorter. Be mindful of this.

8. Social proofs

Potential customers are always trying to figure out if a business they haven't heard of before is trustworthy. For this reason it could be wise to make a page in which you help your visitors come to the conclusion that you are legitimate, and legitimately great.
A page of social proofs could include customer testimonials, customer success stories, or positive reviews that your business or products has received. Basically anything that makes you look awesome.
9. Security

Speaking of trustworthiness, having a secure website is an absolute must in this day and age. As iPage.com writes: "Your website is your brand, your storefront, and often your first contact with customers. If it's not safe and secure, those critical business relationships can be compromised."
Cyber security is something that audiences care more and more about, and should therefore be something that your business takes very seriously. A poor security protocol poses a risk to you, your customers and your partners. A single breach of your website could end up being a killing blow for small and medium businesses.

10. Calls to action

Calls to actions, or CTAs, can come in many forms. The simplest ones could be similar to the one displayed at the end of this article, and simply be an image that links you to a different web page or social media site.
Another common type of CTA is to have a form either at the bottom of a site or to have it pop up as the visitor is about to exit your website. If your CTA is a form, you need to make sure that you keep it short and sweet. Visitors, and those from cold traffic in particular, won't want to fill in 10 required fields. It might even be a smart idea to ask for just one or two pieces of information: email, and perhaps a name.
Does your website have all 10 must-haves from our list? If not, maybe it's time for a website redesign. Take a look at our free website redesign workbook below...