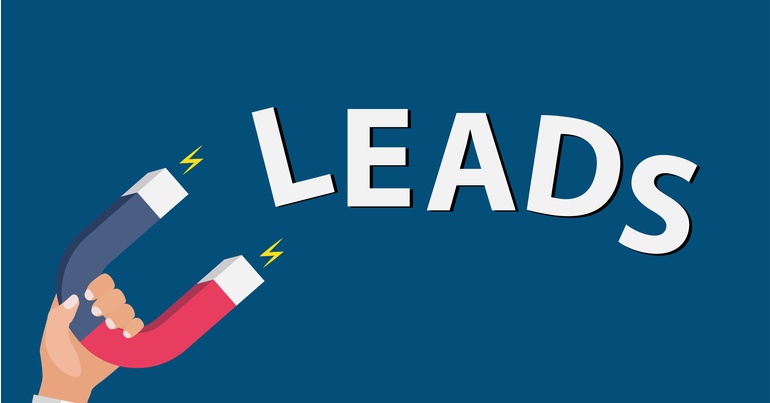 Lead generation is no piece of cake. Your website isn't just a digital placeholder- at least- it shouldn't be! The power is shifting away from the marketers; internet consumers have more options than ever, which means the pressure is on to make the most of your website's visitors. Follow our 12 essential steps to find out how you can make the most of your website for lead generation.
1. Form Optimization
Most people don't like filling out forms. They require extra effort, and they can be a pain to complete. How can you overcome these issues? Keep your forms succinct and choose your fields carefully to ensure you don't lose leads before they've finished filling them out.
2. Use "Anchor Text" CTAs
CTAs can sometimes lose leads by looking a little too much like ads. An anchor text CTA, when used strategically, can satisfy the needs of a reader quickly by providing exactly what they were searching for within the first few paragraphs of a blog post. Hubspot data found that between 47% and 93% of a posts leads came from the anchor text CTA alone. But be careful, sailor- don't go overboard with your anchor texts! Use them only when relevant, or they'll lose their power. Typically, the best place for an anchor text CTA is in posts that rank well in search.
3. Create a Testimonials Page
Even if your testimonials page isn't linked to a lead generation form, it is the right way to ensure your visitors have confidence in your services, and will therefore be sticking around. Your visitors need to believe that your testimonials are coming from real, live people- try adding photos to show that the testimonials are the real deal.
4. Create Quality Content
Quality content is the most valuable currency in digital marketing. Helpful, how-to content will help your visitors to trust that you are the expert. Strategic vocabulary is also important. Verbs like "get", "feel" and "have" are better to use than phrases like "imagine having"- because they use an active tone that positions the visitor as the one receiving the benefits of your business, rather than simply imagining.
5. Use Explainer Videos
They say that video killed the radio star- but what difference can it make for your site? Explainer Videos are emerging as one of the biggest trends in content marketing, and there's a reason for this. If you offer a service that might be hard to explain, allowing your visitors to see and hear your voice is an excellent way of instilling trust as well as giving them what they want- information, fast.
6. Install a "Live Chat" Option
People don't like to wait. If a visitor has to wait half an hour for a response from your business when they could have the question answered somewhere else faster, why would they bother sticking around? The answer- they wouldn't. Drift data found that response time is integral in capturing potential leads- in fact, it was found that there was a 10% decrease in the odds of making contact with a lead after leaving it just 5 minutes to make a response.
Live chat is the perfect tool to ensure that your business is responding to the queries of your visitors as fast as possible, converting them into leads.
7. Use Your About Page To Build Trust
The about page is one of the most popular pages on lead generation websites. This is because it allows your visitors to see who they might be working with. You might want to include information like your businesses values, credentials and awards, as well as team members with profile pages to provide social proof.
8. Make Your Website Smart-Phone User Friendly
It's a mobile world, and we're just living in it. Go Globe found that 50% of consumers that conducted a search on their smart phone visited a store within that day, where as only 34% of users who searched on a tablet/computer did the same.
What does this tell you? By making your website smart phone friendly, you'll be tapping into the ever-growing smart-phone user market. Ask yourself what impact ignoring your fastest growing lead source will have on your business.
9. Compose Social Media Posts With Lead Generation In Mind
You may think that all your lead generation will generate on the website itself, but social media can be an amazing untapped source of conversion. Be sure to regularly post links to your blog posts on all your social channels, and don't be afraid to provide direct links to landing pages that have a proven history of lead generation. Just make sure you're writing your social copy so that visitors know what to expect when they're clicking on a link.
10. Use Images To Engage Your Visitors
Your visitors are probably scanning. You can use compelling, high quality infographics and images to slow down their reading and engage them for longer. You don't have to stop at just one image- Orbit Media found that more blogs than ever are utilising more than one image to engage their visitors.
11. Use Pop Ups Carefully
Everyone knows that pop ups can be annoying- but they aren't totally useless. Far too many marketers use them in a way that disrupts a website visitor's experience, causing them to become frustrated or disrupted and leave. But, there's hope- pop-ups CAN work! Sumo data found that the average conversion rate for all pop-ups is 3.09%. That might seem small- but if you had 100,000 visitors on your site- that could turn into 3000 subscribers. So think about how visitors are engaging with your pages, think about timing, and most importantly- think helpful, not disruptive.
12. Nurturing: Don't Forget About Your Leads
The relationship between your business and a lead shouldn't end once you've captured their details. According to Forrester Research, companies that nurture their leads see 50% more sales ready leads than their non-nurturing counterparts at a 33% lower cost. So, once you have a visitor's information, make sure you're delivering relevant, personalised content that matches their interests. You can begin your relationship by providing follow up emails.
There's no perfect formula when it comes to website lead generation. It's up to you to choose the right tactics- what works best for you? Share your thoughts with us below.