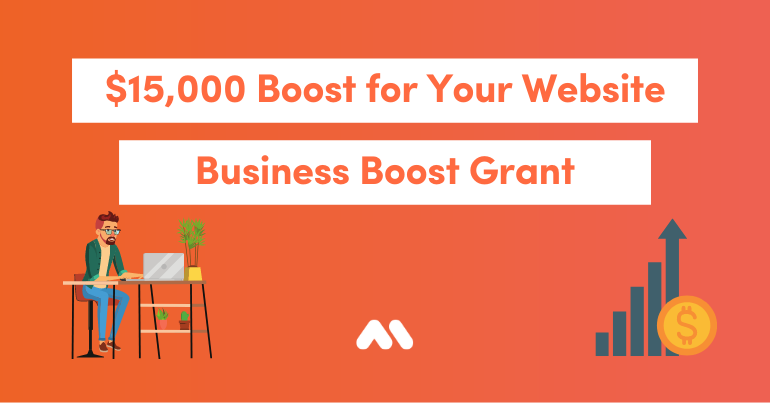 There's another great opportunity available for Queensland small businesses…
This time it's a $15,000 grant!
The Queensland Government's Business Boost Grants Program offers a $15,000 grant payment to eligible small businesses.
Applications open Friday 30 July 2021 and you'll want to get in quick as the grant program is competitively assessed!
Don't miss your chance to get a $15,000 boost for your business...
It's a perfect opportunity for businesses to give their website an update or add marketing software or CRM systems but haven't had the time or funds to make it happen.
Perhaps your website isn't getting the traffic it used to and needs a design update, some new content with an injection of targeted SEO…
The Business Boost Grant provides the financial support to help.
The funded activities include:
Future Planning
Specialised and automated software - including

bespoke or complex website design and build, including e-commerce, software integration, booking systems

Staff management, development and planning
To be eligible for this grant businesses need to:
be will to co-contribute at least 30% of the total project costs
have fewer than 20 employees at the time of applying for the grant
have an active Australian Business Number (ABN) and be registered for GST
have a Queensland headquarters
have a turnover of between $300,000 and $600,000 for the last financial year

have a publicly reachable web presence to identify business operations (e.g. business website and/or social media pages)

not be insolvent or have owners/directors that are undischarged bankrupt.
If you're an eligible small business or you know someone who might be interested, share this article and get your application in ASAP! You can check your eligibility here.
You can use the Grant for these Margin Media services:
Brand

new website

for lead generation and smarter customer engagement or upgrade of an existing website.
Direct-response landing page and email marketing funnel to help people discover your brand, build a relationship with you and become customers and fans.
Automated sales and marketing software and CRM systems such as Hubspot.
Setup and integration of online booking systems to help automate meetings, appointments and activities and delight new and existing clients
At Margin, we help businesses grow using proven processes to design and develop a website that aligns with your business objectives

.
Our websites and marketing strategies are designed to attract, nurture, close and delight your ideal customer. We fuse premium digital with compelling content to deliver exciting websites and marketing campaigns.
Next steps:
Applications open Friday 30 July 2021 and close when funds are exhausted.
Think about what funded activities/services your business could benefit from (a new or updated website, digital sales and marketing systems)

Contact us

... we'll provide the quote you'll need to attach to your Business Basics Grant Program application.
Complete and submit your grant application form along with the required documents
Good Luck!
Contact us for a 'Grant Ready' Quote