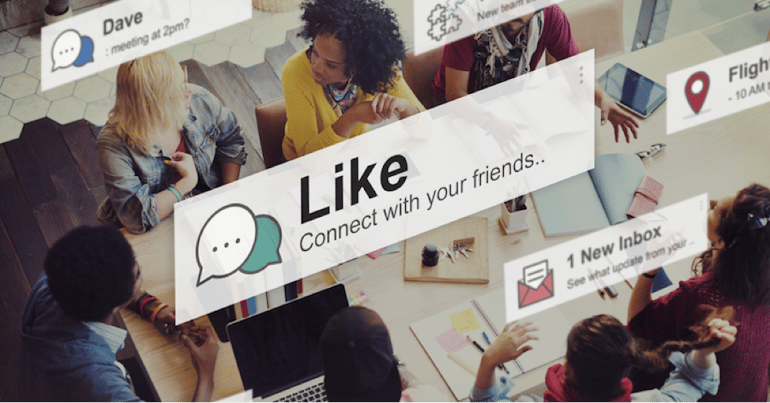 Hacks - you see them all over the internet...how to make a round bun with a sock, how to make a cake display using cardboard, how to replace your shower head without buying a new one etc.; they're even on tv...They're things that will make life just a bit easier, well in this vein, we couldn't help but be inspired by these simple 'hack' ideas that can be applied to all parts of life, why not your social media strategy? In this post, we share 20 of the best social media hacks that can help your social media strategy.
1 Share Graphics
Visual content performs better than text - share a variety of images from photos and inforgraphics to quotes and cartoons. This will increase a post's 'clickability'.
2 Cross Promote
Share the same content across all your platforms at different times. When you cross promote it allows you to get the most out of your content. Try to make a few small tweaks for each different platform. Go a step further and connect your accounts to score more followers across the different platforms.
3 Share buttons
Having share buttons on your site (especially after blog posts) makes it easier for users to share your content for you with their own following.
4 Use @mentions
Mention others in your Tweets or other social posts in order to increase engagement and potentially gain more followers.
5 Use #Hashtags
Take advantage of the most relevant and popular hashtags and use them in your posts.
6 Create Competitions
This is a great way to get more people engaged and gain new followers too.
7 Reply to comments
Be sure you are always replying to users comments, especially if they are asking questions about your products and services. The more responsive you are on social media, the more your fans will be able to trust you.
8 Use Emoticons
Posts with emoticons tend to generate higher engagement rates, especially if the ones used are positive or funny.
9 Add your social to your email signature
Remind users where they can follow you at the bottom of your email signature. This can help to increase your followers and serves as a reminder of how one can get connected with you or your brand.
10 Use Ideal Image Sizes
Each platform has their own ideal image sizes for optimal viewing:
Facebook
Cover Photo = 981 x 363 pixels
Fan page profile photo = 90 x 90 pixels
Posts = 1200 x 630 pixels
Twitter
Profile Photo = 400 x 400 pixels
Header Photo = 1500 x 500 pixels
In Stream = 440 x 220 pixels
LinkedIn
Profile Photo/Logo = 400 x 400 pixels
Career Cover Photo = 974 x 300 pixels
Banner Image = 646 x 220 pixels
Pinterest
Profile Photo = 165 x 165 pixels
Pins = 236 pixels in width
Board Display = 222 x 150 pixels
Instagram
Profile Photo = 110 x 110 pixels
Uploads = 1080 x 1080 pixels
11 Organise a live take over
Host a live take over/hangout to answer any questions as they come. For example, you could feature one of your most popular managers to be on from 10-11am to answer any questions your fans might want to know from that person. This is popularly seen on health pages when the 'gurus' are available to answer any questions their followers might have, live. Alternatively, have a social influencer take over your page for a period of time (say an hour or a day). You can promote this event to attract more followers, nurture leads and educate customers on your products and/or services.
12 Join Groups
On both LinkedIn and Facebook your join groups or communities where you can share your content, answer questions and share your ideas. This can help you build your reputation and can increase traffic to your page and to your website.
13 Encourage Employee Engagement
If you have employees, encourage them to interact on your social networks and ambassadors of your brand.
14 Include a CTA (call-to-action) on Facebook
Facebook allows you to add one call-to-action to top of your page. Make sure this is set up and use it to direct fans to a specific landing page or product you want featured and for followers to go to.
15 Encourage User Generated Content
Encourage your fans to share images of your produts or services using specific hashtags that are exclusively for your business, for example #Sunpork4Dinner
16 Network with others
Liking, commenting and retweeting people who work in a similar industry can help you to increase followers and build a network. Find businesses that are similar but not the same as yours. For example, you own a tile business, so you'd network with homebuilders or perhaps tile cleaners, as they are allied services and might think about you next time they need to refer for a service not under their scope.
17 Upload your Email list to Facebook
Did you know that you can upload your email list to Facebook directly? This makes it much easier for your audience to find and follow you. This can be reached via the "Create New Audience" section.
18 Get Free Content Ideas
Ask your followers or study this comments to determine what info they are looking for to give you possible content ideas for your blog and social media posts.
19 Integrate Social Media Comments to Your Blog Posts
Add comment boxes that allow you to sign in and comment as your social media profiles. For example, some allow Facebook comments to the end of your blog posts so users can comment directly to your page and at the same time this activity is shared on their own respective facebook timelines.
20 Create Polls and Surveys
A great way to boost engagement rates is to use polls. Ask your customers questions about an upcoming product decision or help to decide what type of content they would like to see next.