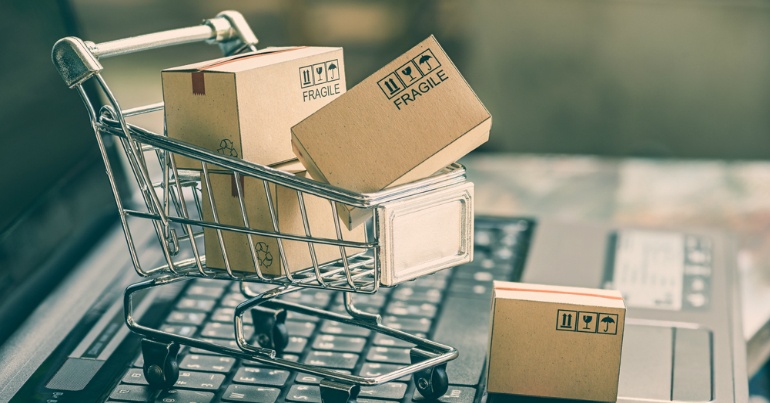 Automated marketing is changing the way businesses attract and communicate with customers, and it's making personalised marketing a lot easier for eCommerce companies.
Ecommerce and B2C customers bases can be in the hundreds of thousands, so marketing effectively and personally to each customer is practically impossible.
That's where you can see the huge benefit of automated marketing to eCommerce businesses.
What is automated marketing?
Marketing automation uses software to automate certain actions, like sending targeted email sequences, segmenting lists, showing personalized ads and even posting on social media.
The idea is to make your marketing efforts easier and more intuitive, all while keeping it personalised to the customer.
Ecommerce has it's own unique set of obstacles when it comes to customer engagement and the buyers journey. From shopping cart abandonment, to low customer return rates, there are several factors that affect online sales and revenue. But the solution for all these lost sales could lie in automated marketing tactics.
Let's take a look at 4 effective options:
Social retargeting
We've looked at the power of retargeting previously, but you have to ability to make it much more personalised when using it to target cart abandoners.
Retargeting aims to re-engage customers when they are on other websites or social platforms that they frequent, usually by showing them the brand or products they were recently looking at.
Automated software can trace who is looking at what products, and when they leave the shopping cart, so why not get creative? You can use more personalised campaigns, with the ability to address the product more specifically and even to address the issues of why the customer abandoned their cart (the number one reason is shippings costs and policies).
Given the frequency and regularity of people checking their social accounts, retargeting on social is one of the most powerful ways to re-engage customers.
Find out more about retargeting on Instagram here or Facebook here.
Suggested products
Amazon pioneered the "suggested products" technology on their website, when they started suggesting products using data of what similar customers have gone on to buy.
Although Amazon uses sophisticated AI technology for its product recommendations, the same principle can be used to predict what products a customer may be interested in, even without them knowing it yet.
Hubspot wrote about the evolution of suggested products, and the fact that it should now rely on well defined buyer personas, and not so much what they are buying from you, but why:
"Instead of making the entire context of your engagement with them around what they're buying, identify the why (either through behavioral analysis or - and I'm being really radical here - asking them)"
Exit intent offers
There's no denying that pop-ups can be annoying, but they have a unique value for online retail companies when a customer is about to abandon their cart.
Exit intent offers are displayed during checkout and are essentially your everyday pop-up with offers and discounts, but the difference is they are displayed when the visitor is in the actual shopping cart or at various stages of the checkout flow and then decides to leave the site.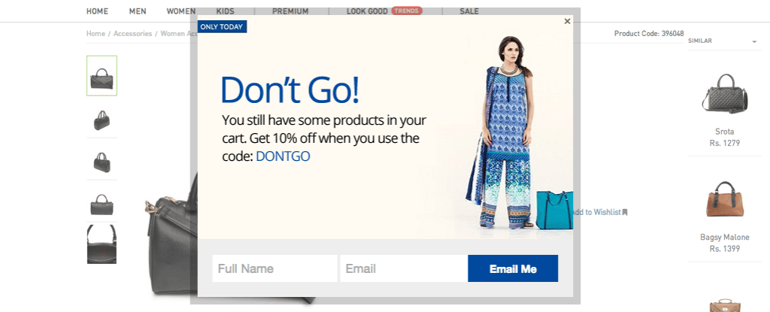 Image via. Gleam
A discount offer or free shipping code at this stage could be the deciding factor of the sale, but at the very least, it will incentivise them to stay on the page or website and increase the chances of a sale.
Automated email marketing
While you don't want to spam customers email accounts, sending an automated email reminding them of products still in their cart or offering a discount code for their next purchase is a great way to re-engage them.
This gentle nudging tactic relies on you already having their email address, but sending out a "we miss you" style of automated email is a great way of reaching out on a more personal level.
The thing to remember with automated email marketing is the value of timing and frequency. We touched on spamming email accounts, which can be off-putting, so keep the number of emails you send to a minimum. The few you do send, make them valuable to the customer.
Timing can also be a big player in the success of automated email marketing. Try sending follow-up emails about 30 minutes after the customer has abandoned their cart, that way the product (and the desire to buy it) will still be fresh in their mind.


For a rundown on some of the best automated software options for eCommerce, take a look here.


If you have any questions about automated marketing tactics, you can get in touch with us here.