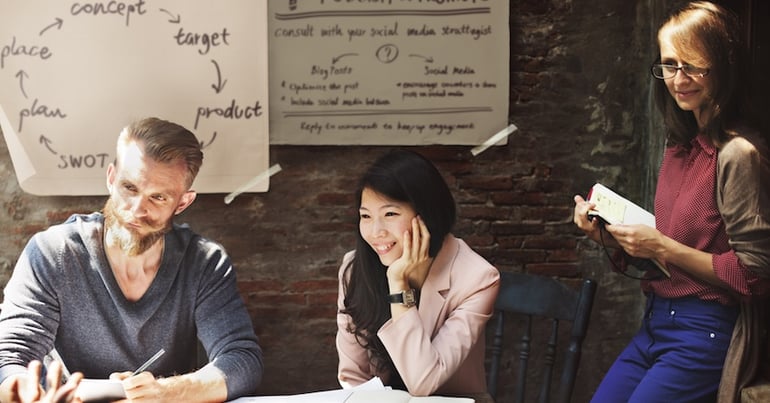 Read time: 4 - 5 minutes
Do you want a marketing team for your business? If so, then there are some fundamentals you need to account for before you even start hiring. Remember that marketing (regardless of the platform) is a creatively-driven industry. It's also an industry that excels when supported by collaboration, helpful critiques and guidance, and fostered ideation.
1. Encourage creative freedom
While marketing may have fairly straightforward goals, it is still a very creative field; regardless of the platform or approach. On a marketing team you could have copywriters, graphic designers, website developers (on the digital front), a team manager/creative director who reports to you, and more.
From the start, it's important that you list anything that the team cannot do. Are there any parameters in terms of words they can't use, colours they should avoid, specific branding dos and don'ts, etc. Once they know what they have to steer clear of, the remainder should remain fairly open. Some of the best work manifests when those in your marketing team can experiment with different ideas. Not all of them will necessarily land, of course, but you should find there will be an extensive sample of works to choose from.
2. Have regular meetings / catch-ups
Whether you directly involve yourself in all the happenings of your marketing team or touch base from time to time, it's important to make an effort to have meetings or one-on-one catch-ups just to see how everyone is going and to ensure everyone is on track. Meetings are also good for discussing any possible issues or concerns members of your team may have, boosting morale, and having a conversation about new ideas for how to market your brand or even improve productivity.
For all the ways in which these meetings can help out your team, they also help keep you in the loop. You will find it easier to know what the team is up to and how close they are to completing different tasks. This helps reduce miscommunication and ensures nothing slips through the cracks.
3. Ensure you're constructive
Not every marketing or advertising idea is going to work. We've seen plenty of examples of this in the past. So when your marketing team or a specific member of the team comes up with an idea that you feel is off the mark or simply doesn't work, be sure to keep criticism constructive. Criticism that is overly negative isn't helpful and is more likely to disenchant your employees than drive them to improve.
Basically, provide positive words when they're putting forward work that is right for your brand and provide constructive, helpful feedback that will help them get back on track when they're not.
4. Nurture a culture of reciprocal idea generation
As I've already noted throughout this blog, your marketing team is going to consist of plenty of creative individuals. Along with affording the aforementioned creative freedom, make sure you also encourage everyone on the team to freely present any ideas they come up with to you and the rest of the team. By this I don't just mean something like a good design for a current campaign, but also any idea they come up with - possible new campaign ideas, rebranding thoughts, changes to how specific products/services are presented, potential revisions to website copy and content, etc.
Reciprocation is key when it comes to being successful. Insular ideas are often too risky, so having others to bounce off and others to even present brand new ideas is the best approach for a good marketing division.