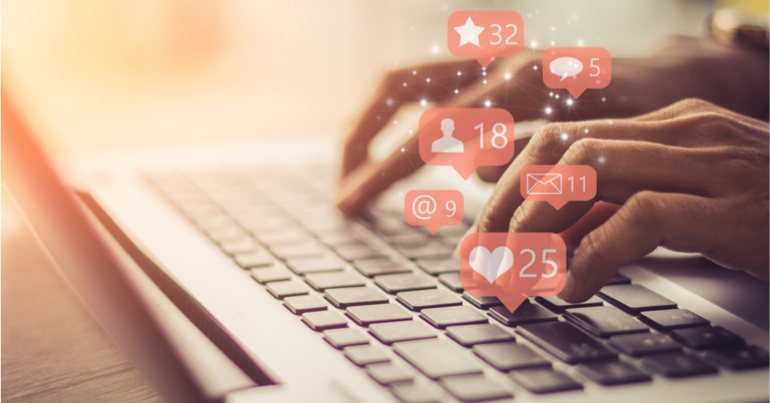 It's no secret that social media dictates the way consumers interact with businesses today. Now more than ever, we view a company's social media page as an online customer service forum, a chance for marketers to build positive relationships and boost awareness.




In an ever changing landscape, where platforms regularly update features, add and remove components and alter algorithms, some marketers may find their campaigns aren't achieving the results they desire. While a lack of engagement can be disheartening, it shouldn't be defeating.




So how can we improve our customer engagement? Pre-empt the customer service model by getting your consumers involved early. Social media is no longer just about posting remarkable content but allowing users to add and interact with your company in a virtual space.




Up your social game and achieve maximum engagement with these tips and tactics.

1. UNDERSTAND YOUR AUDIENCE



As with any marketing campaign, it is critical that you understand your audience, however on social media, this becomes especially obvious. Companies that miss the mark or underestimate their audience lose valuable credibility with most social media users being typically unforgiving.





Find out what makes your audience tick. Discover what interests they have outside your brand and think about how you can use this to your advantage. This will help you to create engaging, relevant content that captures their attention and demonstrates that you understand them. What do they value? What topics are they concerned with?





Encourage your audience to engage with your content by communicating the same way as them. Listen to how they talk, and try to replicate it. If your audience is young and uses typically informal language, recipericate by using GIFs and emojis, but be certain.

Companies that miss the mark or overuse a certain discourse can be shot down unceremoniously. Audiences are smart, so it's important to do your research.



ASK QUESTIONS
Social media is about customer service now, and good customer service is more than just answering questions, it's asking them. Consumers want to be involved in the conversation, so it's important to not only give them a seat at the table, but to make them the guest of honour.
Don't wait for your customers to ask the questions, be the one who starts the conversation! Use the information you have collected about your audience to create relevant content and share that with them. Reach out and show them that you are interested in what they have to say.
In a lot of cases, it's not just what you say, but how you say it. By asking for advice you demonstrate to your audience that you not only want them involved in the decision making process, but that you value and appreciate their input. This is a great way to 'level the virtual playing field' and encourages your audience to engage and respond more frequently on your social media channels.
There's no point in asking a question if you are unwilling to listen to the answer. Social media is all about instant connection and response, so when you put a question out, be prepared to respond ASAP. Being timely with your responses is critical to making your audience feel heard and appreciated.
HOLD CONTESTS
Social media contests are hardly a new idea, but the results speak for themselves. Social media campaigns that utilise some form of contest result in a 34% growth in fan base, so there's no denying their worth. But how do we curate a contest that will generate engagement?
There's no point in offering prizes that are irrelevant to your business, so utilise the research you have collected about your audience to determine what motivates them. What prize could you offer that would entice your audience to compete in your contest?
Offering big ticket items will undoubtedly attract attention but rarely does that attention generate leads. Keep your offer specific and relevant, that way you not only encourage your audience to participate but also demonstrate you understand their needs.
The name of the game is engagement, so curate a contest that forces people to act in order to participate. Encourage your audience to do some digging or demonstrate their loyalty. Hold contests that require them to share their knowledge of your business or ask them to go back through your old blog posts to find answers.
When DC's "Man of Steel" was released, they undertook a photo contest that demonstrated how they depicted all things Superman. The contest highlighted a winner each week and increased awareness about the movie through online participation.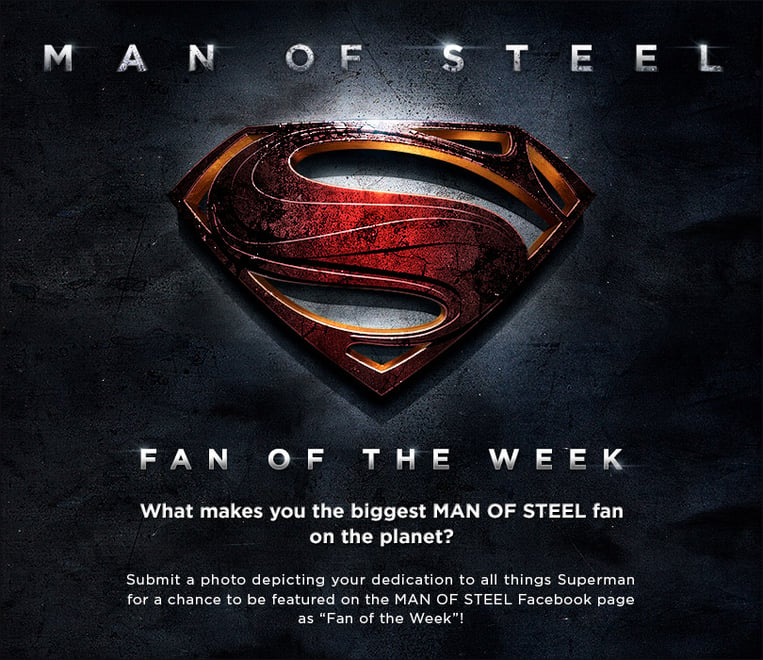 (Image courtesy of facebook.com)
Make sure your contest is timely. Not giving your audience enough time to participate reduces your chances of engagement and giving them too much time will result in them losing interest. Keep up to date, stay relevant and make sure the contest is always on their mind.
BE CONTEMPORARY
Social platforms are constantly changing, as are the audiences who use them, so it's important to remain proactive in a digital space. Use the information you've gathered about your audience and meet them where they are. What platforms do they most readily engage with?
Have there been any changes or updates to that platform? Know what is happening online and use that to your advantage.
When Instagram introduced the stories feature, brands that embraced the Snapchat-style add-on saw increased brand awareness and a chance to market in a customer-directed manner. Recently, we have seen the introduction of Instagram's highlighted stories, which takes this notion one step further.
Brands are now able to categorise their stories and display them on their page as if to target specific audiences with specific campaigns.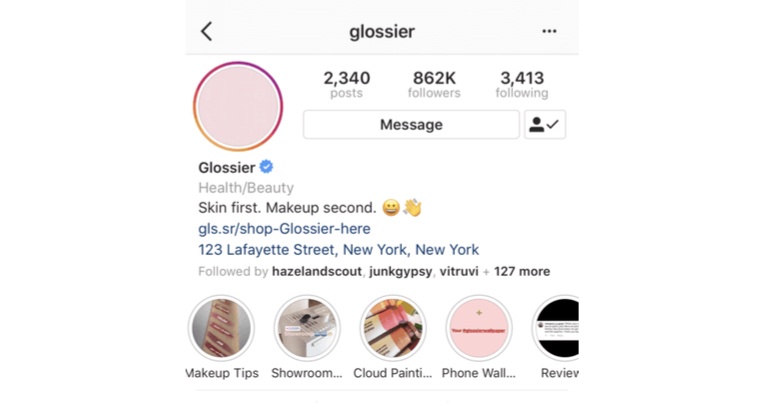 (image courtesy of instagram.com)
Being current is almost as important as being active when it comes to social media. Keep your eye on what is trending, who is popular and what updates are heading your way. Being the first to embrace a new feature gives you the chance to reach a new audience where they are before your competitors do.
No one likes to feel like they are constantly being sold to, so start a dialogue that engages your audience in a way that feels natural. Talk about current events and issues, as long as they are relevant to your audience's interests. Up-coming movie-releases, concerts or political news are all topics that can can help start a conversation with your audience.
Be careful not to offend or take too controversial of a standpoint but if you have done your research effectively, you should already know your audience's opinion.
SUMMING IT UP
Achieving consumer engagement in a digital space is not an easy task and requires thoughtful research, preparation and timing, but it's not impossible. Brands that are able to appeal to their audience's interests, meet them where they are and appreciate their input have the best chance of success.
Be proactive as a business and start the conversation early. True engagement is a two way communication and correlation of ideas so start talking! Social media is after all, social.


Have you tried any of these engagement strategies? What worked best for your business?