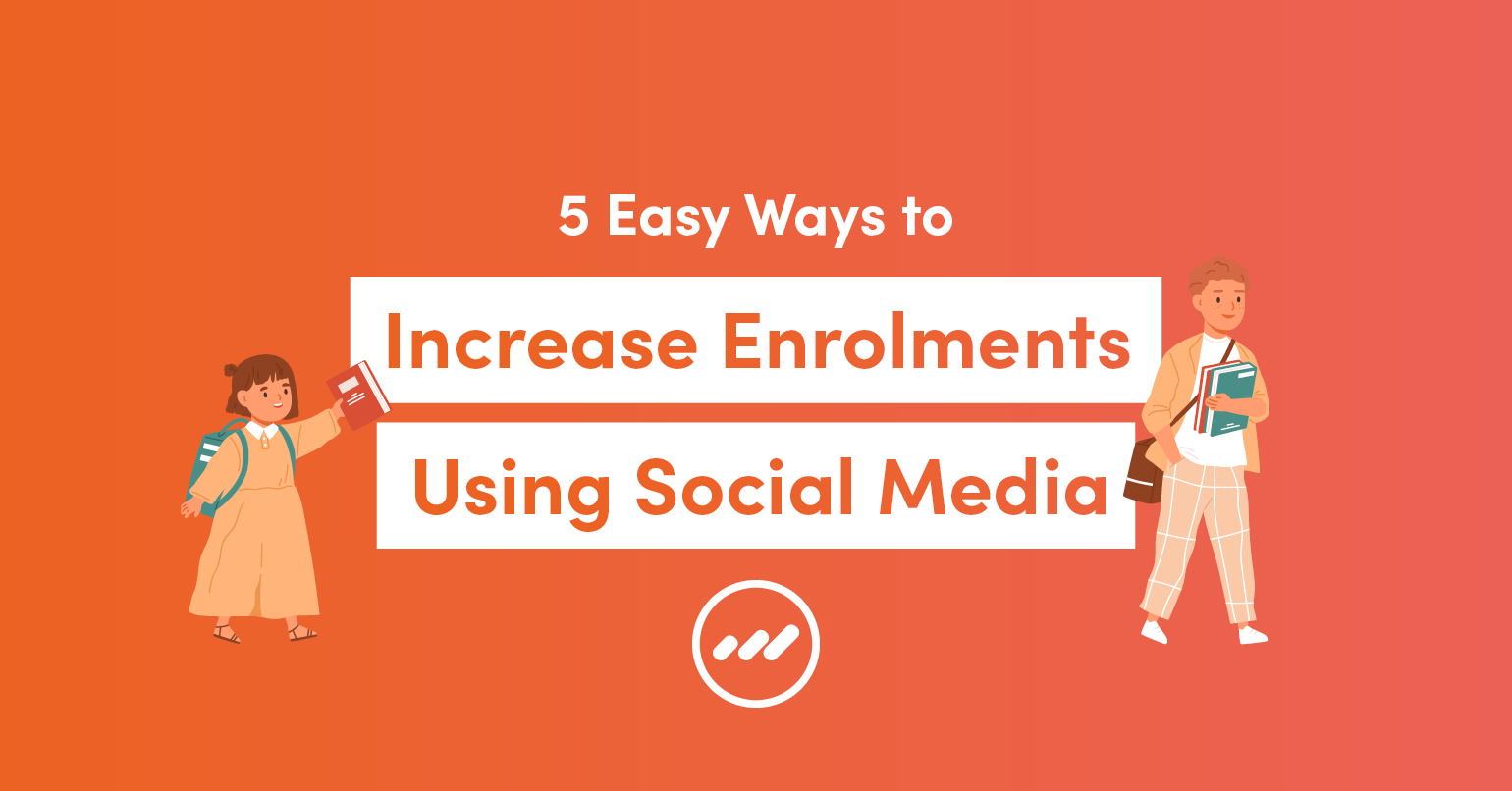 No matter where you sit in the education industry, if enrolments drive your business growth then you need to be utilising social media.
Today, gaining competitive advantage and reaching business goals isn't based on just having a social media account, it's about how effectively that social media account is used to reach target audiences.
So firstly, why social media?
Social media supports your content strategy, providing you with the channels to promote your business. It also acts as a retention tool, where you can engage and interact with prospective and current customers.
People won't enrol to a place they have never heard of before, but they will do a social media search to find schools, universities and childcare locations near them. Here is your chance to reach these potential customers and highlight why your organisation is the best choice.
Follow these five essential social media tips, and you'll be on your way to increased enrolments.
1.

Targeted Content
As part of your content marketing strategy, content should be tailored to your customer personas. Haven't created your customer persona yet? Check out how to do it here.
When posting on social media, provide exciting and appealing content, that also answers their questions.
You want to deliver the right information at the right time on the right channel, creating the most value for your customer.
What sort of content do they want? Are you being helpful?
Some content examples to demonstrate the value of your organisation:
Size and number of students

A day in the life

Values and achievements

Extracurriculars

Events

Video tour of the campus/centre
2.

Paid Advertising
Paid social media can be a great way to widen your reach, target potential customers and increase brand awareness. With over 2.38 billion monthly active users and over 500 million daily Instagram users, there is huge potential to reach new audiences. It might sound tricky to set up, but you can easily run ads across Facebook and Instagram from within Facebook Ads Manager.
Aim to create paid content that attracts and delights your audience.
If it's enjoyable, they'll continue to consume it and potentially click on your links to your website.
Make your ad relevant to your audience - focus on the interests and needs of your audience.

Design an eye-catching ad – use images, video or a stories that showcase the highlights of your business.

Write copy that converts – be compelling and communicate why your education institution is the best choice.
Ads may direct customers to a strategic landing page on your website, or they may direct visitors of a landing page to download a free piece of content. A Facebook ad may even promote a school event, using specific targeting to promote it locally.
3.

Customer Testimonials
Nothing reaches audiences like sharing real experiences.
People want to feel something, then they will be more likely to want to be a part of the community and experience the same as other happy customers.
Testimonials are a strong tool in creating social proof, where we are more likely to buy or try something if other people have positive things to say about it.
While it is important to include these on your website, why not social media too? Try posting some video testimonials from parents or students. Or, create some engaging graphics with quotes from teachers and employees.
4.

User Generated Content (UGC)
UGC consists of any form of content that is created by users and consumers.
UGC is a strong tool in promoting brand image and creating trust, as consumers are more increasingly relying on family and friend's recommendations.
UGC is essentially a practical, free visual review from customers.
You can create hashtags for the events like first day, orientation, graduation and sporting events or holidays and encourage students and families to use those hashtags.
This practice also builds community on social media, where those in the community can connect with you and with each other. There's nothing like a sense of community spirit to draw in new enrolments.
5.

Call To Action
Facebook, Instagram and LinkedIn all have the opportunity for businesses to add a 'call to action' button on their page. By utilising these buttons, you have the opportunity to link to your website or enrolment page. Once your customers reach this page they can be nurtured into leads.
Another way to drive website traffic is through stories. Instagram stories have increased the amount of time people spend in the app, which means more attention and focus on your brand. The format is fast, fun and flexible and can contain a swipe-up link to your website.
Without a swipe-link, your business is missing out on a huge opportunity to drive traffic to your website.
Ensure that all of your social media posts contain a clear call-to-action, encouraging your prospects to move down the marketing funnel and progress to an enrolment.
With experience working in the education industry, we have many more digital marketing tips that can drive your enrolments. Want to be the next success story? Book in with us now or complete the form below for a free consultation.