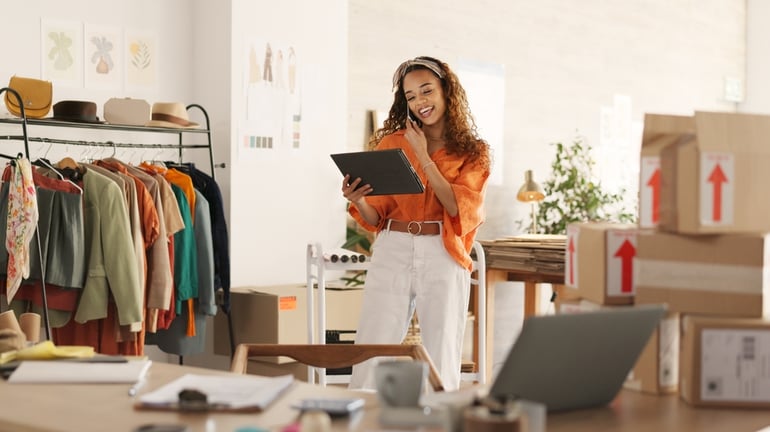 Looking for a way to ramp up your ecommerce store and boost your sales for 2023? The answer is: artificial intelligence.
There are a number of AI tools available that are built specifically for ecommerce and can make your life easier. In this blog, we're exploring our top 5 must-have AI tools to boost your sales and streamline your online store.
Benefits of AI in Ecommerce
Using AI tools in your ecommerce store can bring many benefits. Here are just a few reasons why you should consider using AI in your store:
Provides personalised and interactive shopping experiences
Improves security and reduces credit card fraud risk
Forecasts future demands
Helps you determine the right price
Provides insight into your customers (through collecting data and machine learning)
How AI Improves your Store
Now that you know the benefits of AI in ecommerce, you may be wondering how you can use it in your store. There are a variety of AI tools available that work to improve the functionality of your store and boost its overall performance.
Here are just a few areas where you can use AI to improve your store:
Enhance customer experience through personalised interactions
Enhance customer service through chat bots
Drive product discovery through visual search tools
Drive decision-making and sales through allowing customers to try-on products virtually
The best AI tools allow you to personalise the customer experience, making it more likely that they will purchase from you. It can also help you to segment your customers so that you can target them more effectively with your marketing messages.
These days, if you're not using AI to power your ecommerce store, then you're falling behind the competition. If you want to stay ahead of the game and boost your sales this year, then you need to be investing in AI tools.
5 Must-Have AI Tools
The good news is that there is a variety of AI tools for you to choose from. Although Shopify does not have any AI capabilities built into its platform, it does offer a Shopify AI Kit that allows developers to add AI functionality to their stores.
Let's look at some of the top AI tools you need in your ecommerce store to boost sales:
Personalisation
AI tools use machine learning to provide personalisations and recommendations for customers. It works by using AI to quickly build and deploy curated recommendations, helping to deliver the right customer experience at the right time and in the right place. This means it's optimised to more accurately target your customers.
Personalisation tools include:
Product Discovery
AI tools can help you to drive product discovery. For example, an image recognition tool can allow you to tag and organise product images and improve search functionality. This connects your customers with the products they want, which helps to improve conversion rates and drive sales.
Discovery tools include:
Customer Service
The best AI tools for customer service allow for real-time interaction between your customers and your brand. For example, chat bots can answer customer queries, respond to FAQs, and deliver customer support. It helps to remove friction and drive conversions.
Customer service tools include:
Customer Relationship Management
Using AI to manage your customer relationships can make your life easier. It can keep track of each customer's journey, track your leads, predict your customer's needs, and help you to drive revenue growth. It can generate rich insights into your customers, and store all this data in one central place.
CRM tools include:
Analytics
AI can be especially useful for generating rich data and analytics on your customers and your store. It can help you gain insights into past customer interaction, which you can use to strengthen relationships and prioritise leads to boost sales and revenue.
Analytics tools include:
Summing Up
Emerging AI tools are making life easier for ecommerce store owners. Adopt these new technologies to streamline your store, improve your customers' experience, build stronger relationships, and boost your sales.
AI tech is going to keep growing in popularity, so now is a great time to start exploring!