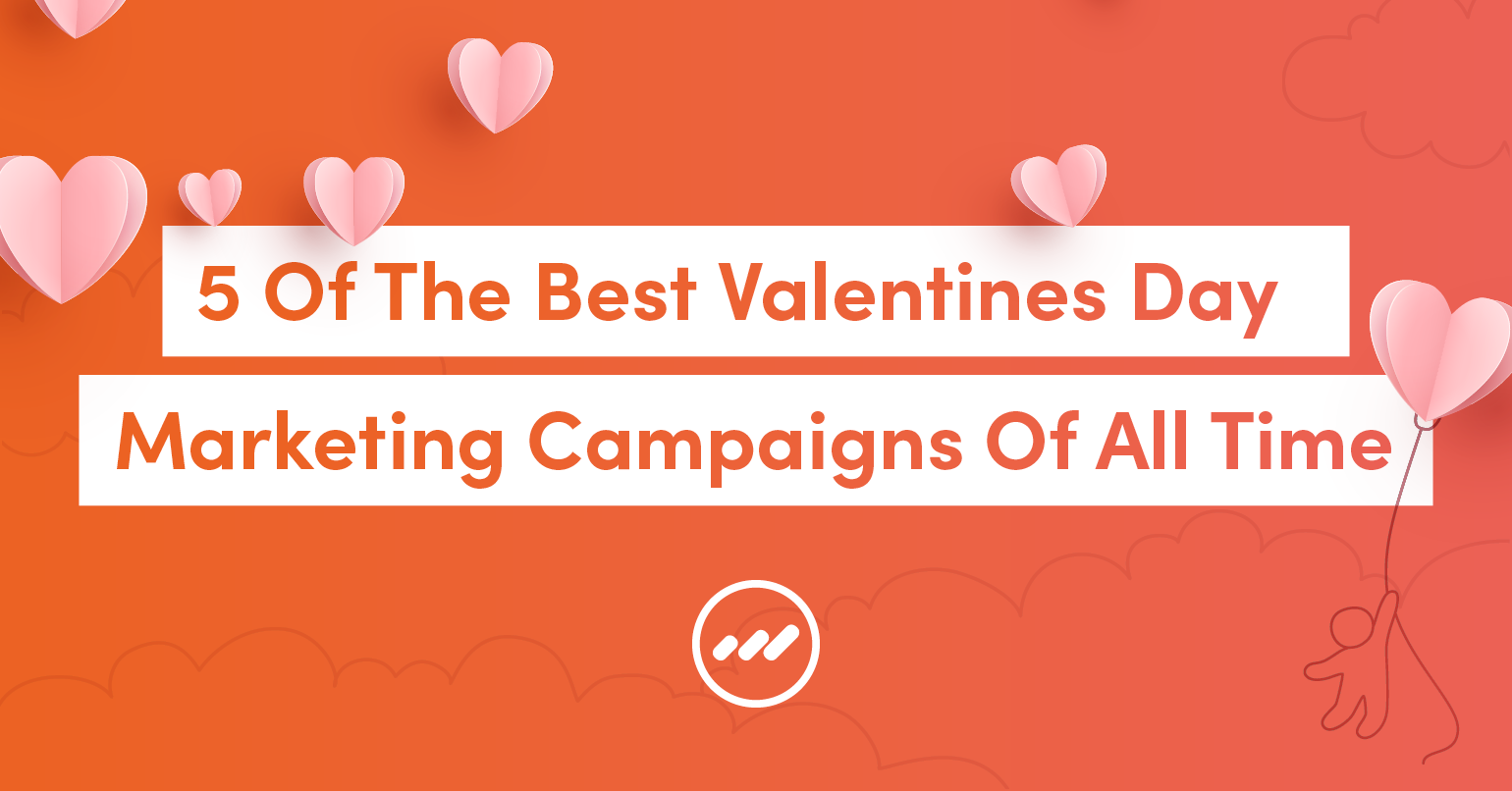 It's that time of year again - Valentines Day! Love is in the air, florists are frantically organising orders and marketers are developing campaigns to tug at your heartstrings and convince you to buy a gift for your significant other.
Just like Christmas or even Black Friday, Valentines Day has become a hot-bed for sales focused marketing campaigns, and with good reason. It is forecasted that 2020 Valentines Day commerce in just the United States of America could reach $27.4 Billion! Whether consumers believe in it or not, love sells - and not just on Valentines Day.
Online engagement is critical nowadays and Valentine's Day offers a plethora of different strategies for marketers to employ. Even more so, with the rise of eCommerce and digital marketing it has drastically changed the way consumers buy what they want, and how marketers advertise what they offer. With so much competition, businesses need to implement highly creative and effective digital campaigns in order to avoid being left behind. While there are plenty of campaigns out there, for those needing inspiration as they prepare for this year or future years, we've compiled 5 of the best Valentines Day marketing campaigns of all time.


1. Travelex - #TravelexKiss
Travelex helps budding travelers convert currency online ensuring every adventure can be filled with amazing memories. Do you know what else helps create amazing memories? A FREE vacation… Now that sounds great!
All you had to do to score yourself 2 tickets to Paris was upload a romantic photo of you and your significant other with the hashtag #TravelexKiss. In this instance - as well as in many successful digital campaigns - user-generated content, when done right, is a great way to show sincerity and develop trust with your customers. By giving users the ability to upload from Twitter, Facebook, or directly through their website, Travelex has leveraged all of their major outlets to drive the interaction of their campaign.
Once you've won the trip, to Paris who do you think you'll be going to for currency exchange?
2. The Body Shop - Sending A Kiss
The Body Shop's Valentines Day marketing campaign was created to promote their recently released line of scented Lip Balms. Take a photo of you blowing a kiss to someone special, tag them, use the hashtag #SendingAKiss and go into the running to win.
This campaign doesn't reinvent the wheel but leveraged user-generated content just like Travelex to creatively engage with their audience and potentially increase average order size in the lead-up to the big day.
3. Uber - #RomanceOnDemand
Rideshare company Uber has built an incredibly successful multinational business on bringing users closer to what they value. The #RomanceOnDemand campaign - ran in the US - allowed users to have roses delivered to that special someone with a tap of a button. Not only did it make it easier for the Average Joe to have flowers delivered but it inspired a wave of consumers to download and install the app for the first time.
A timely campaign that resonates with consumers and is good for business? Chalk that one up as a win.
4. Doritos - Ketchup Flavoured Dorito Bouquet
Yep, that's right. A Doritos Bouquet. Who wouldn't honestly be flabbergasted if they were surprised with a Doritos bouquet? Well, Doritos felt the same way. This campaign was so successful it sold out twice and spawned a series of D.I.Y bouquet guides so you can handcraft your own special memories. Tasty and also fun.
Maybe one of the best Valentines marketing campaigns of all time?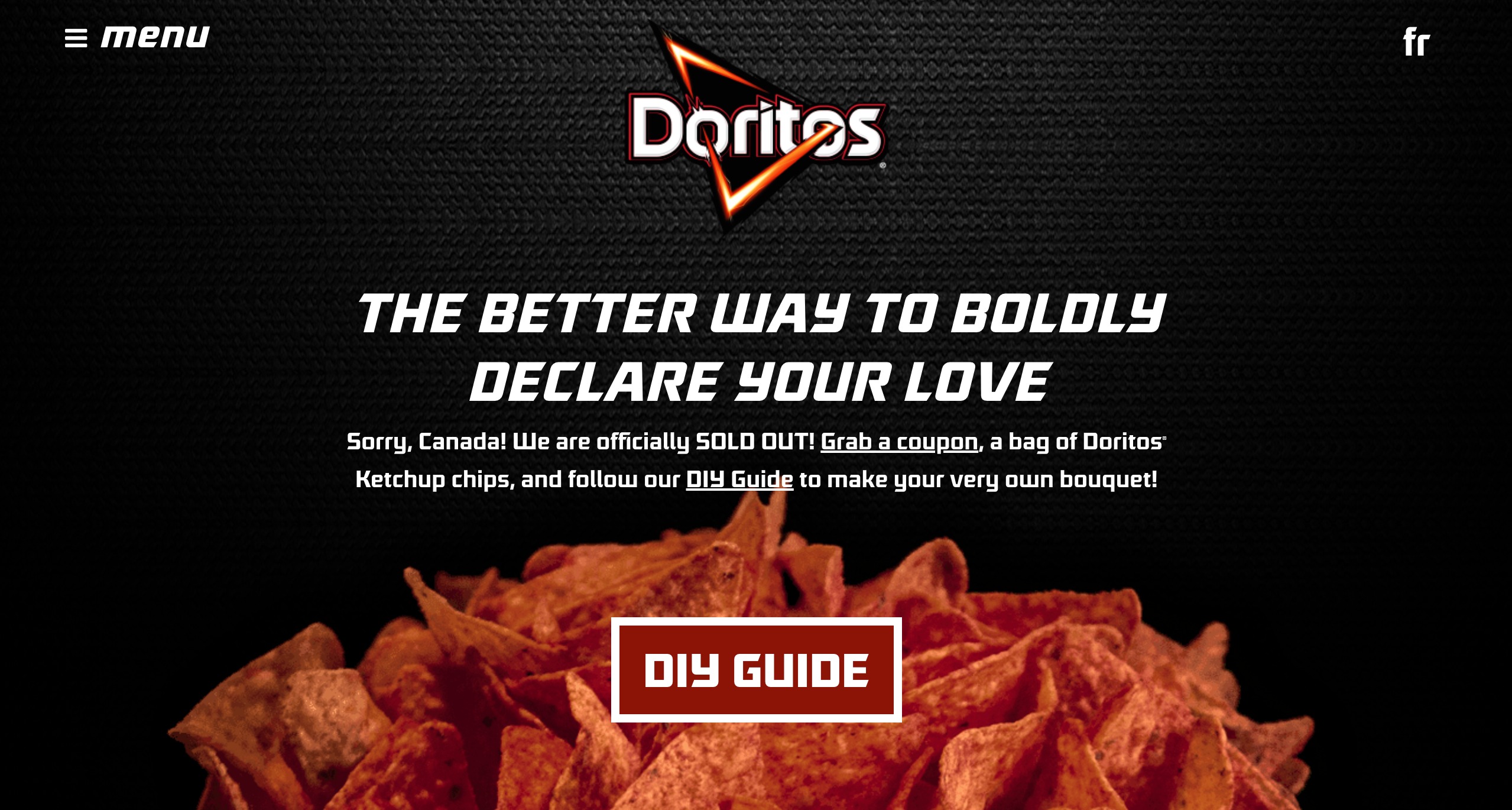 5. Pizza Hut - The Least Romantic Valentine's Proposition Ever
Pizza Hut has thrived over the decades since it was first established as being a convenient option for consumers to get delicious pizza quickly made and delivered to your door. This Valentine's Day campaign takes this idea of convenience to a whole new GALAXY. Imagine calling up for a pizza and inadvertently planning an engagement surprise? You would really want that special someone to have a great sense of humour.
"The Least Romantic Valentine's Proposition Ever" package included a ring, photographer, videographer, limo, flowers, FIREWORKS and of course… a pizza box to help celebrate the big occasion. Whether or not anyone would actually take the plunge is one thing but it definitely gets people talking.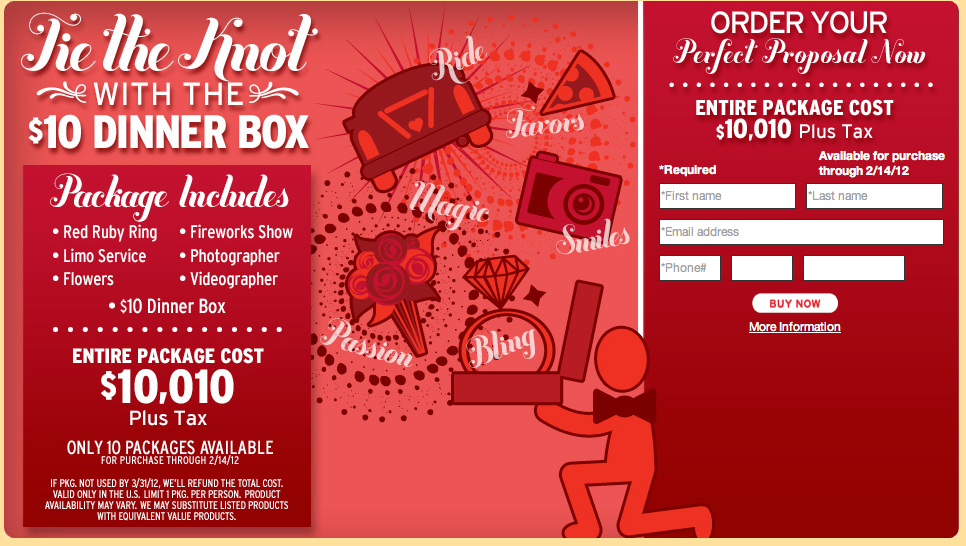 For more great Valentines Day marketing campaigns from days gone by, checkout our previous edition - click here