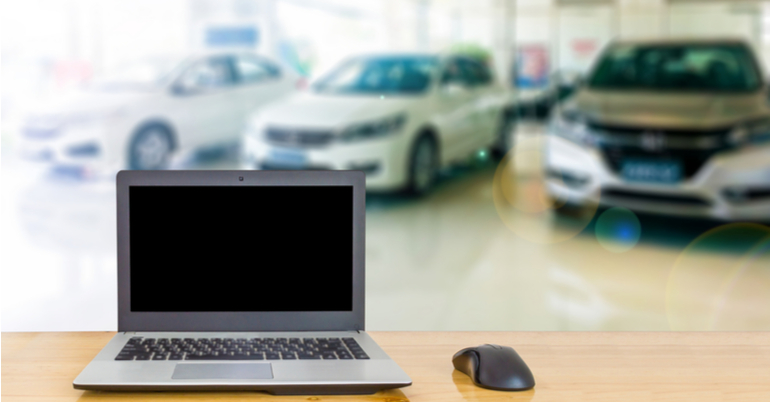 Long gone are the days where you would approach potential customers on your forecourt and ream off a list of car features, talking a mile a minute in the hopes that you could bag a sale. As a car dealership in 2019, your focus should be on increasing your website traffic which will in turn, lead to an increase in sales and customers. The competition in the automotive industry is stiff and it is a rapidly changing landscape. Below are 5 strategies to help you increase your car sales and beat your competitors:
1) Blogging
Within the car sales industry blogging is massively overlooked. If you are one of the many car dealerships who are underestimating blogging as a marketing strategy, then you need to reconsider your position now. It is a low-cost but effective way to interact with your customers and reach your target audience. Below are 3 reasons why you need to start blogging today:
Rather than simply acting as a service provider, blogging transforms your company into a trusted source of information and education. 'How To…' blogs or addressing your customers' FAQS in a blog is an ideal place to start for any car dealership. If you can demonstrate a consistent level of knowledge, then customers and potential customers will return to your website and will feel more inclined to remain loyal to your dealership.
Blogging also allows you to project the voice and personality of your dealership, creating a more well-rounded and appealing impression of your business. If you feel like you need to improve your blogging skills read our blog, 'How to Amplify your Blog Content' for some great tips.
Make it Easier for Customers to Find You
In the digital landscape of 2019, the majority of sales are driven by technology in one way or another. Every search engine loves to see that your website features relevant but multi-dimensional content. A blog will tick this box for Google in a major way. Update your blog regularly with topics relevant to your dealership, your promotions, your events and any local news related to your company.
If you run a car dealership then you are most likely a ready-made expert who is ready to blog. Educate yourself on the basics of SEO and then the only thing that you will need to invest, is some of your time. However, if your writing skills aren't up to scratch or you really don't have the time to spare, then hiring a copywriter or content manager will still give you an estimated ROI which is 3x higher than traditional marketing methods.
2) Facebook Ads
63% of car buyers discover their car online
Facebook now features enhanced automotive inventory ads for your car business page. Initially these ads were designed to re-engage people who had visited your dealership website or app. As of January 2019, these ads also collect data from potential car buyers based on their visits to other auto-related pages, websites and apps.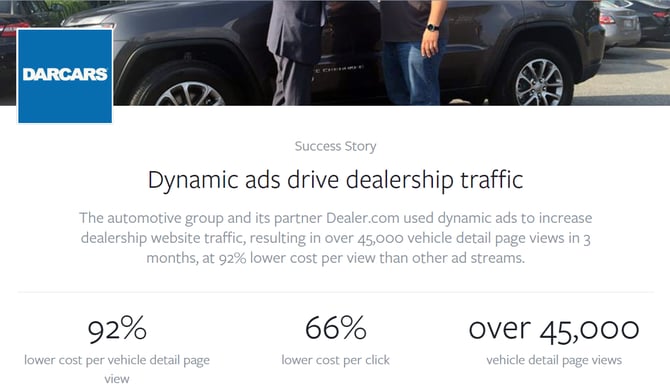 DARCARS are an American automotive group who used Facebook's enhanced automotive inventory ads to increase their page views by over 45,000, as well as massively reducing the amount of money they were spending on online advertising.
Here's how it works: Automotive inventory ads allow dealers to upload the details of the make, model, year and location of the various vehicles that they are selling. The algorithm will then detect when someone is searching for a vehicle and comparing across multiple dealership online platforms. This data is used to generate hyper targeted adverts that are tailored for each individual user.
Basically you would have to be insane not to use this Facebook marketing tool. It does all of the work for you!
3) Headlines
The headline of your blog, advert, web page, social media post and any other content relating to your car dealership, is an integral part of your online marketing strategy. Below are a few ways to ensure that you are writing an effective headline for car sales:
Keep it Concise: headlines will either draw your audience in or else bore them. In order to ensure that you are piquing your audience's interest, don't simply explain what the piece of content is about- keep your headlines short, snappy and creative.
Fear: If you are writing a blog which will help ease a fear that your audience has or that will provide a solution to a problem, highlight this in your headline. These pieces of content are much more likely to be shared than others.
Use your FAQ Page: Look to your FAQ page for inspiration on content and headlines. If there are specific questions that are continually asked or specific phrases that are often used, then the benefit here is twofold; Google's algorithm will favour these headlines and it will generate more traffic as you are providing information which people care about
4) Use Question and Answer Platforms
Quora is one of the biggest Q&A websites on the internet. With over 100 million monthly users, Quora is a powerful tool which can help to boost your website traffic. Marketing on Quora is a 2-part process which allows you to capitalise on your automotive knowledge:
Search for Questions to Answer
There will be various topics related to cars and the automotive industry. Pick a topic and answer the questions which have the most views and upvotes.
Provide useful information which addresses the question. Include a link back to your website and blog, referring users to any specific pages which are relevant. Writing a good quality answer will get you more upvotes and the more upvotes you get, the more your answer will be viewed. You can even attach images to your answer if possible/applicable.
5) Email Marketing
Buying a car is a pretty major purchase. A study by Automotive News states that people are now researching their car purchases more than ever before. Anyone buying a car will do their research and shop around to ensure that they are getting the best car for their needs at the best price possible. During this process your website can organically collect their email address with newsletter subscriptions or enquiry forms. You can then send the potential customer some valuable information to help influence their decision in your dealership's favour. Read our blog, 'Is Email Marketing Dead?' to learn more about why you should be using email marketing.
This is the practice of inbound email marketing rather than outbound email marketing which usually relies on the purchase of a mailing list.
Below are some tips for writing the perfect email:
Personalise: Just by including the recipients name, you are much likely to have your email opened and read.
Tailor your content: Include content and information in your email which is relevant to the consumers search and the stage of the buyer's journey which they are at.
It's time to get off your forecourt and sit in front of your computer. Try these 5 tactics if you want to see a growth in your website traffic, boost your dealership sales and increase your ROI.