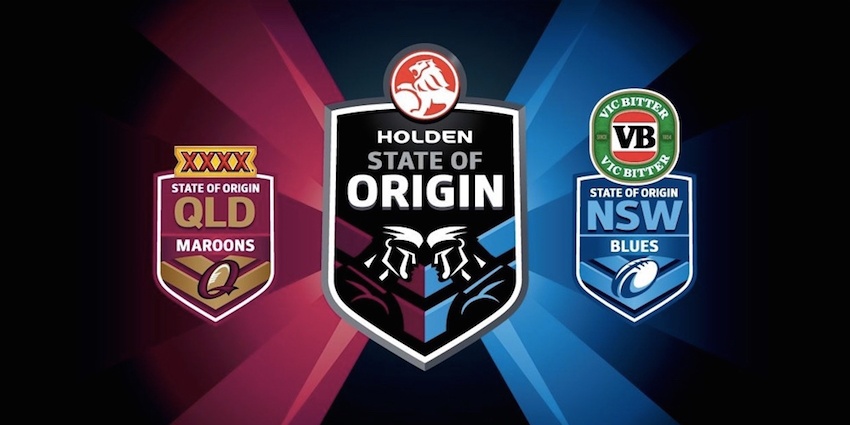 State of Origin 2015 is upon us. Referred to as Australian sport's greatest rivalry, State of Origin is one of Australia's premiere sporting events, attracting a huge TV audience and crowds. It is the pinnacle of rugby league. 'State Vs State, Mate Vs Mate', there is no other competition like it.

We here at Margin Media are big fans of how well the NRL uses social media, and today we look at five content types the NRL uses to activate its fans around the biggest event of the year.
1. Game Day Hashtags
Hashtags have become an essential part of successful marketing campaigns, and no organisation does it better than the NRL. The NRL gives both sets of fans the ability to join in on the conversation with official Origin hashtags; not only for the main event, but also for their respective states. The hashtags, along with a Call-to-Action featuring both captains, are across all social media accounts and also emailed to all fans who are on the NRL database.
#Origin is the Official #Hashtag for Sport's Greatest Rivalry Support @NSWRL #UpTheBlues Support @QLDmaroons #QLDER pic.twitter.com/1ALNcxCFD5

— NRL (@NRL) May 26, 2015
2. Quotes
Using quotes on your social media accounts is a great way of helping your fans connect with the meaning and message behind your brand - and, in this case, State of Origin. Fans love engaging with these kinds of posts.
"When times are tough, do you quit or do you keep going? That's what #Origin footy is about." http://t.co/yHxRYx17Dn pic.twitter.com/S5GSQpgWrh

— NRL (@NRL) May 26, 2015
3. Infographics
Consumers love infographics. They are visually stimulating and allow you to digest information quickly. Visual content is king on social media and, according to Hubspot, presenters who use visual language were perceived by audiences as more effective than those not using visuals.
What the NRL does well with its infographics is focus on a timely, valuable topic that everyone is talking about. In this case, it's the size of the NSW bench.
Battle of the #Origin big boppers! Check out the size of the @NSWRL bench compared to the @QLDmaroons pic.twitter.com/DHuLnvhcVm

— NRL (@NRL) May 26, 2015
4. Video
Video is a powerful medium to share stories, evoke emotion and drive action. Video uploaded to Facebook or Twitter is an increasingly important part of the news feed. Brands can take note on how often the NRL posts engaging video to build anticipation and delights its fans with gameday highlights. Facebook statistics show that there have been, on average, more than 1 billion video views on facebook every day.
ONCE UPON A TIME... Ray Warren delivers your #Origin eve bed-time story. Watch Game 1 NSW Blues v Queensland Maroons LIVE from 7:30pm Wednesday on Channel 9! #NRL

Posted by NRL - National Rugby League on Tuesday, May 26, 2015
3 SLEEPS #Origin doesn't get much better than Game 2 of the 1991 Series... relive MG v Wally, Mal on the rampage, ET's mullet and O'Connor's sideline special! Get keen - State of Origin is almost here! Be at ANZ Stadium on Wednesday night from just $50 to see if the 2015 opener can rival this 24 year old NSW Blues v Queensland Maroons classic: http://tickets.nrl.com/game/state-of-origin-game-1 #NRL

Posted by NRL - National Rugby League on Sunday, 24 May 2015
5. User generated content (UGC)
UGC generates instant social media amplification and increases fan engagement. The NRL has always been big in this space with the introduction of its Mission Control Centre and Final Series Social Media Booths in 2013, generating record social buzz and really setting the benchmark in Australia.
But what about Player Generated Content? A lot of NRL players have massive followings on social media, which gives fans a backstage VIP pass to what's going on in camp. The NRL has been great at re-posting these player posts to, again, generate more reach and engagement and really build anticipation to tonight's main event.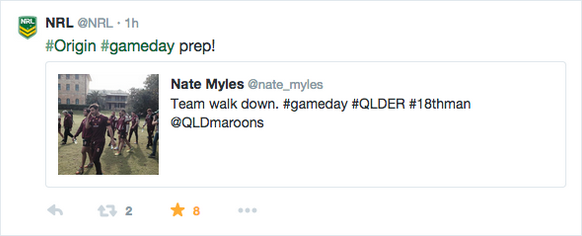 In tonight's game, expect the #Origin hashtags to trend globally and #QLDER to pip #UpTheBlues in a thriller at ANZ Stadium in Sydney.


Go the Maroons! #QLDER, #CheerMaroons, #Origin.