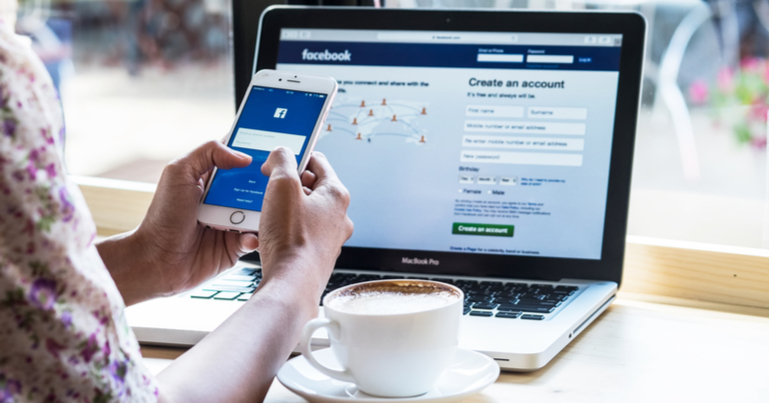 At this stage pretty much everyone knows what Facebook is and how to use it. However, what a lot of people may not know is how to use Facebook as a marketing tool for their business. Or maybe you've already started using Facebook to promote your business, but you just want to improve your strategy. Either way, you have come to the right place.
Step One: Set Goals
Setting goals encourages you to understand what you are really trying to achieve and allows you to measure the success of your Facebook marketing campaign. After all, it's pretty hard to gauge your success if you have nothing to aim for.
Some of your marketing goals will likely be unique or more tailored to your industry but here are some common business goals for Facebook which are good to consider: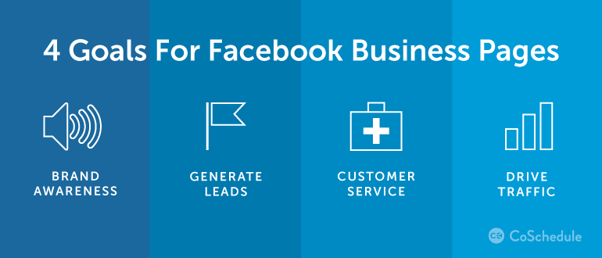 Brand Awareness means first of all having a solid understanding of your business' brand and image and then making sure that your Facebook page portrays and advertises your brand successfully.
Generating Leads unfortunately, doesn't mean just getting someone to like or share your Facebook post because it had an adorable dog in it. A lead is a person who has expressed their interest in your company by giving you their information.
Customer Service on Facebook allows you to engage with customers who perhaps have questions or need support in regard to your product or service. Also, you will inevitably have unhappy customers, as is the reality of running a business. Facebook provides a platform for you to first, hear these customers out and then engage in a conversation with them about remedying the issue. We'll talk more about this in "Step 5"
Driving Traffic essentially means directing people back to your website, blog or landing pages.
When setting out your goals for your Facebook marketing strategy it is important to keep in mind that Facebook is a social media site where people expect a platform for two-way conversations and interaction.
Step Two: Get to Know Your Audience
Facebook has 1 billion+ daily users so it really is vital that you are only targeting the users that your product/services/business may appeal to. For example, if you run a real estate agency selling property, then it is useless to waste your marketing budget trying to engage teenagers on Facebook.
In order to understand your target audience, you need to first of all ask yourself the following four questions, and briefly outline the answers:
What problems does your service/product solve?
Who are your current customers?
What companies are you competing with?
What will customers gain from choosing your company over a competitor?
These questions will provide you with a more in depth understanding of;
1) Why your content/ Facebook campaign exists
2) Who is going to consume your content/need your product
3) What your competition is doing
4) Why your audience should choose your content (and therefore your product) instead of your competitors
It is also vital to utilise Facebook's 'Audience Insights' tool for this step. This tool provides you with information on your audience's geography, gender, purchasing patterns and more.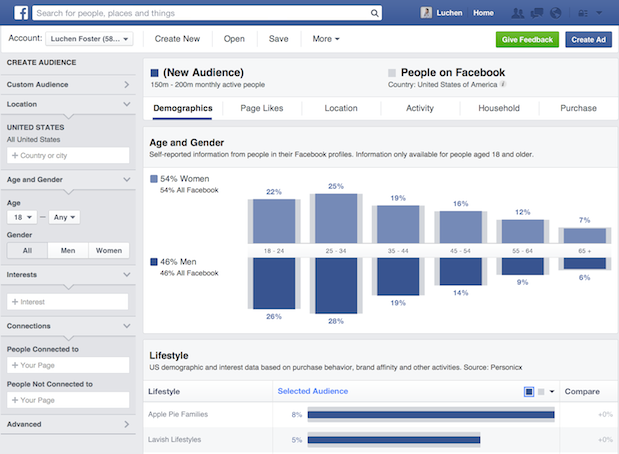 To find your insights simply log in to your business' Facebook page and click on the 'Insights' tab at the top, the select 'People' from the list on the left-hand side.
Step 3: Define your Voice and Tone
Before we can define the voice and tone that we portray on Facebook, we must understand the difference between the two.
Your voice is the overall message that you want your company to project and should remain relatively constant. You may even want to think of your company's voice as a specific persona that you create. When it comes to defining your voice keep your company's purpose, values and attitude in mind.
Your tone has scope to be a bit more variable. If you are going to think of your voice as a persona, your tone is the various ways in which your persona talks and the various conversations that they have. Think of adjectives like humorous or professional or scientific or conversational.
So first of all, decide how you want to use your company's voice and what kind of message you want your brand to become synonymous with. Then you can utilise various tones across a range of posts to help get that message across.
Below is a perfect example of Lorna Jane using their social media with a definite sense of both voice and tone.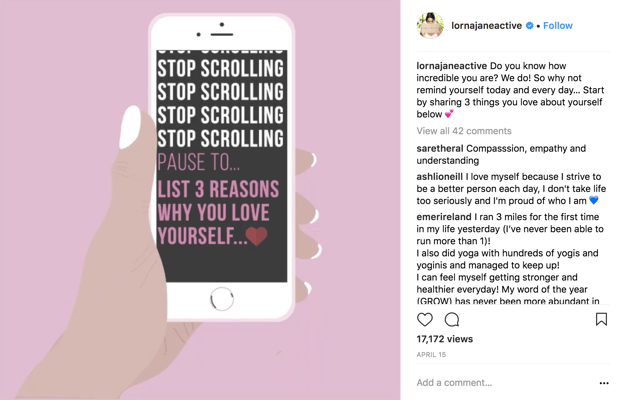 Here, the company's voice is one that speaks up for the Empowerment of their customers and encourages self-love. The tone is conversational and positive.
Step 4: Create a Variety of Content and Posts
Below are the four kinds of posts that you should be creating as part of your Facebook marketing strategy.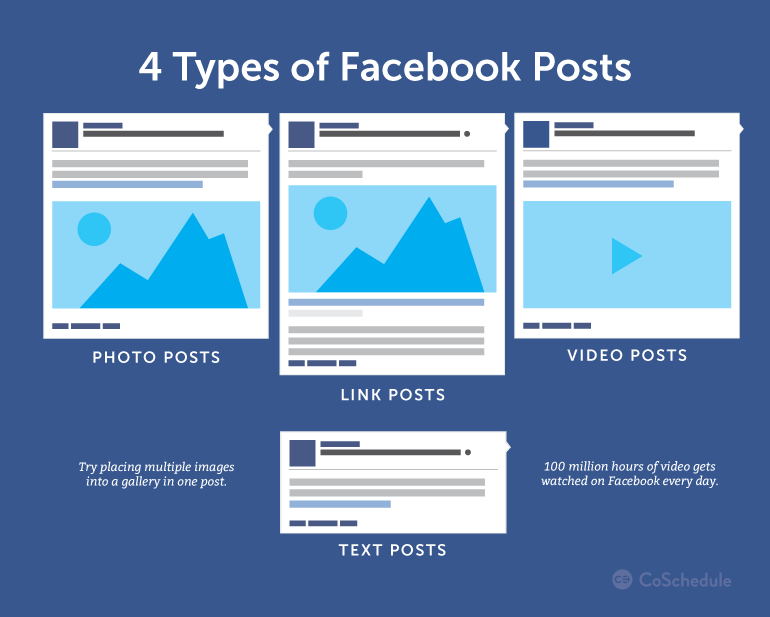 Video Posts: When it comes to video content, Facebook is trying to compete with YouTube and so they place an emphasis on video posts.
You have two options here:
Post video URL'S from YouTube or another source
Uploading video's directly to your Facebook page
It should be noted that Facebook tends to favour videos uploaded directly to their site. However, this means that you will need to have the resources to shoot and create your own video content.
Photo Posts: Adding photographs to your Facebook page is essential to creating a visual representation of your brand. You can share your own photos as well as sharing photos that other people/companies have uploaded. Photo posts are even more essential to any business which is selling a physical product like a clothes store or breakfast café.
When uploading photos, keep in mind that Facebook cuts off a certain section of the photo margins when it appears on your customers' timelines.
Plain Text Status Updates: A lot of people may think that a Facebook status with just text is useless or ineffective. However, one study by Social Bakers actually showed these posts as having more reach than posts with photos:
Link Posts: Sharing links from other sources, otherwise known as curating content, is an integral part of any successful marketing strategy. By sharing relevant content that is in keeping with your company's tone and voice, you are helping to create an overall impression of your company values and interests as well as growing your network and business.
When creating any of your Facebook posts, it is important to ask yourself two questions:
Does it relate to your brand and showcase your product/service?
Does it project and maintain your brand's voice?
Step 5: Feedback and Word of Mouth
You can use your Facebook page to encourage customers and clients to leave positive feedback and reviews. With Facebook being such a public forum, this is a cheap and simple form of advertising.
However, what is perhaps even more important, is using Facebook to effectively respond to unhappy customers or negative reviews. Be prepared to enter into a conversation with these people and show that you are willing to resolve their issue. This can turn a negative impression of your business into a positive one.
You should also encourage your employees to be your biggest cheerleaders on Facebook. According to the Sprout Social's 'Brands Get Real Report', 72% of people feel more connected to a brand after employees shared information about it on social media.
There you have it, 5 simple steps to turn one of the world's most popular, social media platforms into a powerful and effective marketing tool for your business.