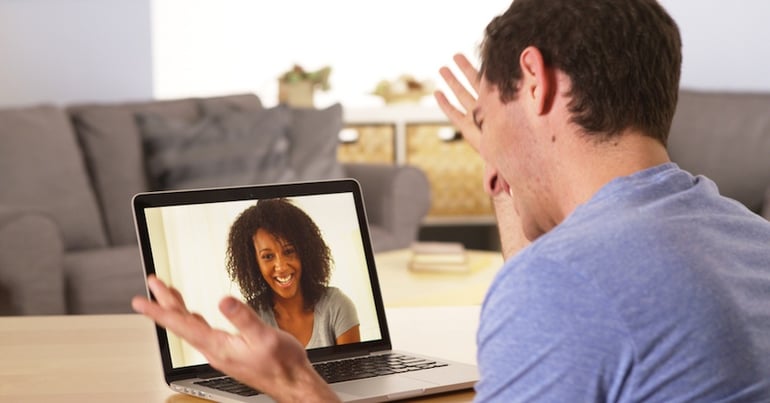 Read time: 3 - 4 minutes
Spending Christmas away from home can be tough, especially if you've been far away from loved ones for a while. But luckily with all the technological advancements and globalisation happening these days, connecting with friends and family even while you are away isn't so hard anymore – not to mention a lot cheaper.
You're sitting at your dinner table with a delicious feast laid out in front of you, wouldn't be nice if Aunty Erika could see this marvellous spread?
Hearing someone's voice when you haven't spoken with them for a while is wonderful, but even better yet is being able to see them face to face, their eyes, expressions and surroundings – now that's a real catch up! For a number of years now, Skype has been the forerunner in the video calling space.
Skype is easy to use and as long as you have a decent internet connection you can chat anytime, anywhere on a laptop, tablet or smartphone. Skype-to-Skype are free, untimed and super convenient. You can use the Chat function to have quick conversations or leave messages when your loved one is offline; send photos and files of any size in a matter of minutes; and why not try Skype's group function? These conference-type video calls allow you to talk with any number of people in different locations anywhere in the world.
Skype also allows you call to mobiles and lines at much cheaper rates than off your usual landline – so you can call loved ones even if they're not connected online.
Apple's video calling service lets anyone with an iPad, iMac or iPhone make free calls to other users. It's 'bundled' on the iPhone, but is a separate app for the other devices. You can switch the camera angle during a FaceTime call so it's facing towards or away from you, which means you can show each other the kids, pets or the new raised herb garden.
While WhatsApp may not be as ubiquitous here in Australia, it's certainly proven popular in countries such as the United States. But whether you opt for WhatsApp, Facebook's Messenger or any other variation of the instant messaging app line, they're a great way to keep in contact with those you care about without the usual text and call charges.
The majority of these apps have evolved substantially in the past year or so, with most of them not just offering the ability to text others, but to also send rich media (photos, videos, voice recordings) and call over mobile data or wifi.
Chances are you have a Facebook account, and that's not an oddity given that more than half of Australia's population actively use the social network. As far as social goes, Facebook is the best for keeping up-to-date with friends and family. Even with those friends or extended family you don't speak to too often, you can still stay in the loop with what they've been up to and when they may be in your neck of the woods.
If Facebook isn't really your ideal place for posting up frequent updates, why not start your own personal blog? Keep your family updated this holiday season by writing daily blog posts that recap your life. Your family will feel more connected when they can read about what you ate on Christmas Eve or how you celebrated New Year's Eve.
Have your friends and family do the same and you can grow closer to each other with these personal posts. You can often set up a blog to remain private, as well, so only those who are given a direct means of access (e.g. you send them the link) can view it.