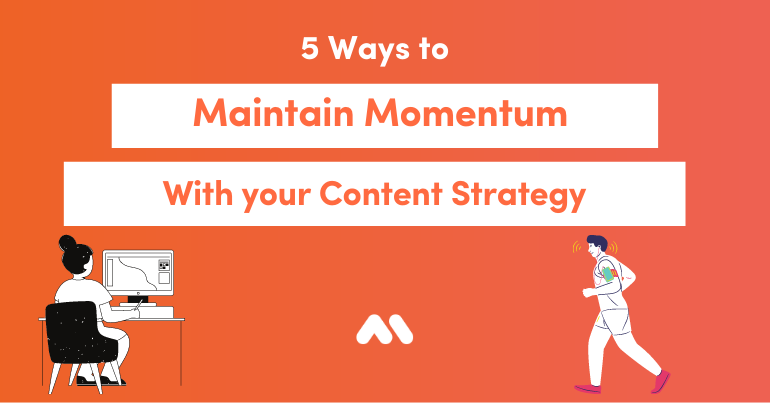 Do you ever feel like you're pumping and pumping out blogs for your business but seeing no results? Are you tired of running a challenging and time-consuming content strategy?
If so, then you're in the right place. To help you out, we've found 5 ways for business owners to maintain momentum with their content marketing strategy.
Mix it up
Content marketing isn't only about blogs. Content can also include ebooks, reports, guides, case studies, templates, toolkits, videos, social media posts, emails, podcasts, infographics, lead magnets and more. Changing up the types of content you publish will help to reengage your audiences with your products and brand and reduce ad fatigue. Presenting varied content will also help you to stand out from the crowd and reach wider audiences.
Content can have different purposes, from driving brand awareness to generating leads to driving sales. According to Hubspot, most prospects engage with 6-7 pieces of content before making a decision. This means that as a marketer, you have six chances of influencing them. Presenting them with dynamic, varied content is more likely to be effective than showing them the same message six times.
To determine the right type of content to create, think about your target audience and buyer personas. Consider:
What are they looking for?
What challenges are they trying to overcome?
Why do they need your product or service?
How can you help them to succeed?
Where do they spend their free time?
Also think about which stage of the funnel they are in, from awareness to consideration to decision, as this will impact which type of content is more effective.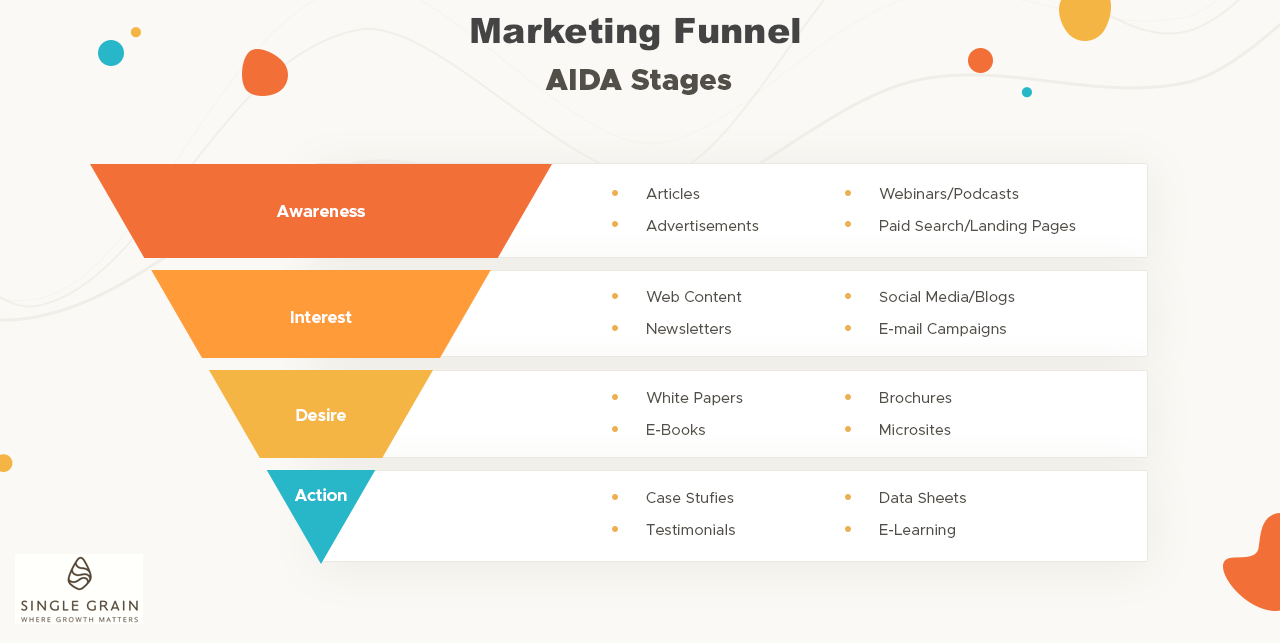 Learn more: 21 Types of Lead Magnets that Convert
Learn more: What is Content Marketing and how does it drive sales?
2. Tell a Story
Content marketing is all about telling stories that resonate with audiences. Content needs to provide value to your customers and relieve their pain points. Content guides prospects through the marketing funnel, from awareness to consideration to decision.
Finding the right voice for your brand is essential to reaching your customers. Is your voice cheeky, quirky, creative or professional? What does your tone say about your business? How do you want customers to see you?
Think about the story you are trying to share. Also look at the stories other brands in your niche and industry are telling and how your brand is different or similar. What makes you unique? Why did you start your business? What essential service do you provide to your customers?
Find your own angle and leverage this for your content to reach a wider audience.
3. Use Social Proof
Another way to resonate with audiences and keep the momentum of your content strategy going is through leveraging social proof. Social proof is a storytelling technique that convinces customers to follow the crowd. If they see someone using and enjoying your product, they are influenced positively towards subscribing.
Social proof increases conversions through building brand awareness, growing brand trust and credibility, establishing brand authority in the industry, and influencing decision-making.
In your content, you can include social proof through reviews, testimonials, customer stories, employee stories, behind-the-scenes, user-generated content, company history stories, case studies, client success stories, company awards and recognitions, and more.
For example, you could create a blog post about digital marketing and include a case study of one of your clients, detailing the work you did for them.
Learn more: How Social Proof Increases Conversions
4. Maintain a Consistent Plan & Schedule
A consistent content plan and schedule will help you to avoid setbacks like Writer's Block and so maintain momentum. Mapping out a content plan helps you know in advance what content you need to create, and makes it easier to create content in batches. Brainstorm topic, keyword and content ideas and add these to your plan.
Producing content to a consistent and timely schedule is important for consistently engaging with your audience and meeting their expectations. Customers who have subscribed to email lists, newsletters and your social media pages are a captive audience, waiting for more content.
It's important to get the balance right. Sending too many emails can frustrate customers and make that 'unsubscribe' button more tempting. However, if customers don't hear from you for ages, they'll start to look at your competitors instead.
Creating an editorial calendar is a great way to keep track of what content you are producing and when it is being published and shared. It'll also help you to stay on top of your content and ensure it's consistent and high-quality.
5. Audit & Refine your Strategy
Refining your content strategy (even if it's working well) will help you identify any gaps and areas you could improve. A content audit looks at all your content and assesses its strengths and weaknesses. Ask yourself which pieces are performing best, which topics your audience engage with the most, and which content needs refreshing. Completing a content audit can help you improve lead generation, sales and marketing efforts for the future.
Goals for your audit could include:
Improve SEO
Identify content gaps
Determine which content is performing best
Generate ideas for future content
Eliminate outdated content
For your blog, you could look at performance analytics including:
Page length
Page views
Form submissions
Time on page
Publish date
Bounce rate
Visit metrics
Social shares
For other content, look at:
Word count
Type of content
Content condition (up to date or not)
Topics & keywords
Tags & categories
Comments & social shares
Call to action
Funnel stage
Conversion data
After conducting your audit, it's important to take action based on what you discovered to improve your content strategy.
Maintaining momentum with your content strategy is easy: create varied content, tell a story, include social proof, use a consistent schedule, and audit and refine your strategy.
Looking to supercharge your content marketing strategy? Margin can help!