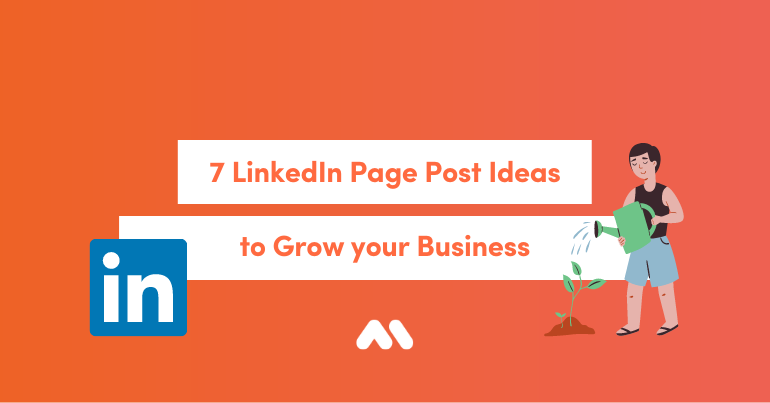 Looking for a way to build a sense of community with your customers? Why not try sharing content on LinkedIn?
Content marketing on LinkedIn can be a powerful tool for growing your business.
With the right strategy, you can use LinkedIn to share content, build brand awareness and connect with your customers.
Around 800 million people use LinkedIn worldwide. According to research by Hubspot, LinkedIn content is known to generate leads 277% more effectively than Facebook and Twitter.
This means if your business isn't there, then you're missing out! A LinkedIn company page is an essential addition to your content marketing toolkit.
Why is sharing content on LinkedIn important?
LinkedIn is a prime content marketing target. This is because 40% of users log in everyday to look for new content.
Creating content on your LinkedIn page allows you to attract, engage, and delight your customers. For example, you might write about industry insights and events, or use storytelling techniques to help customers get to know your business and team.
LinkedIn users are looking for quality, in-depth content. Long-form content that gives insight into a complex topic is the most effective.
In fact, 6 out of 10 LinkedIn users are most interested in reading about industry insights. The next two most in-demand content categories are:
Company news: 53%
New products and services: 43%
Sharing content on your LinkedIn business page helps you to build a relationship with your customers and create a sense of community.
Through posting quality content on your LinkedIn page, you can:
Make connections
Generate leads
Build business relationships
Create a community
Establish your business as a thought leader in your industry
Establish social proof and reputation
Drive traffic to your website
How to create content for LinkedIn
When you're creating content for your LinkedIn company page, there's a few things to keep in mind to ensure your content is engaging and reaches the right audience.
Consider your audience:
Before sharing any content, you need to think about who your audience will be. Tailor your content to suit their interests and needs. What problem are they trying to solve, and how will your content make it easier?
Hook them in:
To make an engaging post, you need to start with a hook. Lure the reader in with a question, fun fact, surprising statistic, interesting quote or challenging statement. Make sure it's relevant to your industry and target audience.
Don't try to make a sale:
For LinkedIn content, it's best to be genuine and not push to make a sale. Users on LinkedIn are looking for educational and informative content. They can easily tell the difference between a hollow sales pitch and quality content.
Include hashtags:
Including hashtags in your LinkedIn posts is important to ensure your content reaches the right audience. Hashtags also help you to reach people outside of your network who may be interested in similar topics. Aim for 2-3 hashtags per post.
Share consistently:
To successfully engage with your audience on LinkedIn, you need to post content consistently. Plan out your posts in a social media calendar and set up a schedule that you can easily follow. This will help you to find a balance between not posting often enough and spamming your followers.
Create unique content:
While it may be tempting to publish the same content on LinkedIn as your other social media profiles, this would be a mistake. Instead, provide your LinkedIn audience with unique content that makes them feel valued.
Observe and adjust:
Once you've sent off a few posts, take the time to observe what worked well and what could be improved for next time. Make adjustments before sending your next post.
7 Ideas for LinkedIn Page Posts
There's a plethora of different ways you can create engaging content for your audience on your LinkedIn company page. Here are some of our favourite ideas for LinkedIn page posts:
1. Write a LinkedIn Article:
LinkedIn articles are perfect for showcasing your in-depth knowledge of a certain topic related to your industry. Writing LinkedIn articles helps to build your credibility and establish you as a thought leader. LinkedIn articles can be up to 15,000 words. Write a blog series, guide, white-paper, or book chapter. This also helps to drive traffic to your LinkedIn business page.
2. Share a LinkedIn Newsletter:
If you publish articles regularly on LinkedIn, you can also create a newsletter. You can invite people to subscribe to your weekly or monthly newsletter, and deliver them multiple articles at once. This helps to increase readership and drive traffic to your company page.
3. Post a Lead Magnet:
LinkedIn can be a great place for sharing lead magnets like ebooks, white-papers, guides, manuals and resources. The aim of a lead magnet is to attract new customers to your business with valuable content. On LinkedIn, you can create document posts to upload and share documents with your followers.
4. Share a Video:
LinkedIn's native video tool is perfect for creating an entertaining video to share with your followers. Videos help to generate engagement, reactions, comments and shares. You can upload videos of up to 10 minutes on your phone, or up to 15 minutes on a desktop.
5. Ask Questions with LinkedIn Polls:
A great way to engage with your followers is through creating a LinkedIn Poll. This allows you to ask a question to the community and receive their answers. Audiences can actively participate in the discussion.
6. Engage with LinkedIn Live:
Live-streaming on LinkedIn can help boost engagement for your company page. In fact, LinkedIn Live is known to generate 24 times more engagement than a standard post. You can create webinars, conversations, panel discussions, and events for your followers to attend and participate in.
7. Share Staff Spotlights:
Audiences on LinkedIn love to see personalised content about companies they follow. Share photos of your staff and highlight special moments or achievements. Behind-the-scenes content also works really well.
Looking to grow your business?
Sharing content on your LinkedIn page can be a great way to grow your business. If you're looking for more advice on how to level up your marketing and expand your reach, talk to Margin.