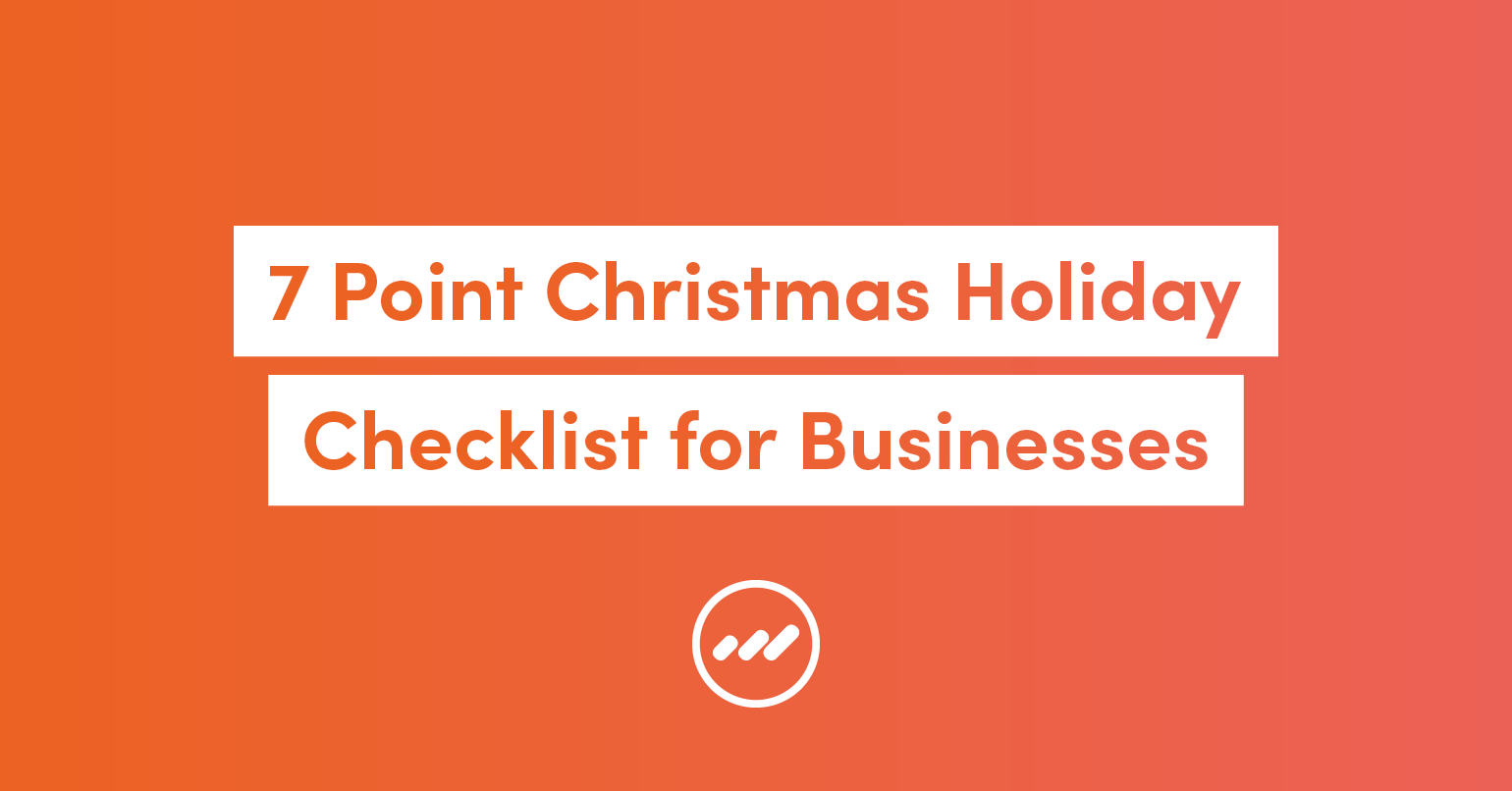 The Christmas holiday season is our favourite time of the year. It's all about spending quality time with friends and family, eating amazing food, and enjoying the fantastic weather that Australia has to offer.
However, it can also be a very stressful period for business owners and managers. With the end of the calendar year coming up, there's more to do and less time to do it in. Trying to prioritise your tasks and remembering what's important these holidays can feel overwhelming, but it's actually easier to get organised than you think. With our 7 Point Christmas Holiday Checklist for Businesses, you won't need to worry about a thing!


1. Send Personalised Client Christmas Cards
Nothing says thoughtfulness like a real life Christmas Card. That's right - we're talking snail mail here, not the kind you send over email. If your team has graphic design skills to show off, there's no reason you can't utilise them here - make your own template with a team photo, and remember to hand write the personalised message inside. Your clients and customers will appreciate the effort you've made!
2. Organise Your Christmas Party
This one shouldn't cause too much stress. Everyone loves a Christmas party - it's one of the best parts of the working year. For something a little different, veer away from the standard dinner and drinks. You could try mini golf, laser tag or an arcade bar for something a little out of the box and more focused on team building.
3. Create Christmas Email Signatures With The Dates Your Business Will Be Closed
You don't have to be a design guru to add a little Christmas spirit to your business's email signatures! The addition of a Santa hat or some snow to your logo will do the trick.

Remember to also add your holiday hours to your email signature so that your customers will remember when you'll be closed and unavailable.
4. Schedule a Blog Post, Social Media Post and an Email Newsletter
Christmas is a great opportunity for you to write a new blog. Tell your clients and customers about any sales or promotions you'll be offering for the holiday period, remind them of your business hours for Christmas and the New Year, and take the opportunity to wish everyone a Merry Christmas.
Don't forget to schedule a social post for Christmas Eve, Christmas Day, and the New Year, and to send a newsletter wishing all your clients a Merry Christmas, and thanking them for their support throughout the year.
5. Update Website With Christmas Banner
Keeping your website up to date is another playful and important way you can show clients and customers that you're putting in the extra effort. Just like the email signature, it doesn't have to be elaborate - it's intention is to showcase the personality of your business.
6. Organise Secret Santa With Staff
Secret Santa is sure to promote good vibes for employees of any business. It's good for the team culture, and provides a reason for everyone to attend the Christmas party. A $20 limit is all you need, and there are websites you can use to update your wishlist and find your secret santa like Secret Santa Generator.
7. Update 404 Page With Seasons Greetings Message
A 404 error is a standard message code that means the website you were trying to reach couldn't be found. It's a client-side error, meaning either the webpage was removed or moved and the URL wasn't changed accordingly, or that whoever typed in the URL did so incorrectly.
For the most part, you can configure your web server to create a customized 404 error page - and a Christmas themed 404 error page is a fun, unique and playful way to capitalise on this.

Christmas is a great way for you to prioritise your Digital Marketing, but that doesn't mean you shouldn't be on top of it all year round. Get in touch with us via the form below to find out how we can help your business flourish this silly season - and all the way into 2020!