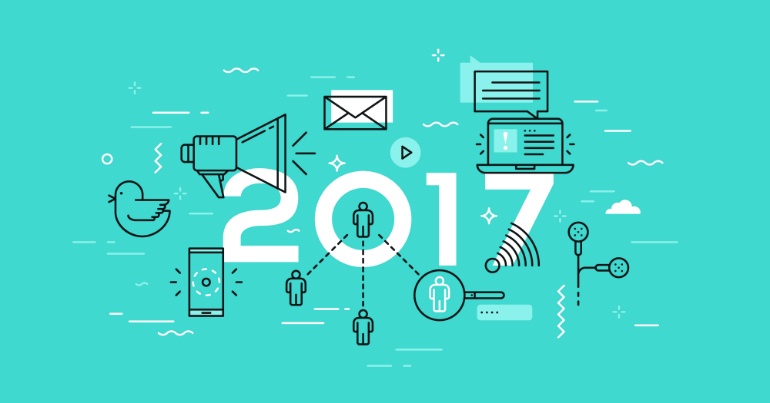 From nonsensical cat memes to the increasing reach of messaging services, 2017 was yet another busy year for Australian internet and social media users.
There were big announcements locally and all over the world, from the launch of the iPhone X, the growth of voice search technology, countless updates to the top platforms like Facebook, Instagram, Snap Inc, Twitter, as well as the continued rise of social media as a news (or fake news!) source, connecting people and events all over the world.
We look back on 2017 in this post and re-cap the year that was...
Let's talk numbers…
According to The Australia Bureau of Statistics, there were around 13.7 million Aussie internet subscribers at the beginning of 2017. Now, with over 17 million Aussies active on Facebook (out of a total pop of 24.4 million) this number can be assumed to have increased by the end of 2017. A report by Sensis 87% of Aussies access the internet daily with averages showing that each spends 10 hours a day on an internet connected device.
Reviewing the stats (links provided below), Facebook is still the leader for the overall year for average daily users, but other popular social platforms are also showing off some stellar numbers: Instagram now has 5 million active Australian users; 4 million have signed up to LinkedIn and another 4 million to Snapchat, 3 million are on Twitter and a total of 15 million unique Aussie visitors on YouTube.
2017 Re-cap Stats:
Australian Desktop Internet Browsers (% Market Share)
| | |
| --- | --- |
| Chrome: | 44.35% |
| Safari: | 34.53% |
| Firefox: | 5.61% |
| Internet Explorer: | 5.43% |
| Edge: | 3.43% |
| Opera: | 0.92% |
Australian Search Engines - All Devices: Desktop, Mobile, Tablet, Console (% Market Share)
| | |
| --- | --- |
| Google: | 94.06% |
| All the rest: | 5.94% |
Australian Mobile Operating Systems (% Market Share)
| | |
| --- | --- |
| iOS: | 56.2% |
| Android: | 41.33% |
| Windows Phone: | 0.56% |
| All the rest: | 1.91% |
Australian Mobile Browsers (% Market Share)
| | |
| --- | --- |
| Safari: | 52.99% |
| Chrome: | 32.34% |
| Samsung Internet: | 7.75% |
| Android: | 1.61% |
| All the rest: | 5.31 |
Australian Desktop vs Mobile vs Tablet Usage (% Market Share)
| | |
| --- | --- |
| Desktop: | 51.59% |
| Mobile: | 35.56% |
| Tablet | 11.63% |
* Statistics are current at time of publishing
Overall, 79% of Australians use social media, a ten percent lift from the previous year (Sensis, 2017).
According to a report by Sensis (2017-2018), there seems to be a huge gap in social media which indicates that many businesses are failing to capitalise on a prominent digital presence.
The report goes on to share that 52% of small businesses, 46% of medium-sized businesses and 21% of large businesses don't have a social media presence at all. On top of this, for those that do, 80% of small businesses, 73% of medium businesses and 39% of large businesses are failing to use paid social media advertising. These figures are in stark contrast to the time and frequency that people spend online, and therefore an incredibly large audience and opportunity missed.
Why do people go online?
Catch up with family & friends

Share photos or videos

Watch videos

Search for info on news & current events

To play games

Meet new people/make new friends

Follow celebrities/bloggers/media personalities

Connect with people with similar interests

Find out about particular brands or businesses

Find out about entertainment events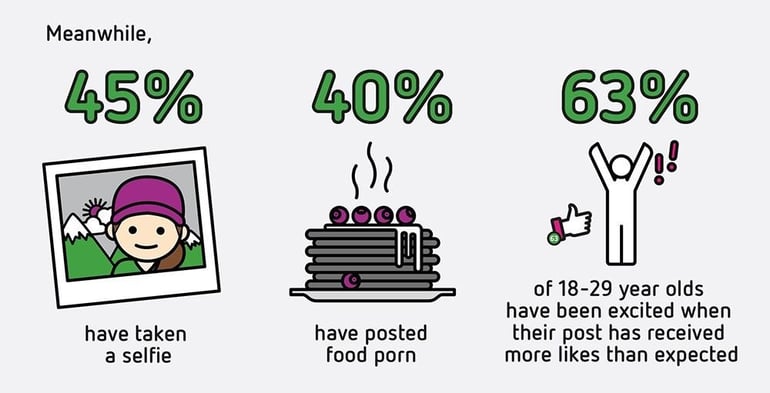 Source: Sensis (2017-2018)
2017 Trends Your Business Should be Using:
Being a part of the conversation
If, for example, you're a hair and beauty brand and your key audience (young to middle aged women) communicate through tagging each other in funny memes, then it looks like you need to start making memes using your products! It'll boost your engagement, attract new customers to your page and ultimately bring them one step closer to that all important customer conversion.
Social Messaging
2017 saw the rise of social messaging for brands. People are starting to prefer using messaging apps more than social networks. Statistics in the US show that a quarter of all the apps were uninstalled after a single use, except for messaging apps.
Since target audiences are now shifting to private messaging, marketers and brands need to interact with them at the same level. This is the reason why Facebook released Messenger Conversation from Facebook ads that allow advertisers to start a new conversation from an ad. Brands like Hyatt are using Facebook Messenger to offer 24/7 customer services to their clients.
The move towards social messaging has also lead to the emergence of chatbots, particularly on platforms like Messenger. Find out more about using chatbots for your business here.
Social eCommerce
2017 also saw the increase of Social eCommerce. All the leading social networks allow their users to purchase products within their apps. Think Facebook, Twitter, Instagram, Pinterest, and recently Snapchat.
Going Live
Think Instagram Stories, Facebook Live and Snapchat Stories - this year they added the function to go 'live'. Live video allows you to interact with your audience and customers in real-time.
The Continued Growth of Sponsored Content
With all the new functions that have been added to social media platforms, such as stories, going 'live' etc., there's been a definite drive for more storytelling, with brands really grabbing the opportunity to share content that's new, exciting and engaging, without interrupting the user experience.

Statistics are sourced from:
So what's in store for 2018? We'll keep you updated on all the digital and social trends throughout the year.
If you'd like to keep up-to-date, be sure to subscribe to our blog via email. You can find the subscription box to the top-right or on the bottom of this page.