Editor's note: At the time of publishing this article, it appears as though Space Ark! has exceeded its CPU limit. So if you choose to view the site itself, it may not currently work and you'll need to try again later.
Here at Margin Media, we spend a lot of time giving advice to clients about what can make or break their websites. But sometimes you need an example to work from. Starting today, we'll be showcasing a bad website once a month. This month, we're focusing on Spark Ark! - a site for the novel written by Nathan L. Carnes. The novel was released in 1999, something of which is perfectly illustrated in the clip-art heavy, bright fonted website.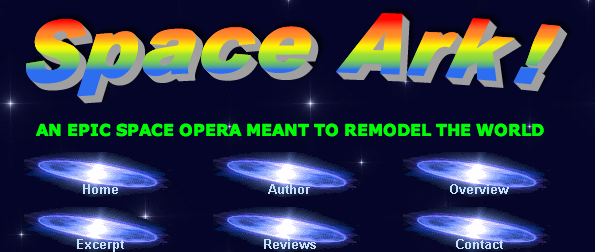 Home Page and First Thoughts
Once loading the site, viewers are blinded by a Word Art font stating Space Ark! According to the byline (sans author name), it is a 'science fiction novel intended to improve the world'. Asking readers to 'please scroll down', the second thing to hit your eye (ignoring the clip art pasted on a galaxy background), is that the author is seeking a publisher, Hollywood agent, and Motion Picture Producer, confident his work is worthy of an action-packed movie adaptation.
Early exploration of the site shows that right-clicking is disabled, and that each page requires excessive scrolling. Furthermore, there are near-constant inconsistencies across the site, in terms of the book's word count (the author proudly states it is 105,500 word 'symphony of inspiration, revelation and fun' on the website but only 95,000 words on Amazon), and an ever changing byline.
Scrolling down further, you'll come across a diamond-shaped mass of highlighter view text, with the author using every verb thinkable to describe the reader's experience with the novel. Here's a sample - it was actually too big for me to screen capture in its entirety.

About the Author
Moving on to the author's page, viewers are invited to get to know Carnes a little better. Accompanied by charming pictures of a pot of gold and hummingbird GIFs, Carnes explains that the last chapter of the novel's political component is based on him completing his political science degree in 1975. Inspiration from the novel came from his experience with a UFO on a midsummer's eve in 1989. Details vary after this - despite being published in 1999, the author claims it took him 14 years to write this novel, concluding in 2004.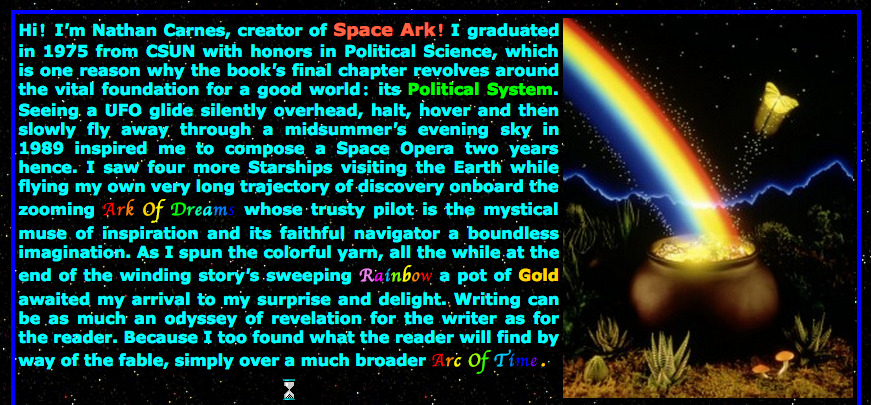 After sweetly dedicating the book to his mother, the author then goes on a 16-line one-sentence paragraph discussing the 'brilliant beacon of the one True Love', followed by his jubilant return to the 'Heavenly Country'. Key phrases are highlighted using different fonts AND colours. But this doesn't make it easier for the reader, but rather more confusing. Most of these highlighted phrases are clickable, which link to superfluous full screen images with no real clear context as to why they're on the site in the first place. Some of them do somewhat relate to the specific words or phrases that are highlighted, but others feel chiefly irrelevant.
Overview
Moving on to the overview section, you are greeted with a summary of the novel that is perhaps longer than the novel itself. There's not much more to say here without instigating a 'spoiler warning', so I'll leave it at that. One other thing to note is that the font has darkened from sky to periwinkle blue on this page.
Excerpt
Headed and footed with inspirational quotes, the excerpt section gives curious readers a little taste of the sci-fi adventure Space Ark! is. Again overly long, Carnes gives away his story too soon, thus voiding the actual interest-generating purpose of releasing a snippet. Like the other pages, this page is heavily decorated with clip art of pyramids and symbols - perhaps hinting at themes in the novel? It's unclear.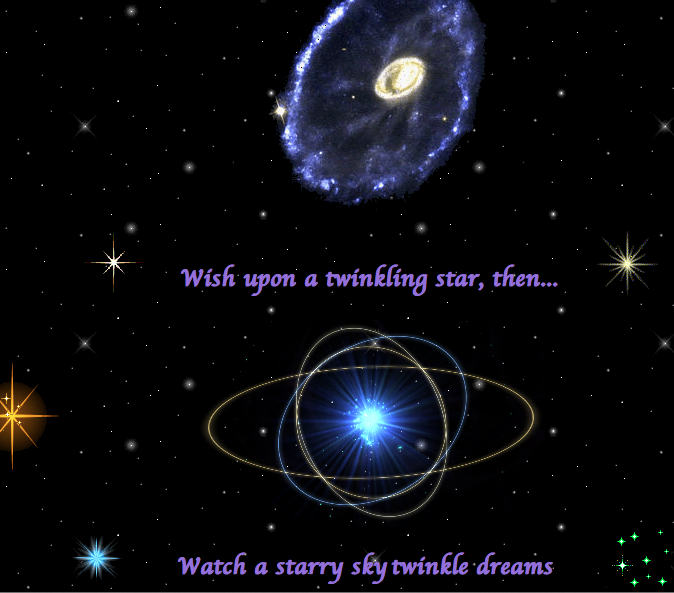 Reviews
The contemporary consumer rarely purchases anything without reading reviews nowadays, and Space Ark! is no different. Under this section, there are a selection of nearly too good to be true reviews, begging for more copies and other publications to be released. While there's no way to disprove that these reviews are legitimate, most of them seem to be completely lacking in any negative criticism. And in yet another example of bizarre formatting choices, the 'v' and 'C' at the bottom of every review are clickable - again linking to random images for no specific reason.

Contact
Usually the contact section is kept short and sweet, allowing for important information to be found in a quick and effective manner. Not in the case of Space Ark! Again discussing the heavily-political final chapter of the novel, this page is likely the heaviest, text-wise. It is very easy to miss the small email and donate links within Carnes' political rant, thus making the purpose of a contact page pointless.

What to take away
Basically, do not do anything this site does. Space Ark! breaks all the basic rules of good website design. From over-cluttered, outdated clip art, to intensely text-heavy pages and glaring logical inconsistencies, the design as a whole is doing nothing to aid the author. By not keeping it simple, the site is definitely not user-friendly, meaning most will not venture deeper than the home page. Furthermore, by giving the ending of the book away twice, he is pushing away consumers by giving them nothing to get excited about. Needless to say, this site does not get a passing grade.
If you'd like to keep up-to-date on the latest marketing and tech news, be sure to subscribe to our blog via email. You can find the subscription box to the right on this page.
Margin Media is an inbound marketing company based in Brisbane. We offer a range of digital solutions to help your business increase its traffic, qualified leads and customer base. To find out more about our services, visit our home page.