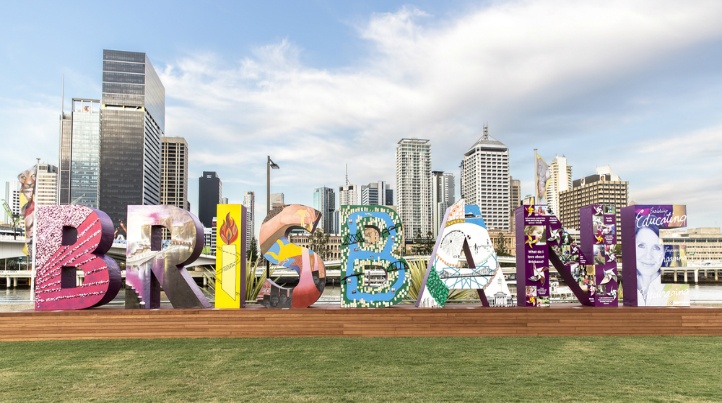 For some businesses, social media is an afterthought. But for others, it's used to express themselves, promote their business, connect with their customers, and make sales.
If used well, social media can become a key business tool for any industry. It can grow your business overnight, share your products with millions of people, and turn a startup into a fully-fledged business.
Here are the Brisbane businesses that are championing their social media and making waves across Queensland and the rest of the country.
In no particular order: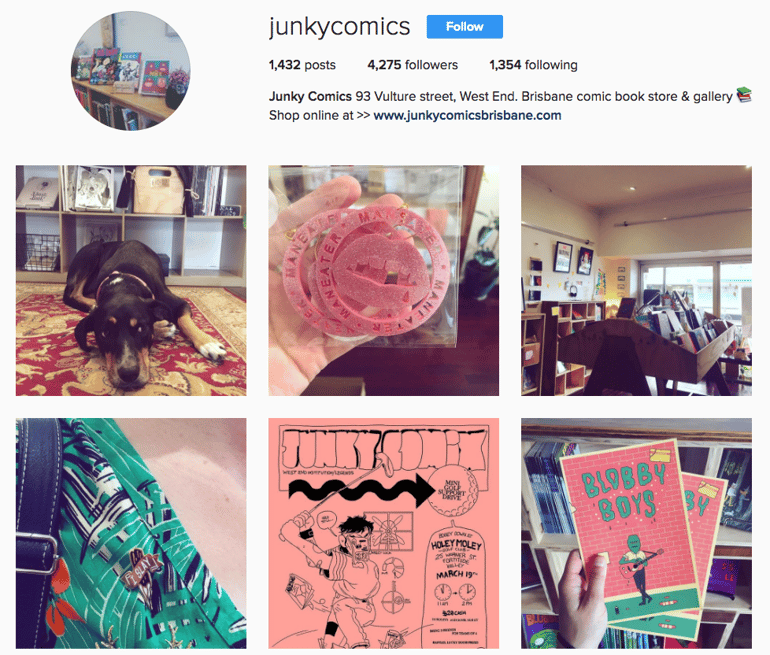 This West End comic book store makes great use of their social media, particularly their popular Instagram account. Posting new products, comics reviews, promoting events, and sharing visually engaging content (like dogs) makes for a winning combination. Their posts are relatable, down-to-earth, and entertaining and they do a great job in making comics universally appealing.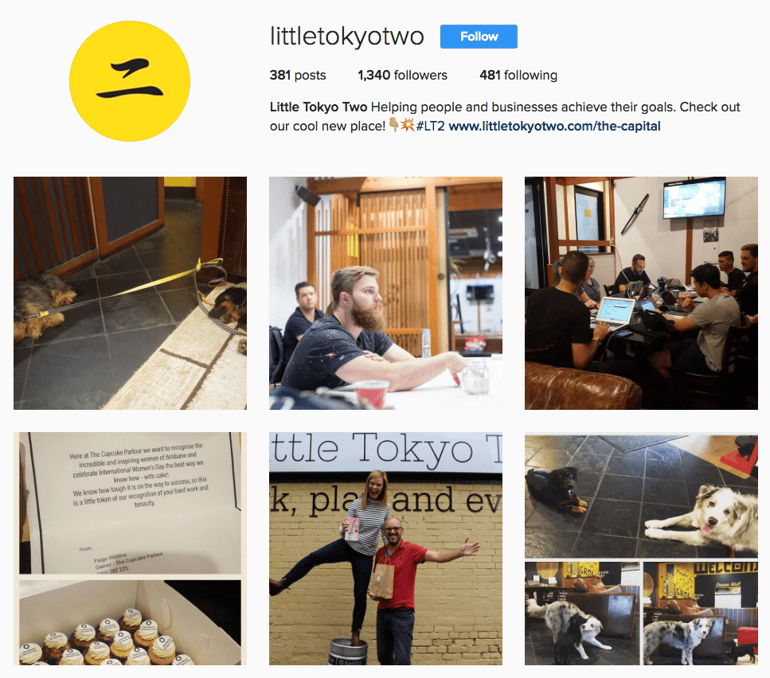 Little Tokyo Two is everything from a communal workspace, mentoring program, supportive community, and a dog haven. The last thing might not be true, but their social media gives people a great behind-the-scenes look at their work culture. They post a great mix of professional and informative content, as well as social-friendly images of dogs and cupcakes. They have their strategy down pat.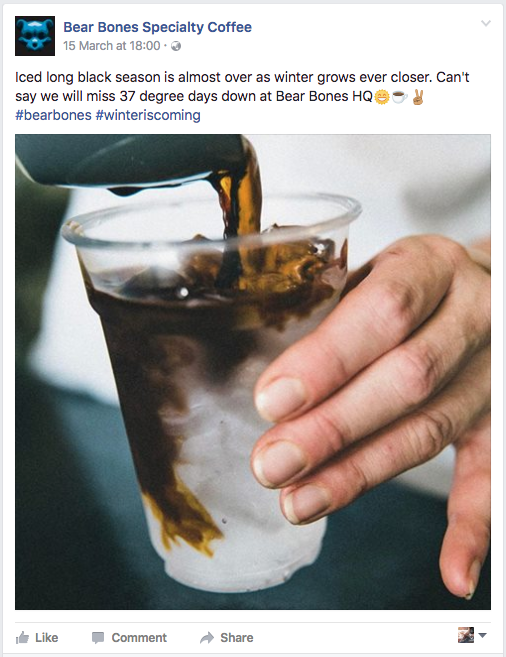 The team at Bear Bones Specialty Coffee not only know how to make a good cup of joe, but they also nail their social media. With a mix of great photography, engaging copy, and a playful tone, they promote their product and company culture all at once. Not only that, but they champion their team of employees which is always a good way of generating engagement.

Big Fish know good design like the back of their hand. The branding and digital agency use their Instagram to share the agency's work and projects, but also to promote the artistic endeavours of their staff outside of the company. It makes for a visually sleek, colourful, and inspirational feed. They take advantage of Instagram videos, posting cute and entertaining animations and highlighting their best work.

The strength of any business is in their staff, and Just Digital People, a recruitment company, use their social platforms to celebrate the people that work for them. They present great behind-the-scene videos and posts, and have taken advantage of Instagram's new gallery feature. This realistic and imperfect style is a great way to appear genuine, trustworthy, and down-to-earth.

It would be hard for a social platform dedicated to chocolate to not be delicious...I mean successful. The formula of chocolate treats, new sweet products, fun employee snaps and customer photos makes for a universally appealing feed. They post a great mix of content on their Instagram, which has nearly hit the 10,000 followers mark, but at the end of the day they know what the people want...chocolate and more chocolate.

Black Milk Clothing are a great example of championing social to engage their follower base. Their Facebook page is a hub of discussions and interesting content. They regularly get hundreds of comments on posts, thousands of likes, and a really great sense of community around the brand. Their posting schedule is very consistent and they post up to 3 or 4 times a day, which is a great tactic for a better chance at engagement and maintaining their place in followers Facebook news feeds.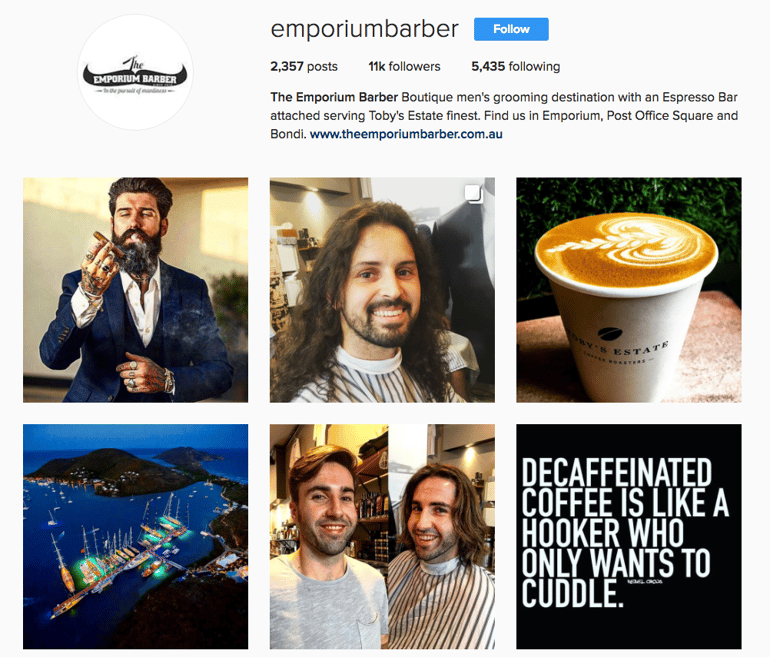 Everyone loves a before and after photo, and The Emporium Barber know how to appeal to their followers. They post consistently across their social platforms and share a great mix of content, from quotes, fashion, photography, and of course, good hair. The odd coffee post works it's way in as they also have a dedicated Espresso bar in their barber. Heaven.
This printing company in the city's northside is a great example of using a genuine and playful flair to their social posting. They also regularly share user-generated content, highlighting their happy customers while also promoting their products and services. This creates a great sense of community and instills trust.

Yes, Doughnut Time's content is pretty self-explanatory: doughnuts, but the key is how they use doughnuts to comment on timely cultural events and news stories. They post consistently and are clearly on top of their posting schedule. They are also good at social competitions, which is a brilliant way to promote engagement and social sharing. We don't want want to exaggerate, but their effective use of social helped to cement their brand name across the country and was a big part in their growth from a Brisbane start-up to a country-wide phenomenon.
We tried to include a mix of buiness types in this list to give some great examples of how social can be used for any type of industry. Instagram and Facebook are the most popular social platforms for business, but that's not to say you can't take advantage of platforms like Twitter, Snapchat, Tumblr, YouTube, Pinterest, etc.