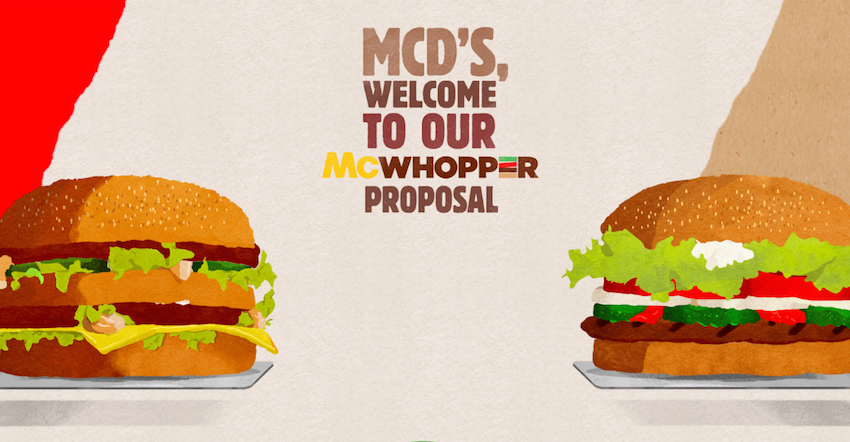 In its most recent marketing campaign, Burger King (BK) has made a highly publicised effort to ask for McDonald's (McD's) partnership to create a "McWhopper", an amalgamation of McDonald's Big Mac and Burger King's Whopper burger.
The #McWhopperProposal plan was to sell this special burger at a pop-up restaurant in Atlanta for one day, with all profits going to Peace One Day, a non-profit group that seeks to raise awareness of the International Day of Peace (21 September). McDonald's has since declined the proposal. Although Burger King may have lost McD's support, the campaign has been a big win for the company in a number of ways.
1. Burger King has won itself a lot of publicity
Having racked up over 3,900 re-tweets and favourited over 4,000 times on Twitter (not to mention over 24,200 likes, 7,000 shares and 2,300 comments on Facebook), the #McWhopperProposal is arguably one of the company's most talked-about campaigns. And this is just the social media commentary around Burger King's announcement on its own Twitter and Facebook accounts. Elsewhere, there has been a flurry of posts about #SettleTheBeef, which is another hashtag that BurgerKing has created to generate conversation about the Proposal.
2. The Proposal lends itself very easily to a lot of user-generated content

Burger King can pretty much take a hands-off approach to its social media channels for this campaign, letting fans and foes of the idea debate among themselves – all the while getting the conversation about the Proposal going.
3. It places Burger King as the good guy
What's great about the campaign is that it places Burger King as the good guy, and the company did not even have to (overtly) advertise about its products or put McDonald's down.
By making the first move to propose such a collaboration, BK is seen as the friendly guy who takes the first step to advance a great social cause and to make amends with their rivals by "extend[ing] an olive branch" to McD's. What's so clever about the Proposal is that regardless of McD's response, BK will still be seen as the good guy. Here's why:
If McD's goes ahead with the proposal (which, currently, looks like they didn't), BK will be seen as the instigator behind the idea and as the leader of the project, since it was their idea after all. A huge plus to BK on this front.
If McD's declines it, BK still wins simply because it has positioned itself with the Peace One Day folks (their YouTube video on the McWhopper proposal even stars Peace One Day founder Jeremy Gilley), and hence, as an organisation that cares about promoting unity. So, when people think of Peace One Day, they are likely think of BK, too. Meanwhile, McD's decline can be taken to mean that the company is disinterested in promoting peace – even if that's not what they intend at all.
4. The campaign sells products – even without overtly trying for it
Since McD's has seemingly declined the proposal, some people have gone ahead and purchased both the Whopper and Big Mac to make the McWhopper happen, such as the Femail team of the Daily Mail Australia.
The great side effect of the campaign is the potential sales from even proposing a mash up of the two burgers. Never mind the fact that people will buy a Big Mac – the point is that they'll buy a Whopper, too.

With that said, the McWhopper Proposal isn't perfect. Steve Easterbrook, McDonald's CEO, raised a good point when he wrote, "[L]et's acknowledge that between us there is simply a friendly business competition and certainly not the unequaled circumstances of the real pain and suffering of war" in the open letter to BK.

Certainly, BK does not mean to make light of actual war, although it is possible for others to read such a meaning into the Proposal. Also, there is undoubtedly room for suspicion as to whether Burger King is truly interested in promoting the cause of Peace One Day, or whether it has merely jumped on the peace bandwagon for its marketing ploy.
Either way, it just goes to show that there are many things to consider when your marketing campaign aligns itself with any cause – in this case, the International Day of Peace.
With contributions by Cecilie Berger