Despite initial predictions back in March, digital and social ad spend has now officially surpassed television. Here's a breakdown of where advertising money is being spent and some big changes on the horizon.
eMarketer made the predictions earlier this year that social and digital ad spend would overtake TV in early 2017, but they've now had to readjust their forecast.
Research shows that more money will be spent on digital advertising in 2016, with a total of $72.09 billion, while TV spending will be $71.29 billion. Although it may be a marginal difference, it marks a big change in the world of advertising and marketing.
*It is important to note that all of these figures are from ad spending in the U.S. but Australia is surely following suit.
Crunching the numbers
New numbers are showing that in 2016, digital (which includes advertising that appears on desktop, laptop, mobile, tablets and other internet-connected devices, and all the various formats of ads on these devices,) accounts for 36.8% of total media ad spending, with TV slightly lower at 36.4%.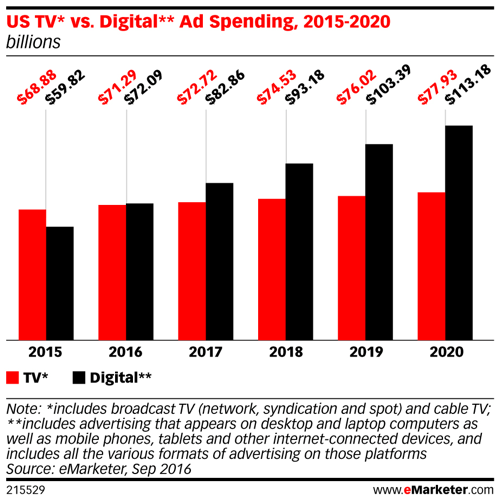 Within digital advertising, one of the areas where they are expecting the most growth is in video. Social Media Examiner's report shows that 73% of marketers plan on increasing their use of video in general.
Surprisingly, the biggest increase in video ad spend is expected for Facebook, with YouTube coming in second. Although YouTube is purely a video sharing platform, Facebook gets more reach and more results from advertising.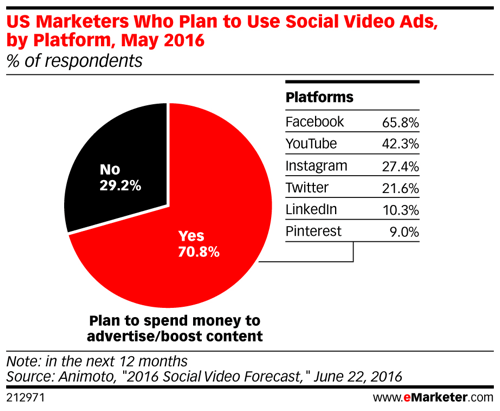 As well as the rise of video on Facebook, the platform itself is the top choice for marketers. The amount spent on Facebook advertising is continuing to rise: it accounted for $11.93 billion or 16.6% of all digital ad spend compared with Google's $4.79 billion share (13.8%).
55% of marketers use the platform as their main platform for advertising, and it makes sense given the number of users worldwide.
Take a look at the ad spend compared to that on Twitter.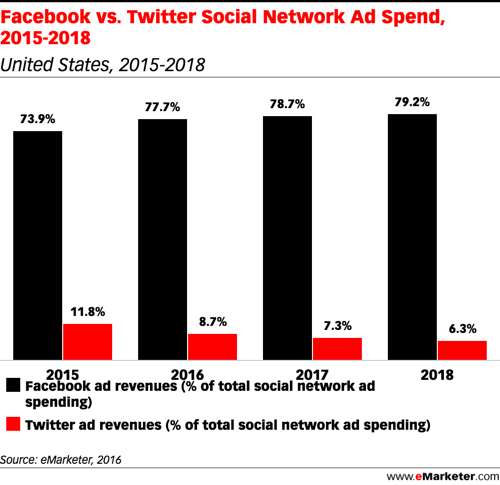 A mobile world
Along with these new findings and predictions, it's becoming clear that marketers are (and rightly so) directing an increasing amount of their ad investments into mobile.
We recently looked at the rise of mobile in our Micro-moments series, particularly how people are having to change their marketing approach as people switch to mobile. As the number of mobile users continues to rise, it's an area that shows no signs of slowing down.
Of the 267 million Internet users in the U.S. nearly 79% of them access the internet and social networks regularly via their mobiles. Predictions have been made that that could rise to 86% by 2020.
Facebook, in their quarterly report from July this year, announced that 84% of their advertising revenue was exclusively from mobile ads. That percentage makes up around $5.24 billion, so they have good reason to say that mobile is the best area for advertising growth moving forward.