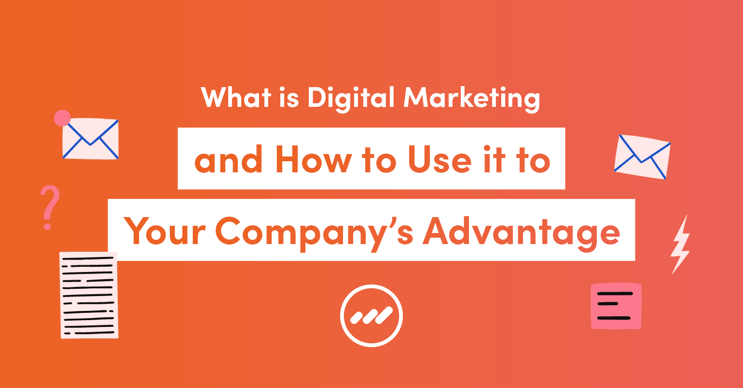 It takes work to build strong relationships, especially through online marketing. So small businesses have their work cut out for them.
You may be smart, but your marketing efforts generally aren't comparable to those of bigger corporations. Not with their enormous digital marketing budget and bigger payroll.
So how can small and medium-sized enterprises compete in the digital market? Here's how Bushwick Kitchen achieved marketing digital success.
The company started out as a 30-day challenge for founders Casey Elsass and Morgan Newman. Their very first product was a killer success generating up to $170,000 in just ten months.
$170,000 in ten months, how?
Think eCommerce and photoshop.
That's right. They used photoshopped images of their main product: honey infused with chilli flakes. It wasn't even available at the time but this move earned them $500 worth of pre-sales.
Next came email marketing. They sent messages to 400 of their friends encouraging them to support their new venture.
But the real digital marketing winner here was content marketing. Kitchn, Uncrate and Grub Street all featured this new product resulting in a 500% spike in sales.
Casey even provided suggested copy, article ideas and captivating images for press contacts. That's content marketing at its best and with experts.
Clearly, digital marketing doesn't only favour larger brands like Apple. It can be a staple for smaller businesses who know their way around a good digital marketing strategy.
The keyword is "know".
"The best digital marketers have a clear picture of how each digital marketing campaign supports their overarching business goals" - Pete, Hubspot
So, what is digital marketing?
What Is Meant by Digital Marketing?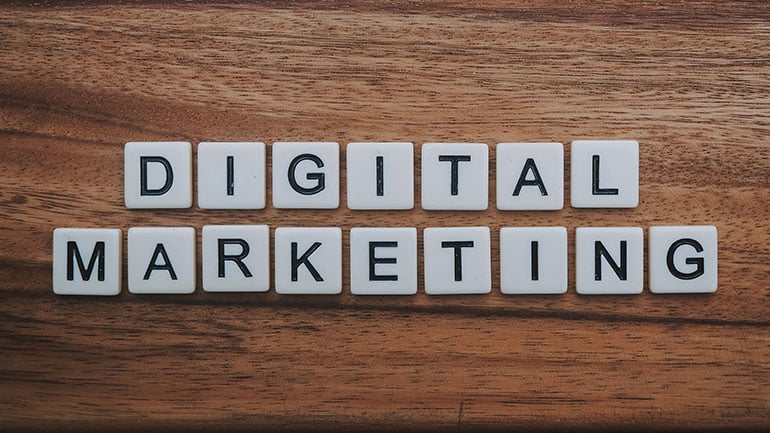 Digital Marketing is any form of marketing that exists online. This encompasses all marketing efforts that use an electronic device or on the internet. Businesses leverage digital channels such as search engines, social media, email and websites to connect with current and prospective customers. - HubSpot
Digital marketing has to be the biggest buzzword of our time. It's one of those terms you slip in at a meeting or add to your CV to sound super smart.
But when did digital markets emerge?
Although the term was commonly used in the early 2000s, digital marketing existed over 100 years prior.
Meet who we consider the real father of digital marketing, Guglielmo Marconi.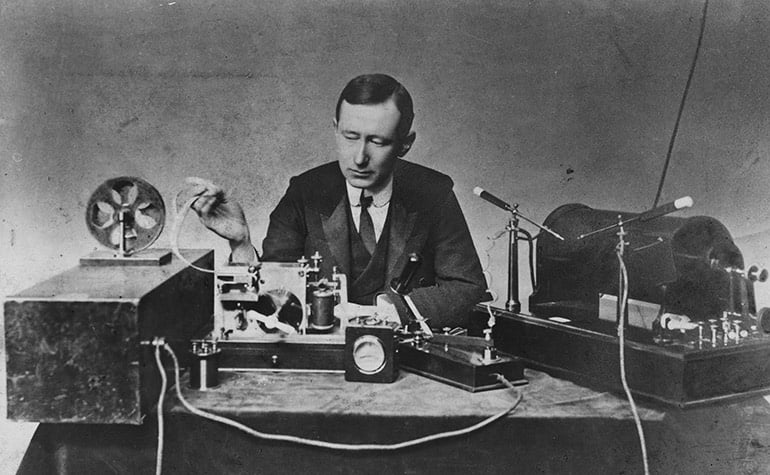 Surprised? Let's explain.
In 1896, he developed the radio that allowed him to transmit wireless signals. Soon after, people sent more signals all over England across open water. It didn't take long for this to turn into one of the most effective digital marketing channels.
The live broadcast of a lovely opera performance at the Met Opera House had surprising results. It prompted customers to buy show tickets and voila! Marketing digital was born.
Were you expecting social media applications and all that talk about affiliate marketing?
Well, digital marketing isn't just about the internet, at least this hasn't always been the case. It entails any form of product promotion that makes use of electronic devices.
Digital marketing can take place online or offline and both types matter. That's if you're looking for a unified digital marketing approach.
What Are Some Examples of Digital Marketing?
Here's a quick overview of the common digital marketing services out there.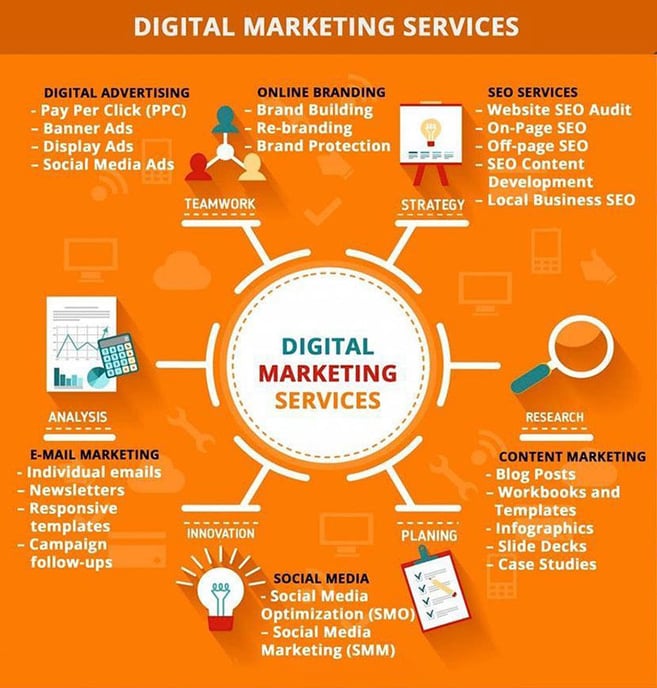 Let's take a look at four main digital marketing channels.
Content Marketing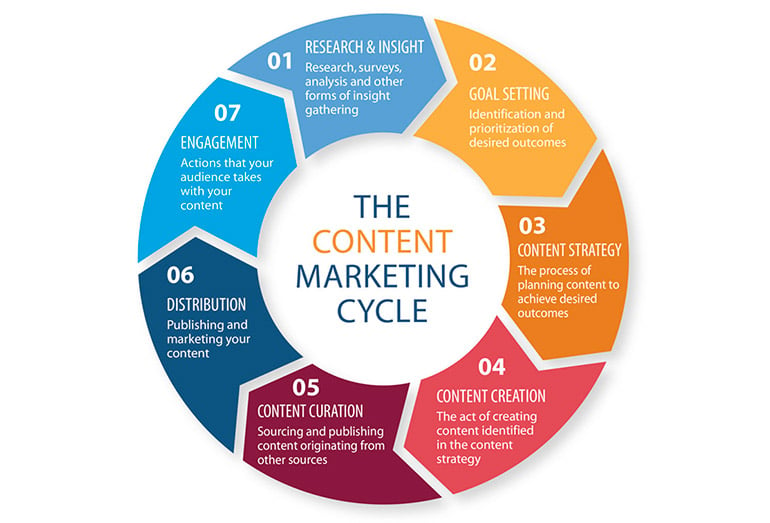 Content marketing aims to build customer relationships through storytelling, mainly through custom content. The idea is to encourage the reader to make enquiries, sign up for a newsletter and/or make a purchase.
With content marketing, the trick isn't to just go for a single purchase. You must think like a digital marketer. Build a strong lasting relationship with your customers that result in successive sales.
Content marketing works alongside other marketing digital types. For instance, SEO keyword research is incorporated into custom content. This content is then shared on social media platforms and email marketing newsletters.
Analytics are extremely crucial in digital marketing. You should consider them a foundational aspect of your business.
Here's why.
They give you valuable insight into your digital customers. Find out what draws them to your site and keeps them there. You also get to know why they share your content and make purchases.
This digital marketing method is more long-term. It's beneficial because you build a bank of digital content for future customers.
You also paint yourself as an authority in your industry. Especially when it comes to making purchases.
And we're not talking about rushed content so keep it authentic.
Here are some digital marketing channels for your content marketing strategy:
Blog posts: The basic starting point for any content strategy. You want to establish yourself as an authority. So write digital content that answers every possible question your audience may have. The Topic Cluster Methodology really comes in handy here.
Ebooks and whitepapers: Long-form content is perfect for customers who love reading. Taking them through the buyer's journey wins their trust. It also encourages them to share their contact information. Hopefully, turning them into consumers in the long run. This is organic digital marketing at work.
Infographics: These are for visual readers who prefer to see what you mean. It also allows them to consume content a lot faster. So be sure to cater to different types of learners.
Social Media Marketing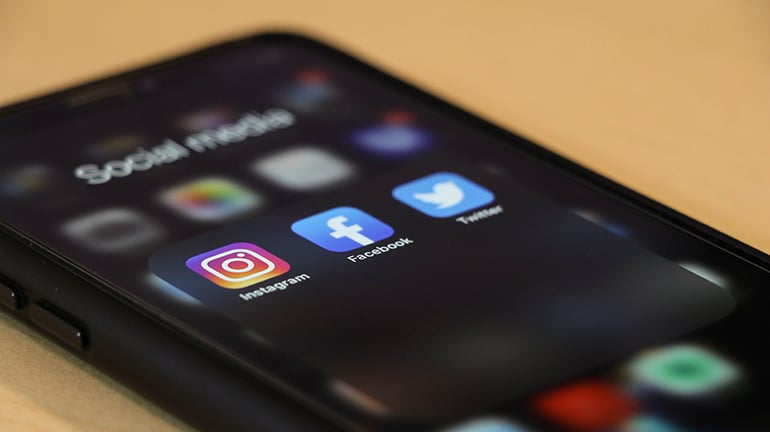 This covers all activities a business does via social media platforms.
Yes, everyone knows social media but marketers approach it differently. Digital marketers don't take a casual approach. Their social media campaigns are strategized, as they understand the power of digital marketing. So they use a blended strategic approach.
Social media marketing isn't just making a few daily posts. Neither is it about quoting a famous actor and responding to user comments. In order to be effective, every action must be deliberate and consistent.
This is where a social media strategy comes in handy.
And we're in no way suggesting a heavy reliance on an automation tool. You need to keep it organic because your readers can quickly tell the difference. This HubSpot tool enables users to connect channels like Instagram and Facebook in one place.
Schedule your posts, monitor analytics and integrate your social media inboxes into HubSpot. So you can receive direct messages on one platform.
It's imperative for social media marketers to work alongside the larger marketing team. This ensures streamlined messages across all platforms. You want one brand voice for the sake of credibility.
There's no social media marketing without analytics. It's not just about writing the most retweetable captions. You need to be good at analysing data and developing strategies.
There are no two ways about this.
Analytics allows you to demonstrate tangible marketing efforts to business leadership. From engaging with followers to converting them to consumers.
Show them how you're successfully increasing brand awareness and generating leads.
Here are the main digital channels used in social media marketing:
Facebook
Twitter
LinkedIn
Instagram
Snapchat
Pinterest
We can't write about social media without touching on influencer marketing. Influencers practically popularised digital marketing.
Feel free to hire influencers and use affiliate marketing as an incentive. But when considering this route, you may want to use micro-influencers instead.
It's easy to think digital influencers with a huge following stand to attract more consumers for your brand.
But micro-influencers with a smaller following have a more focused and engaged audience. This fan base is more loyal and possibly way more niche. So you're likely to reach all their followers rather than a larger influencer's entire following.
Here are a few things to focus on when considering a digital micro-influencer:
Affordability
Authentic content
Engaged audiences
If you've decided digital micro-influencers suit your business, here are five ways to find them.
Search Engine Optimization SEO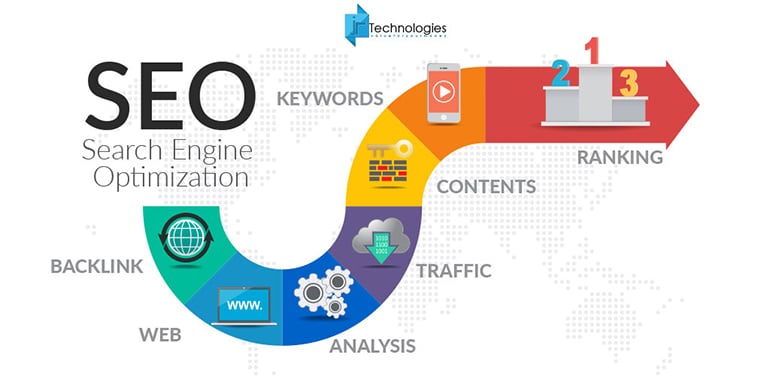 SEO (Search Engine Optimization) entails organically attaining top SERPs (Search Engine Results Pages). The whole idea is to ensure your business ranks at the top in Google for your niche industry.
The process starts with keyword research using tools like Ahrefs. Digital marketers identify popular words and phrases their target market uses.
Keywords also give a window into search intent. So marketers create content surrounding these keywords. They aim to provide the most complete information on anything their audience needs.
The main challenge in this process is it heavily relies on Google's most current algorithm. Engine optimization tools like SurferSEO are a great help but the suggested terms therein may change with time.
So think of SEO as an ongoing process. Optimize today then revisit the SEO process on a quarterly basis. And about three to six months before any marketing campaign.
To generate organic traffic to your site, here a few approaches you can take:
On-page SEO: With this type, all the focus lies "on the page" of a website. Keyword research and search volume determine the content your digital audience needs. Simply write articles answering the questions for higher rankings.
Off-page SEO: Now this type of SEO focuses on everything happening in the background. We're talking inbound and outbound links. Inbound links connect pages on your site which paints you as an authority on the topic. Also, the number of sites that link back to you increase your authority through backlinks. So scout for guest post opportunities on other related sites.
Technical SEO: As the term suggests, this type of SEO involves the structure of your site. From image compression to CSS file optimization which affects loading speeds. A visitor may be interested in your quality content but a longer loading time may irritate them. Reduce the bounce rate from your website or better still, it may be time for a website redesign.
Here's an infographic for you. It includes everything you need to know about SEO and websites for small businesses: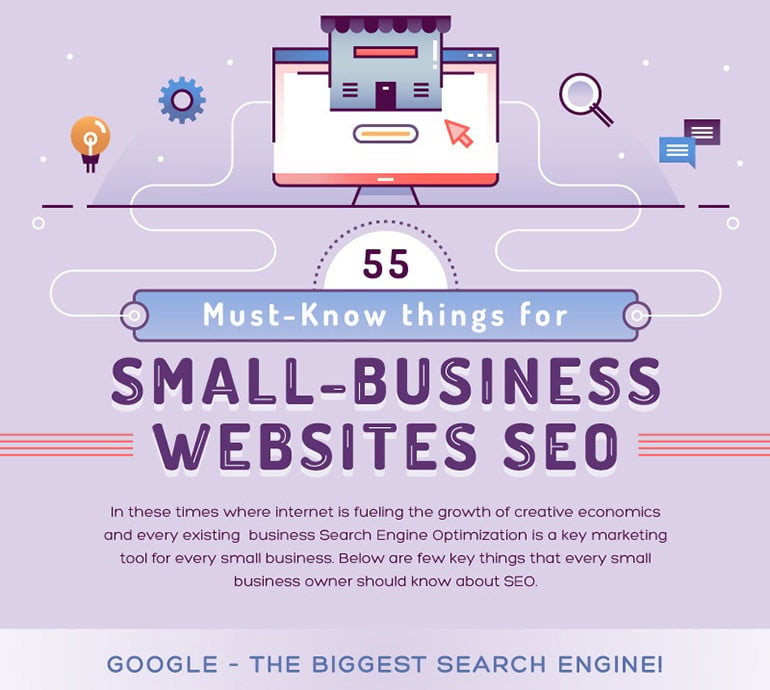 Email Marketing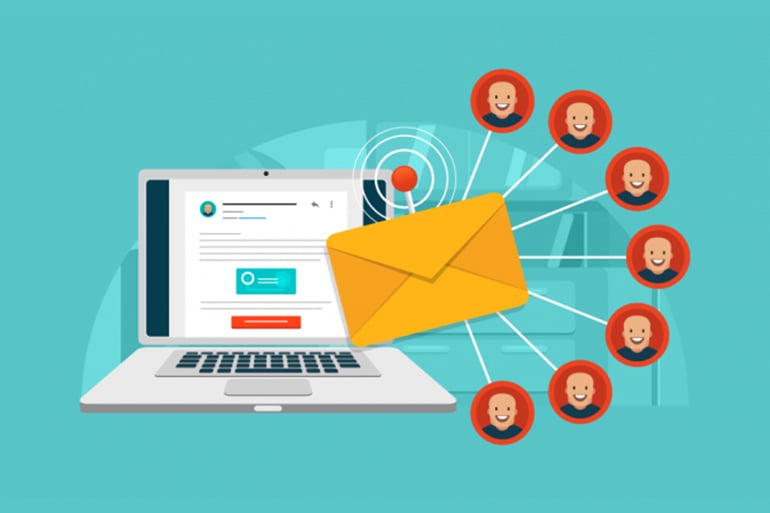 Social media marketing has experienced overwhelming success. But email marketing has its place and still woos potential customers. Bushwick Kitchen's digital marketing experience proves this.
Email marketing experts:
Create captivating campaigns.
Comprehend optimal audience outreach.
Apply data analytic skills to key marketing strategic decisions.
When it comes to email marketing analytics, marketers look for:
Open rate - the number of people who opened emails.
Click-through rate - the number of people who opened an email and clicked on a link included therein.
Now, emails get a bad rep for being borderline annoying. Rightfully so, people are swamped with emails from every site they're subscribed to.
But here are a few things marketers can do to increase their open rate:
Urgency is everything – The classic last-minute offer never runs out of style. Readers want to know what they stand to get and they want to know fast. You're almost guaranteed high click-through rates. A tried and tested digital marketing method.
Make it personal – Include recipients' names in subject lines to really build a relationship. For instance "Michael, we know you'll love this". Yes, users know you're deliberately doing it and they appreciate the effort.
Give recipients control – Let them decide how often to receive emails from you. That way, you can narrow down on their preferences. Remember, sending a few emails is better than losing a subscriber.
Not quite sure which digital marketing channels suit your business? Hubspot's Vice President of Marketing, Meaghan Keaney Anderson shares three steps here:
Use UTM tags in your campaign
Talk to your customers
Conduct peer research
What Is the Role of Digital Marketing? Margin Media Case Studies
Rather than tell you, let's show you. Here's just some of the amazing work we've done for all our happy customers so far.
Social Media Marketing
Calypso Mango
Now here's a look at comprehensive social media marketing. We covered all our bases.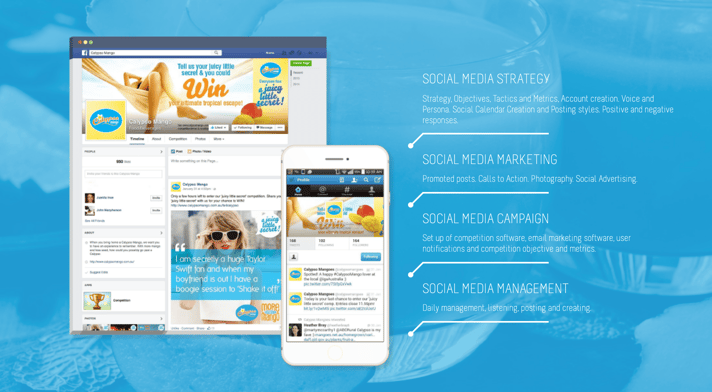 Roo Roofing
avt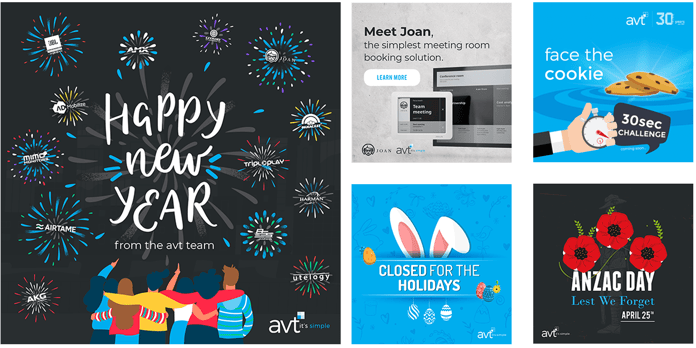 Here's everything we do for avt:
Website design
Social media
Custom Website Design
SEO
Blogging
Landing Pages
Social Media
Calls To Action
Lead Nurturing
Google Adwords
Hubspot
Website Design
We believe that first impression matters in digital marketing. So we specialize in web design.
Dienamics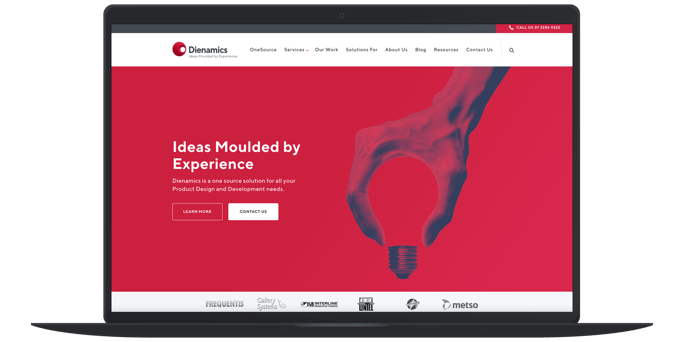 Cubby Care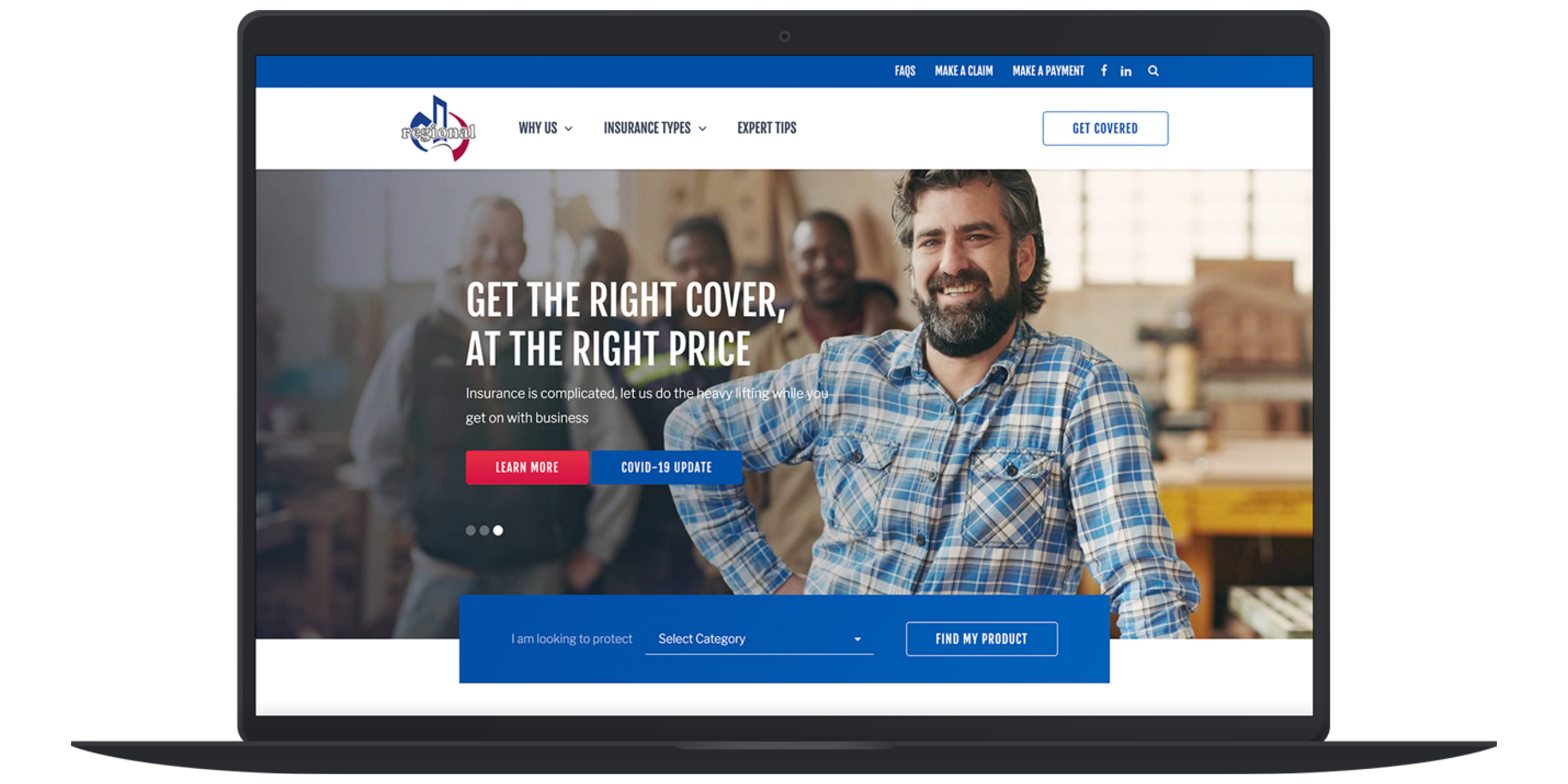 Rocky Point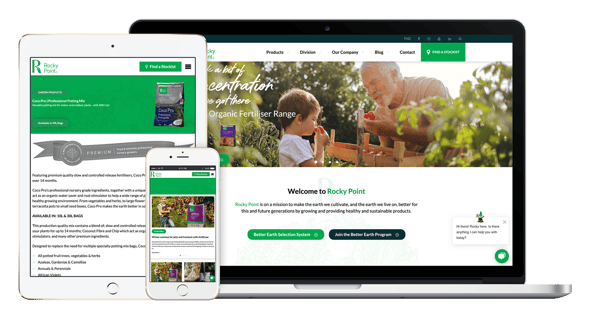 What we delivered:
UX Design
Website Strategy
Wordpress Development
Custom Website Design
HubSpot Integration
HubSpot Onboarding
Now, this is what digital marketers consider a concrete digital marketing strategy. This could be your success story too!
It's Time to…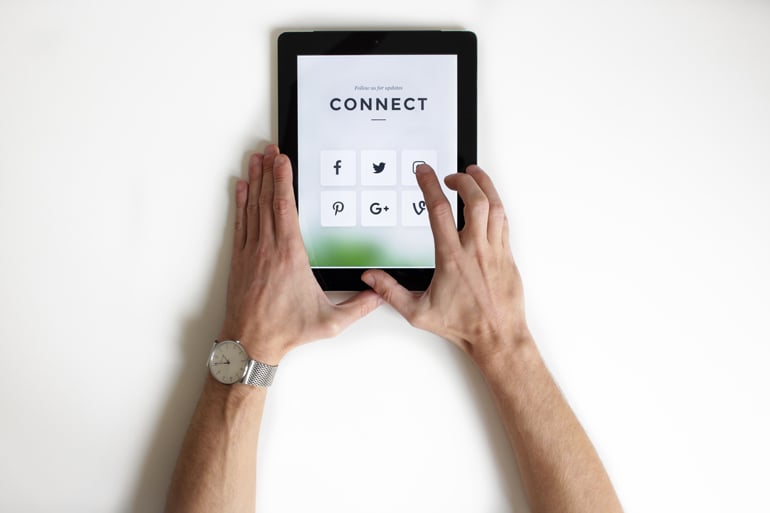 With your customers through digital marketing.
Not on any digital channels but backed up by the right digital marketing strategy. Take your marketing efforts to the next level. Benefit from our unified approach to digital marketing.
Social media marketing is great (and we're experts at it). But it's not the only effective online marketing channel. Develop the perfect digital marketing mix that fully reflects your products and services.
Book a free digital marketing audit with Margin Media today.