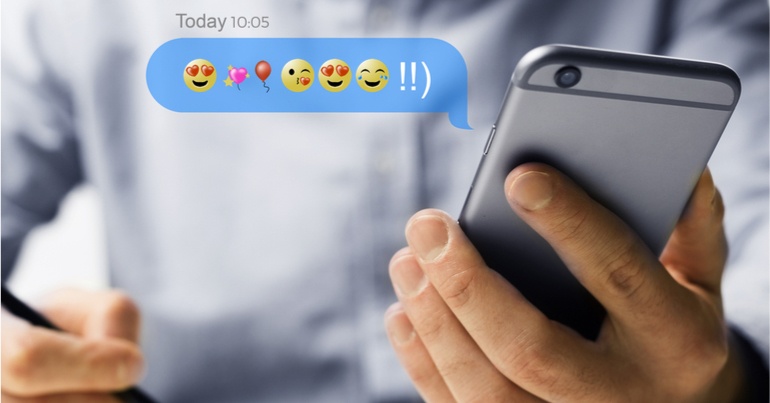 When emojis first broke onto the scene in 2010, business professionals had one of two reactions. Either they took no notice of the messaging update or they had an instant loathe for the little yellow smileys.
Whatever their reaction, it's impossible to deny that emojis have now become part of our cultural dialect and their integration into today's communication practises has been unheralded.
We're all guilty of sending a heart-eyes emoji to our loved one on social, but could emojis be a new form of corporate communication?We take a look at how emoticons could be the key to unlocking new engagement and demographics for your business.
MORE THAN JUST A PRETTY FACE
In recent years, we've seen emojis grow and change drastically, even releasing their own movie, and as social media professionals, we should be taking note.
Nowadays, there is an emoticon for almost every action and aspect of your life. Symbols, faces, animals, charts, objects and clothes are all examples of the new wave of potential emoji options.
Some businesses have been highly effective at utilising emojis not just as fun tools for engagement, but as a branded move towards market differentiation. Social media mega-stars; the Kardashians released their emoji line through the Apple iOS and Android stores, creating a hive of social media activity and reposts for the family brand.
Similarly, perennial sports-market innovators, the NBA released their 'NBAmoji' app that is rebranded and updated regularly.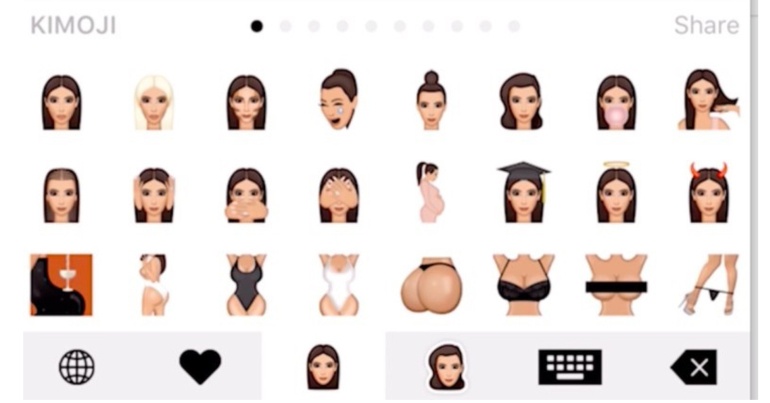 (Via Kimoji)
The use of branded emoji lines is an example of how to use social tools to target your desired audience successfully through effective segmentation and branded content.
WHEN/WHERE TO USE EMOJIS
The initial distribution catalyst for emojis was primarily Instagram. The image-based platform gave users the chance to use smileys and emoticons to caption their content. Recently, we've seen emojis used as graphics on posts, in Facebook statuses, in Twitter handles and on any number of social channels.
The evolution of emoji use extended beyond the realm of social sharing however platforms such as Instagram and Facebook still hold precedence.
The most important factor in deciding when and where to use emojis for your business is voice. Determine your brand's message and tone and you will better understand how emojis can compliment that voice.
For example, fashion brands such as Supre and Sportsgirl are targeting towards female tween and teen markets, a demographic that identifies favourably with emoji use.
In this instance, Sportsgirl would be encouraged to use emoji hearts, faces, animals, lipstick etc in their social media posts as it fits the tone, market segmentation, desired channel and voice of the brand.
It speaks to the target market on a familiar level that helps to encourage authenticity and credibility, therefore building trust and customer engagement.
In a more professional, corporate setting however, the use of emojis is far more monitored. If a financial planning organisation was using email marketing to update customers of their latest monthly newsletter, the use of emojis would be highly advantageous.
Placing emojis like charts, symbols and arrows in the subject line of the email update give an indication of the newsletter's intent while also catching the reader's attention.
CORPORATE COMMUNICATION
The reality is that all social media tools are simply that; tools for social media engagement. The use of emojis should be reserved for increasing engagement and targeting your key market segmentation.
By placing emojis in your Instagram bio, on a paid Facebook post or in your twitter handle, you can help to identify and further segment your ideal customer base.
On an internal basis however, businesses should avoid using emojis in corporate settings. Messaging an angry face to your employee not only sends a mixed message that may be misconstrued but also makes you appear less professional.
In fact, in a study published in Social Psychological and Personality Science, the use of emojis actually makes workers appear less competent and an OfficeTeam survey found that 39 percent of senior managers believe the use of emojis in work communications is unprofessional.
If you understand and acknowledge emojis for what they are, social communications tools, you can better utilise them for their intended purpose.
BOTTOM LINE
Using emojis in a corporate setting is a tricky situation to manoeuvre, however when used correctly, the social tool can increase engagement tenfold. Once you have determined your brand's voice and tone, analyse where emoticons can be used and for what purpose. Are they catching attention? Signifying change? Branding your content?
Whatever your goal, understanding where in the market spectrum your demographics lie will help you to better establish the appropriate times and styles of emoji to use.
There's more than just smileys and angry faces, it's time to do your homework and determine where and when emojis could help your business.
Have you used emojis in your branded content? What worked best for you?