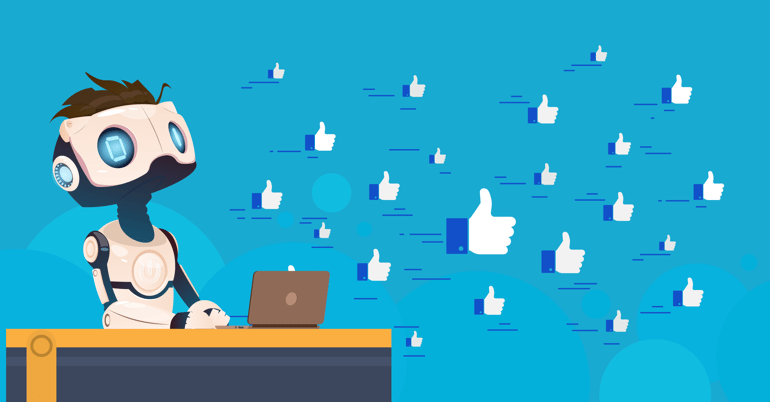 Trying to gauge how influential a person or brand is on social media? You'll probably start by looking at how many followers they have. It's the metric that has become synonymous with social success and influence.
So much so, that people spend big money to boost their follower count with fake follows, or pay for bots to inflate the likes on their posts. But what does paying for followers or likes actually get you?
There are thousands of companies and "click-farms" located all over the world that can generate fake followers for your social profiles; it's become a multi-million dollar industry.
It might make your business look more successful on social media, but do these fake followers actually translate into more business and revenue for your company?

Can it help your business?
Well, when it comes to business accounts, your brand engagement metrics are far more important than your follower count.
Jason Meyers illustrates the point by noting that, "the main reason for this is that the number of likes and followers you have does not directly correlate with any measurable value."
So you may get 5000 new followers overnight, but that doesn't mean any of those followers will translate into actual revenue.
There is also the belief that followers will breed more followers. And while this may partly be true (we're not immune from associating follower numbers with value and credibility), you run the risk of damaging your reputation if people discover you've paid to appear popular.
Not only that, but social platforms are cracking down on fake accounts and 'like' bots. Many social media platforms have become very adept at weeding out fake accounts and accounts built around fake followers, and promptly deleting or banning them.
As many ramp up their initiatives for transparency, particularly Facebook and Instagram, fake accounts are not good for business or user experience.
Real people who are following you on social media also have a higher likelihood of buying your product(s). But most fake followers are bots who have no need or ability to make any purchases.
This blog makes an interesting argument about when it's ok to buy followers, but even they reiterate that it should not be a viable option for businesses. They note that "A key way that fakes actually hurt more than help is in analytics...When you check your analytics on any social platform, you can access insights or varying capacity on this front – but if all your followers are fake, that data is useless."

So how do you actually get real followers without buying them?


Here's a few tips for building your following organically:


Put time into developing a social media strategy and creating quality content for your target audience. That, combined with appropriate timing and relevant engagement, will help boost your following.


Reach out to your current followers to engage with your brand by asking questions, encouraging comments, and offering incentives to share your content.


Make sure you post frequently and consistently so your posts stay relevant. But you also shouldn't bombard your audience with too many posts. Aim for once a day on most social platforms.


Seek out help if your business doesn't have the time or resources to manage a social media marketing campaign.
For some extra inspiration, here's 17 Social Media Hacks to Boost Engagement and Conversions.