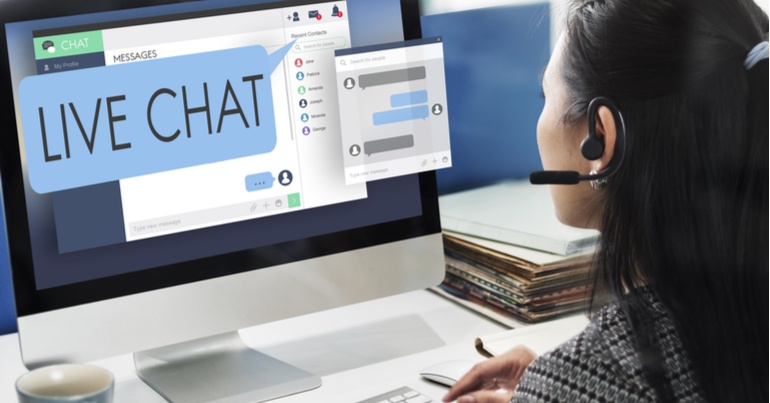 A potential cornerstone in your business' conversational marketing strategy, live chat can be a powerful tool in your quest for optimising conversion rates.
Can live chat help your business? Absolutely. But it's not a given. Obviously, you can't just plug a live chat into your website and watch the sales soar. Live chat is a tool, a hammer. Simply buying a hammer isn't going to put any nails into planks, you also need skilled people wielding it.
There's two main ways that you can implement live chat: reactive and proactive. Reactive would mean that you have a dormant live chat button somewhere on your web pages, and the visitor would have to initiate the chat of their own volition. A customer with doubts or questions might not do that, though.
That's where proactive live chats come in. These chats would be triggered by your business, and, in a way, try to pre-empt the customer's questions. This could also be an automated process. For example, a chatbot can say hello and ask a couple of basic questions before it connects the user with a human sales member when it is needed.
The proactive approach is slightly more strategic, as you can program the live chat to pop up on a customer's screen when you want it to. You can think of it as a sales assistant in a store. Keeping an eye on you, and only approaching you when you've been browsing for x amount of minutes or when you start to look around for help.
Kinda like this helpful store employee.
Here's how live chat can help optimise your website's conversion rate:
People like a human touch on websites, and having someone they can ask quick questions to while shopping makes them more likely to buy something. In fact, visitors who are invited to chat are more than 6 times more likely to become customers than those who don't chat.
Conversational marketing tools like live chat often come with powerful analytics tools built in. That means that the software can detect whether a visitor has previously looked at similar products from your competitors.
Having information like this readily available could help you approach the customer from a different perspective, and give your sales team better odds of closing the sale.
Implementing live chat could increase your sales indirectly as well. Keep in mind that the chat logs from these conversations with visitors will be saved, and can be read after the fact.
These transcripts give you the opportunity to figure out what your potential customers really want to know, and it could also reveal their concerns and pain points in the buyer's journey. You should use this information to make changes to the pages and processes you already have.
This way, the next set of customers who visit will quickly and organically have their questions answered and their doubts eased, hopefully leading to a greater conversion rate for you in the future.
If your customers still look like this after browsing your website for 5 minutes,
you may have to do a better job of providing relevant information on your pages.
Tracks employee effectiveness
As mentioned above, the transcripts from customer chats can be kept for future review, and one of the uses of that data set is to analyse how your digital sales staff is performing.
"The performance statistics can tell you how many chats your agents had, how quickly they've responded, how many customers liked the chat and how many chats ended with a purchase", writes Justyna Polaczuk on LiveChat's blog.
By keeping and analysing this data, you can potentially find out where customers lose interest while conversing with your individual sales team members, and then help those employees become better at their jobs. For your mutual benefit, as well as the customer's.
Where to find live chat software
A quick google search reveals that there is now an enormous selection of live chat software available to businesses. Popular providers include the aforementioned LiveChat and Zendesk, formerly known as Zopim.
Alternatively, you could go the route of an AI powered system, where the program will only connect a visitor with a salesperson once the AI determines it cannot help the customer. Leading companies in this sphere include Intercom and Drift.
Which service and company you decide to go with will ultimately depend on your own needs and preferences, so it would be smart to invest some time into thorough research.
Good luck, and happy chatting!