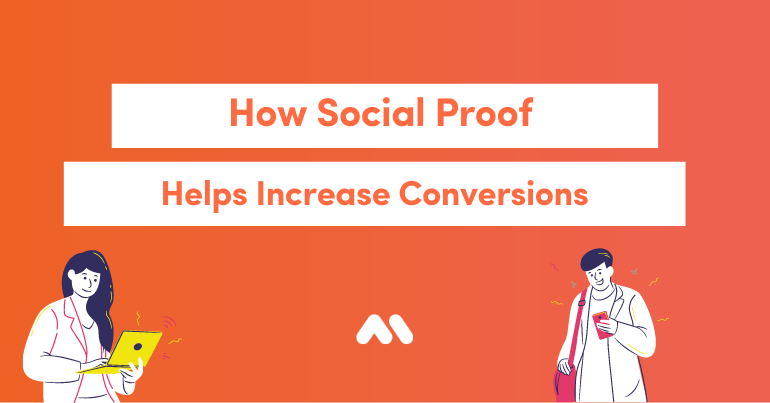 Imagine you're walking down the street beside the beach looking for a good fish 'n' chip shop. There are two shops, one is empty and the other has plenty of customers. Which are you going to choose?
Probably the one with customers. This is social proof in action.
So, what is social proof?
Social proof relies on the idea that most people will follow the crowd. They want to fit in, and they assume the crowd is better informed. This is an important tool for marketers. If you can showcase the popularity of your brand, you can make people more confident that they are making the right decision.
Influencing decision-making is at the core of digital marketing. Customers travel through the funnel from awareness to consideration to decision stages. Conversions happen at the point when a lead makes a decision.
Social proof can be used as a conversion rate optimisation technique to reassure customers that they are making the right decision. Studies show 92% of online consumers read a product review before purchasing.
Adding social proof to your website and socials can bring a huge boost to your business' conversions and sales. But how?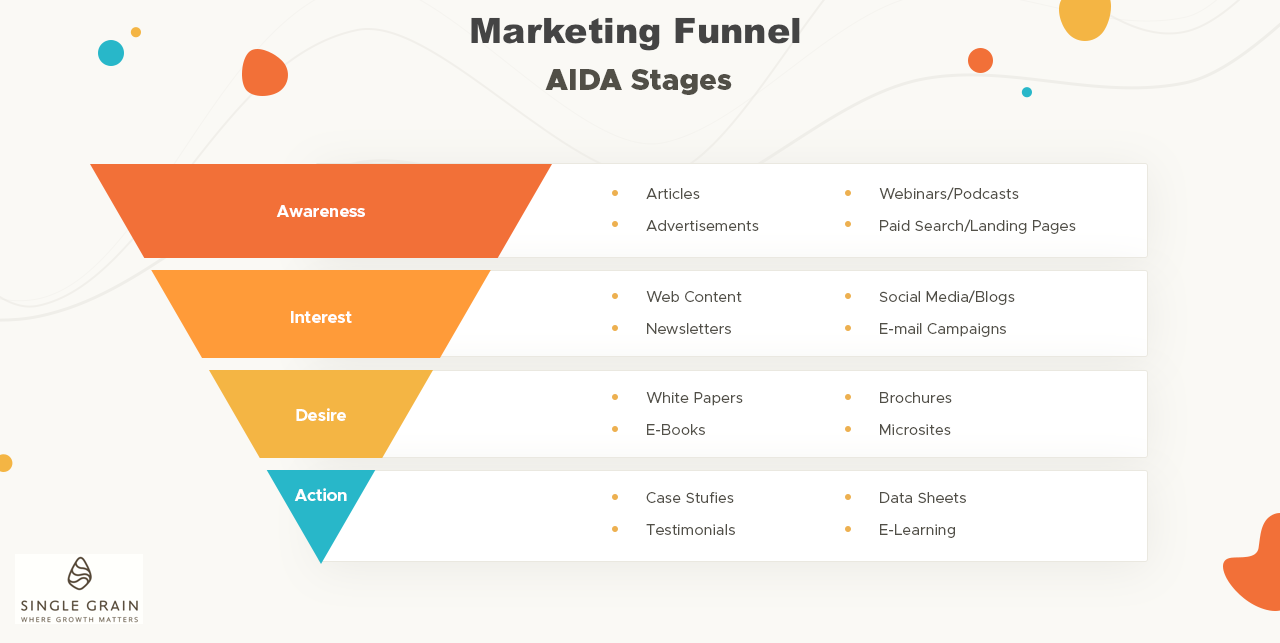 Source
3 Ways Social Proof Increases Conversions:
1. Builds trust & brand credibility: Social proof builds trust and credibility with your customers through presenting your brand as an authoritative voice in the industry. Studies show 87% of buying decisions begin with online research. Plus, the average consumer will read 10 online reviews before making a decision (OptinMonster). This shows how critical it is to include social proof on your website to increase your conversion rate.
2. Grows brand awareness: Social proof increases conversions by amplifying brand awareness. If a prospect becomes aware of your brand through seeing reviews, testimonials, case studies, client success stories or content from influencers, they will see your brand in a positive light and be more likely to convert.

3. Influences decision-making: Social proof increases conversions by positively influencing decision-making. For 50% of consumers, their next step after reading a positive review is to visit your website. Once on your website, they could read a testimonial and increase their chance of converting by 34% (OptinMonster). Creating a positive sentiment towards your brand will help increase conversions.
How to use Social Proof on your website:
Create a customer testimonial page: This is the most simple way to leverage social proof on your website. Users can read testimonials and reviews from your past customers and gain insights into their experiences with your company. Visitors can also learn more about your product, how it works, and whether it is the right solution for them.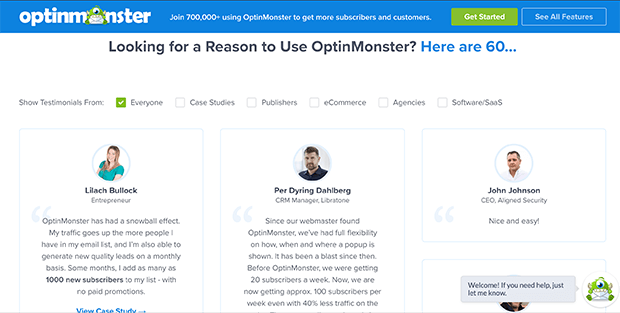 2. Highlight popular content: If you have blogs that are performing strongly, highlight these to your website visitors as 'recommended reading' or 'related content'. Visitors will see that other people have enjoyed your blog, and so will be more likely to read it.
3. Include real-time updates: Including updates on your website like 'Kate Smith just became a member or 60 customers have signed up today' is a good way to build trust with new customers.
4. Showcase well-known companies that use your product or services: Include a section like 'our work' or 'our clients' where you can showcase case studies and work you have done with well-known clients. This will help build trust with new customers, as they will see that other brands they know have worked with your brand and had a positive experience.
5. Include stats on number of customers: Another easy way to show social proof on your website is with a message like 'Join over 10 million people using our product'. This is a clear call-to-action for website visitors and really helps to build authority and trust.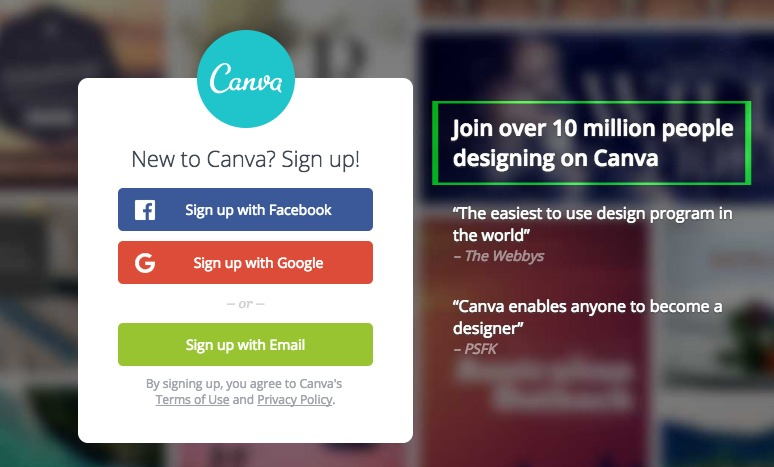 How to share Social Proof on social media:
Influencers:

Influencers and celebrities are a great way to expand your brand's reach and establish credibility and trust. If people see someone they admire or trust using a product, they are more likely to become interested in that product. Content from influencers earns more than 8 times the engagement rate of content shared directly from brands. Also, 40% of people purchased a product online after seeing it used by an influencer on social media (OptinMonster).


Testimonials:

Sharing customer stories and testimonials on your social media is the simplest way to share social proof. Include videos and photos of your customers for an engaging and effective way to reach new leads.



3. Customer-generated content: Invite your followers to actively participate with your brand's socials through polls, competitions, comments and guest content. This will help your followers to feel valued and appreciated by your brand and so build more trust.

4. Awards and recognitions: If your company has won any awards or recognitions recently, be sure to share this on your socials. This is a great way to make your brand stand out from the crowd and establish it as an authority in the industry.
5. Team stories: Share stories of your company's team to build trust and personal connections with your followers. Your followers will get to know the faces behind your company, become more aware of your brand and why you exist.

6. Client success stories/ case studies: Include examples of work you did with previous clients, what the objectives were and what you delivered. This is another way to build trust with new prospects and establish your brand as an authority.

Examples of social proof on our socials: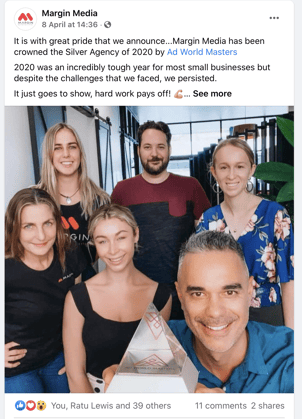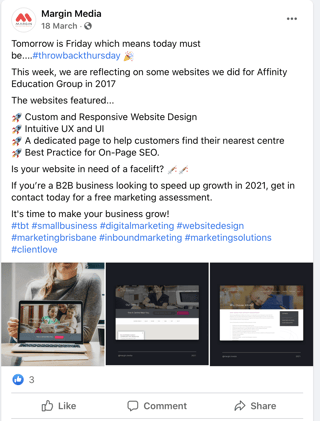 So, if you're looking to drive more conversions for your business, think about including social proof tactics on your website and socials. With social proof, you can build your business' credibility, grow brand awareness and influence decision-making.
Looking for more advice for your business' marketing efforts? Margin is here.