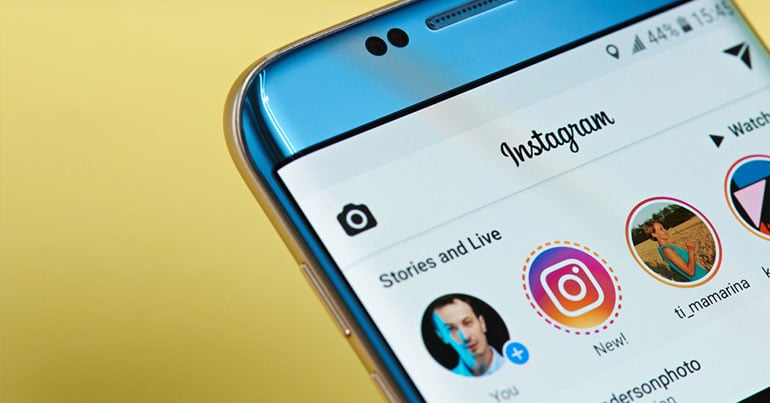 Instagram Stories ads have the potential to reach more people and generate real conversions, thanks to the new ad objectives feature.
Almost as soon as Instagram launched Stories in August 2016, the feature became incredibly popular. Now over 200 million people are using Stories every day, compared to 160 million daily users for Snapchat.
It offers social marketers a great opportunity to reach thousands of people and tap into one of the fastest growing social tools.

What's your objective?
When ads were first introduced, you really only had one objective option, and that was to reach viewers. There were no options to add tags or links, you just had to hope for the best.
But as Facebook continues to improve its Ads Manager, the options marketers have to optimise ads are expanding.
They have introduced four more objectives for the ad format, which you can select when building your ads through Ads Manager or Power Editor. They are:
Video views
Conversions (prioritising actions like sales or subscription signups)
Traffic (formerly called Website Clicks)
Mobile app installs
The conversions options allows you to take viewers to a specific URL, such as a product page or landing page. Or you can send users to Facebook Messenger to start a conversation there.
But before you do, you need to make your ad engaging enough to get people to pause and click through. Here's...
5 ways to amplify:

1) Choose the right objective
With the new options for advertisers, you can customise your ads by selecting the objective of your campaign.
Not only will that decide what kind of content and action you include, but it will also determine the metrics you will see.
Make sure you know what you want to achieve and what action you want people to take.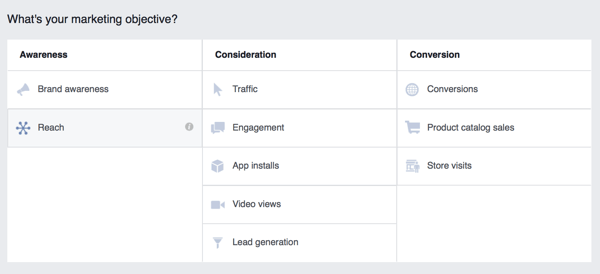 2) Address your audience
You've got to engage viewers in a very short amount of time. The maximum length of a story is 15 seconds and then it disappears. That's not very long to get your message across and show the audience what steps they have to take next, whether it's to sign-up, learn more, or even go straight to your ecommerce shop.
But before you do all that, you have to interest them enough to not skip past your ad.
It's a tough gig. But a good way to get people's attention is to talk directly to them. Ask a question that your target audience can relate to, speak in a straightforward, conversational way, and always be succinct.
Whether it's an image or a video, you can overlay any text you want, so make sure it grabs attention and addresses your audience.

3) Use eye-catching graphics and text
Another way to make your ads eye-catching is to use engaging graphics, designs and colours to get people interested straight away. Rather than a simple photo, stories with creative design elements seem to perform better.
You can preview your ad during the creation process to see what works.

4) End videos with a static screen
If you use video for your ad, you need to make it visually arresting. But you don't want to make it too arresting that people get distracted from clicking before it disappears.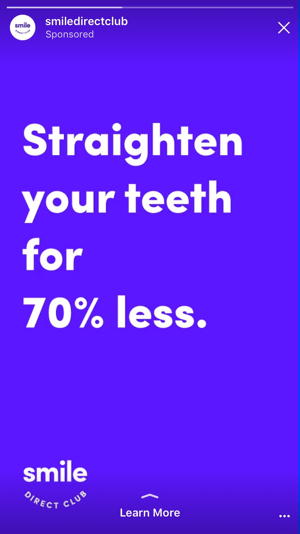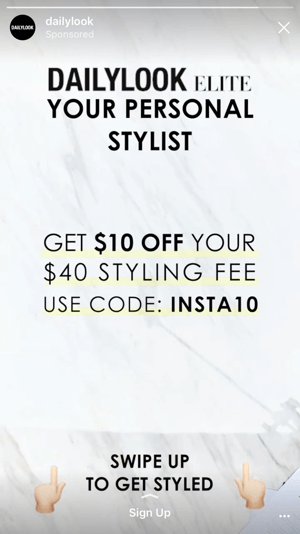 That's why you should end your video with a static screen, including your CTA for a few seconds, giving people time to swipe up or click on your link.

5) Amplify CTA with overlay text
The call-to-action that accompanies your ad is formatted into the bottom of the screen, but it is fairly small and easy to miss. Make sure viewers know what action to take by using text overlay to repeat the CTA in big, bold lettering.
When you are creating your ad, also make sure you choose the relevant CTA button that you want to appear. It can have a big impact on whether viewers actually visit your website, sign-up, or convert.

Have you used Stories ads? Let us know how it went in the comments below.