Just like Google, YouTube videos are ranked in search results by an algorithm. For some time, the metric for their algorithm was the total number of views a video had (ie. the more views, the higher the video would rank). But now that's not the case.
YouTube (owned by Google) uses watch time as a metric in their algorithm for suggesting videos. The algorithm prioritizes videos that lead to longer overall watch time or viewing sessions, rather than videos that get more clicks.
That way they can get a better idea of what people actually watch and find valuable, and then deliver these videos to more viewers.
From a user's point of view, it sounds great. But what do you do as a business to get a better watch time and ranking?
1) Make sure your titles and thumbnails reflect the content
Your thumbnail and title are the first things people will see when your video is suggested to them, so you want to make them compelling. They should be engaging and eye-catching, and you also don't want to mislead your viewers about video content.
If you deliver in the video what you suggested in the title and thumbnail, people are more likely to watch your video for longer, thereby increasing your watch time. If you mislead them, they'll probably stop watching.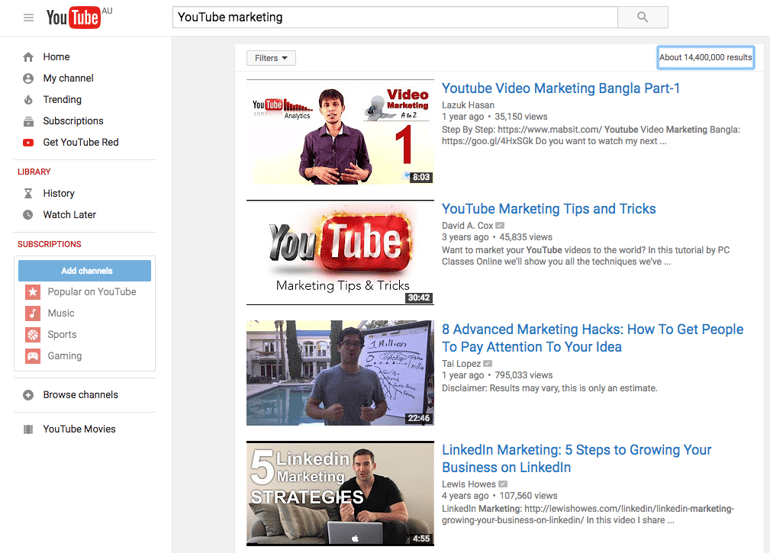 For title and thumbnail, remember:
The first thing to do is to choose a title that compels people to click on it. Don't make it read like click-bait, but let your title tell an intriguing story and tell people what will happen in the video.


Make sure you thumbnails are visually engaging and also responsive on both desktop and mobile. This is particularly important because 92% of YouTube viewers watch videos on a mobile device when they are at home.


And don't forget about the description underneath the video. Although it's not as immediately visible as the title and thumbnail, you should still write it so that people are compelled to click.
2) Make video playlists for linear viewing
Video playlist automatically play the next video in your series to the viewer. Although users can turn off automatic playlists, they're still a good way to guide them to view more of your videos and therefore, increase your watch time.
Just make sure that your playlists are structured in a linear, logical way so that people don't get confused. You want the playlist to be as seamless as possible and compel people to keep watching.
3) Utilise long-tail keywords for video content
Long-tail keywords are an effective way to get your video found and seen, and may help to have your videos shown over your competitors. Long-tail keywords may be more specific, but they are infinitely more findable.
When deciding the long-tail keywords in your titles, think about the search terms that your audience would use or be interested in. You can also get some good ideas from the suggestions generated in the search bar.
Try typing a simple keyword relevant to your video or industry into search and see the results.



4) Use cards in videos
Cards will officially replace annotations, which YouTube is discontinuing on May 2nd, 2017, as a way for people to add visual links to their videos.
You have many options for card links, like linking to another video or playlist, your channel, donation portals for nonprofits, a poll, or a link to an approved external website. They're a great way to keep people engaged with your content and keep their watch time up throughout your channel.
Here's a handy guide for adding cards to your videos.
5) Use reports to see what's working
YouTube offers analytic tools to see how your videos are performing, so make the most of them. You can see your watch time report, audience retention report, and audience engagement reports.
If you've done all of the things above and your watch time is still low, then your reports are the best tool you have to start revising your marketing tactics.