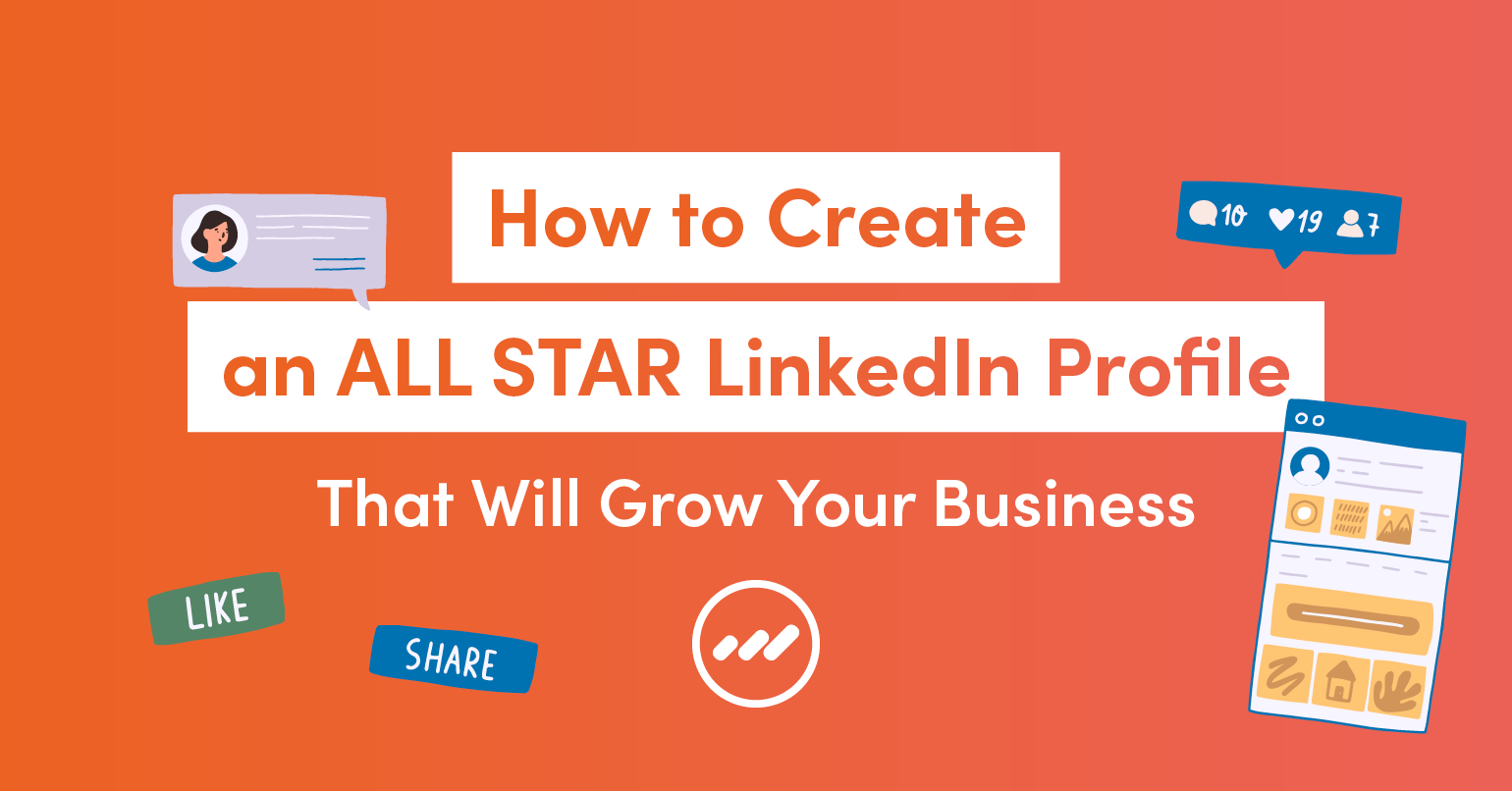 Even with almost 700 million users, you could argue that LinkedIn is severely underrated as a social network - and underutilised as a B2B lead generator! More than just an online resume, LinkedIn can be a fantastic way to connect with potential clients.
Follow our steps below to create an All Star LinkedIn profile that is built from the ground up to attract leads!
1. Be a friendly face
First impressions are lasting impressions, and your profile picture is the first thing anyone will see on the platform. A surprising amount of users don't have a profile picture at all, but giving people the opportunity to put a face to the name will make you more memorable and personable.

Secondly, there are a few things you should keep in mind when you're choosing a picture for your profile. Ideally, it should be a professional headshot taken by a photographer. You can use your phone camera in a pinch, but only temporarily.
Follow this recipe for best results:
No selfies, under any circumstances! Prop your phone up on a shelf or a stack of books if you can
Have a clean and simple background, preferably a white wall
Make sure that you have plenty of light - natural light is better if that is possible
Wear clothes that are appropriate for your position - you can never go wrong with a simple collared shirt.
Whether you should be smiling in your profile picture is up to you! A smile may help you seem more friendly and approachable, while a neutral face could give the impression that you are a serious professional.
Upload your picture as a 1:1 ratio image with your face centered - it will be cropped to a 400 pixel diameter circle.
2. Crafting a banner image
Intrigued by your great picture, your lead clicks your name and enters your personal profile. Here's where things get interesting!

Above: Two employees of the same company. How big of an impact does a great banner image make?
A good banner image can be a big attention grabber, and help solidify that great first impression that you've already created. LinkedIn background or banner images give you a long, but narrow canvas at 1584 x 396 pixels.
If your company doesn't have any internal artwork for branding on LinkedIn, you could use a free online tool like Canva to easily craft one yourself. If you want a banner designed by a professional, you could always get one on Fiverr for as little as $8.
Things to consider highlighting in a banner image is your role, key strengths, company or industry - or keep it free of writing. Just make sure that it has some colour to it that makes it POP!
3. How to write a perfect headline
As your prospect's eyes drift down, they will land on your headline. This is another excellent opportunity for you to grab their attention and refuse to let go! The profile headline is where most people get a bit boring and safe; most people default to their job title and current company, which is why you shouldn't.
Which of the following headlines catches your eye?
Owner
Managing director
Chief of Problem Solving
Director of Clients' Explosive Growth
There are more than just one way of writing your LinkedIn headline, and you are not legally obligated to keep it the same as your official company title! Use your creativity and put a personal spin on things by showcasing enthusiasm, experience or your skills!
Learning to know someone online can be hard, but if your profile picture is the equivalent of a friendly smile, then the headline is the handshake. It lets you learn more about someone's personality. It's an introduction to who you are, not what your job title is.
4. Write an About section
Depending on which industry you work in, there could be hundreds or thousands of people in the same role as you, so how can you stand out? Every company with a good designer and solid creative direction can have professional headshots and banners made in a day, but the About section - also known as the Summary - is your true chance to show some real personality and sell your skills to the world!
LinkedIn only displays the first three lines of your text before visitors have to click to read more - which they won't unless you grab their attention! This is around 300 characters, and you should devote this to one of two things: your first option is to craft a sentence or two that makes visitors want to read the full text.
The second option would be to make your summary top heavy, and include the number one things you would like a visitor to know about you. You'll know what suits you, your role and your industry best.
An important thing to remember is to do some light SEO on your summary. When prospects search on LinkedIn, the search algorithms do take your About section into account. It's important that you account for this by including keywords in mind when writing your text. Who are you primarily hoping will find your account on LinkedIn? What are they looking for in you? What are they searching for?
The full summary has a 2000 character limit, and you may as well take advantage of all the real estate that is available to you.
5. Avoid buzzwords
Speaking of writing: there is an important distinction to be made between keywords and buzzwords, especially when we are trying to connect with leads from outside our industry.
Writing to your audience is always important to keep in mind. For example, writing that you are "skilled at creating inbound marketing content for the top and middle of the conversion funnel" won't mean a whole lot unless you're in marketing or are familiar with those terms. If I wanted to reach leads in other industries, it might be better to write something along the lines of being "skilled at brand storytelling and amplifying your business' unique story to a wider audience".
Buzzwords can also be bad from the perspective of connecting with peers in your industry. They already know the buzzwords, what they mean, and how they're thrown around in an attempt to impress people - and they're not buying it!
6. Actively share content
You will have to be an active participant in order for your profile to get any traction on LinkedIn, at least until you've built a solid following. It will take time and effort, and you will need to make it a priority, but it will pay off.
Sharing others' posts is a great way to create discussions on your page without having to write long pieces of content yourself - but make sure you add a comment and ask a question to increase the discussion. If you want a lot of information, you will have to earn it by writing content yourself. That could either be short form or long form content, and a mix of the two is even better!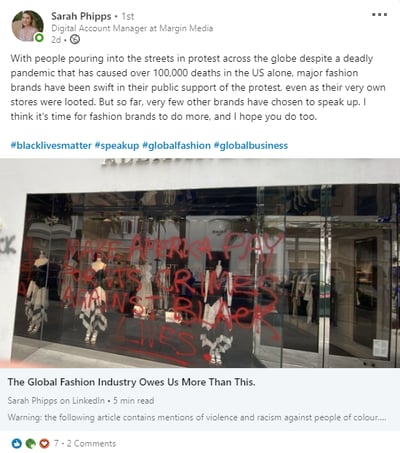 Short form content is usually around 200 words - think a short anecdote followed by a question to start a conversation in the comments. Long form content is typically over 1000 words. It can be written on LinkedIn's platform or hosted on another site, and it will typically entail you presenting your point of view or experience on a topic in more depth.
It's important that you are a "good neighbour" too; like and comment on others' posts too. Cultivating engagement is often as dependent on engaging with others as it is with posting high quality content.
7. Grow your network
Now that you've started writing for your followers, it's time to get even more. After all, what good is sharing content if there's nobody to read it?
The simplest way of going about this - after having connected with the people you already know, of course - is to start sending connection requests to the people that you want to reach, the people who you want to be reading your content. A fantastic way to find these people is to search for groups.
An underrated feature on LinkedIn in general, groups are often industry specific and could allow you to find many leads in the same place. If you want to target people with surgical precision, you should look into buying the LinkedIn Sales Navigator.
Now, it does cost $99/month, but it lets you search for people in specific jobs, industries, locations and more, and it won't let them know that you've viewed their account if you have a look. It is an absolute must have if you are serious about attracting high quality leads or business connections on LinkedIn.
Get in touch with us to discuss your LinkedIn marketing options!
8. Recommendations and endorsements
Near the bottom of your profile are sections for endorsements and recommendations. Having endorsements from people who are listed as knowledgeable in your field will add an immense amount of authenticity and weight to everything you do and say on LinkedIn. Likewise, glowing endorsements from people you've previously worked for or with will certainly do a lot of heavy lifting when it comes to convincing someone to take the leap from lead to client.
Here's the secret to getting recommendations and endorsements on LinkedIn: ask for them. I know, it really is that simple. We've all got clients - both past and present - that would be willing to help beef up our profiles. Recommendations even allow you to not display the ones that you aren't 100% happy with, so there is no risk of getting a bad endorsement.
These are a powerful way to showcase your skills beyond the boring spiel that everyone puts in their summaries.
9. Optimise your personal URL
The best way to top off a perfect profile? A perfect URL. Look, this may not mean much in the big picture of things, but it really is details like this that helps pull everything together. Plus, it just looks so good to see your surname displayed in the URL!
Here's how to change your profile url: Simply navigate to your profile, and click "Edit public profile & URL" on the top right side! You'll be taken to your public profile settings page, where you can edit your custom URL on the top right again. Hit save, and you're all done.
We recommend keeping it simple with your first and last name, or you could abbreviate your first name.