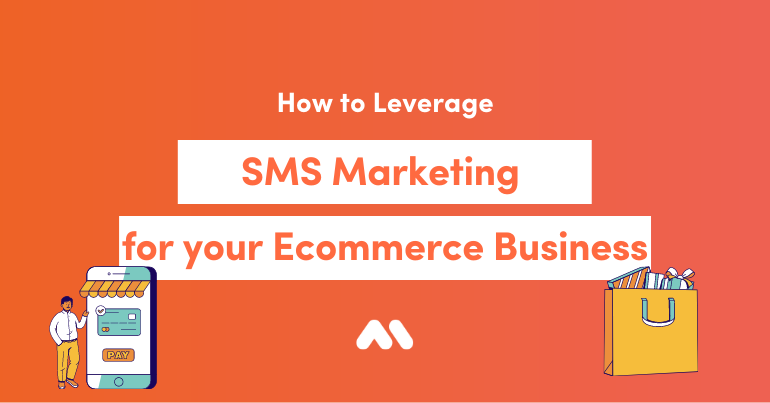 If you're running an ecommerce business, chances are you're looking for more effective ways to reach customers and increase your sales. If so, SMS marketing is for you!
SMS marketing places your brand directly into your customers hands. It grabs their attention, is quick and easy to digest, and highly engaging.
Rather than relying on email marketing to convey messages to your customers, try contacting them through text. SMS marketing is an effective way of reaching customers because it feels like natural communication.
So, what is SMS marketing?
SMS marketing refers to sending promotional messages via text. For example, if you send a text to your subscribers with 'Sale on today only', that's SMS marketing. Through SMS marketing, you can communicate your latest offers and important information about your products or services.
Why should you use SMS marketing?
Consumers are more engaged with mobile devices than ever, and most people pick up their phones an average of 58 times a day. With SMS marketing, you can take advantage of the fact that consumers are highly attuned to responding to messages and notifications. When their phone bings or vibrates, they have a natural urge to quickly respond.
SMS marketing can lead to better engagement, increased conversions, and in turn, higher sales. Here's some benefits of integrating SMS marketing into campaigns for your business:
Higher Open Rates than Email: SMS marketing has an open rate of

98%

, while emails only have 20%. Also, when a customer does read and respond to an email, it takes longer than 90 minutes, compared to 90 seconds for a text.


Deliver your Message Fast: SMS messages are opened less than two minutes after being received. This makes the format perfect for promoting flash sales, end-of-day deals or time-sensitive offers.


Reach Mobile Audiences: Reaching mobile audiences is crucial for engaging with your customers. SMS marketing is designed to be mobile-friendly. Plus, text messages don't even require internet access so can be received anywhere, anytime.


Engage with Customers: SMS marketing makes customers feel valued by your business. It can keep them informed about news, offers and events and help them feel like part of the community. This then builds loyalty and engagement.


More cost-effective: Depending on how many text messages you want to send, the cost can vary. However, since SMS marketing has such a high engagement rate, it makes the cost of sending texts worth it.


Reach a wide audience: Text messaging can reach a wide range of customers, varying in age and demographic. It's not just for younger generations but can reach mature audiences too. Compared to social media, SMS marketing can help you reach a wider customer base.


Target Repeat Customers: With SMS marketing, you can make it easy for customers to opt in or out. This way, you don't have to waste time sending promotions to people who aren't interested in your brand. Instead, you can focus on repeat customers and build a relationship with them.
What does SMS marketing look like?
SMS marketing can be based on an action the customer has taken, or to communicate relevant details about your products or business.
Examples of event-based SMS messages:
Welcome SMS (like welcome email, sent when customer first subscribes)
Order Updates

Date-Triggered eg. Birthdays, cart abandonment reminders
Examples of relevant messages:
New arrivals sales
Promoting urgent flash sales
Content-focused eg. SMS with a link to blog
Renewal reminders
Important alerts, updates to services (like COVID closures)
Seasonal updates eg. Christmas sales
Referrals, rewards
How to Set up Ecommerce SMS Marketing
So, now that you know the basics of SMS marketing and its benefits, it's time to think about setting up a campaign for your ecommerce business. Here's how to get started with SMS marketing:
Set Goals: Before you start sending messages, it's important to have a goal. Think about what you want your messages to achieve for your business. Are you looking to promote a new product or draw more people into your brand?


Grow your Audience: In order to send SMS marketing messages, you need to ask permission from your customers. You can ask people to sign up at your checkout, through an email, or by providing something of value (a lead magnet) in exchange for their phone number.


Segment your Audience: Once you've established your audience, you then need to break them down into groups. Segmenting your audience will allow you to send tailored, more relevant messages and have a higher chance of sales. Remember that your customers will be at varying stages of your sales funnel and have different reasons for engaging with your business.


Find a SMS marketing service: As a business owner, you don't have time to be manually texting your customers. An automated marketing software service is the way to go. Take the time to research and find a SMS marketing service that suits your business needs and budget.


Review: Once you've sent out your first few messages, take a look at your results to find ways to improve. Make adjustments to your strategy and test to see which types of messages resonate the best with your customers.
Best SMS Marketing Platforms for Ecommerce:
Klaviyo: Klaviyo integrates email and SMS marketing into one platform. It's easy to set up and automate text and email campaigns. Through Klaviyo, you can also track how well your SMS campaigns are performing. It's free to use for your first 50 customers.


Postscript:

Postscript features SMS marketing for Shopify stores, automation, segmentation, conversion, campaigns and ROI tracking. It offers a free trial, then prices start at one cent per message.
TextMagic: TextMagic features two-way SMS conversations, integrations, reporting and analytics and allows customers to unsubscribe. It starts with a free trial, then costs four cents per text.
Attentive: Attentive features triggered text messages, subscriber list growth tools (like sign-up forms), text campaigns, and ROI tracking. There's a free trial to get started, then pricing depends on which services you use.


SMS Bump: With SMS Bump, you can start SMS marketing for free. You can automate and schedule campaigns and integrate with their loyalty and rewards program.Setting up SMS marketing for your ecommerce business is easy. It's the perfect way to reach more customers and grow your business.
Looking for more advice on how to level up your marketing efforts for your ecommerce business? Margin is here.