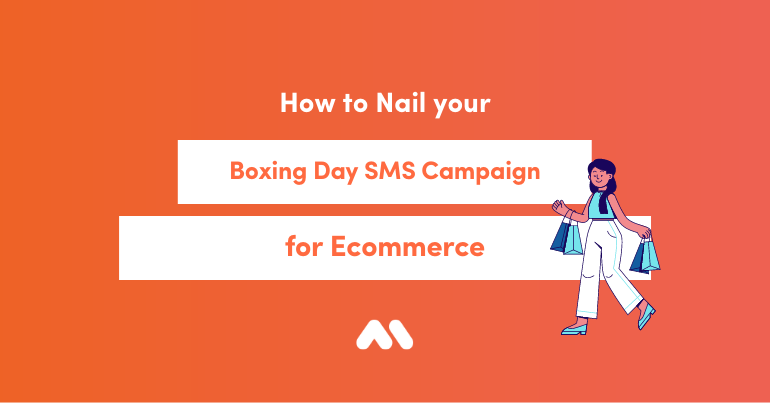 In all the mad rush of Christmas, it can be easy to set up your campaign and then think your work is done for the year. It's not! Remember, Boxing Day comes straight after Christmas, and is the perfect chance for you to make some serious sales.
Boxing Day is the gateway to the January sales, and a great way for you to make some last-minute money for the year. In ecommerce terms, December 26 is almost as important as Christmas itself.
Boxing Day is typically a day of relaxing, eating leftovers, watching the cricket, and indulging in online shopping. This makes it an opportunity to reach your customers right where they are: on their phones. SMS marketing can be the vehicle to drive your Boxing Day ecommerce sales.
SMS marketing has an open rate of 98% and a response time of 30 seconds. With the right SMS strategy, you can create a buzz for your Boxing Day sale and cut through the post-Christmas haze.
So, how effective is SMS marketing during the holiday season?
SMS marketing is essential to keep your brand front of mind this season. Use SMS to drive traffic to your online store and remind customers of your promotions. SMS marketing can be personalised, segmented, automated, and can include creative multimedia content.
There are many benefits to including SMS in your holiday campaigns for your ecommerce store. Through SMS marketing, you can:
Expand your reach
Drive traffic to your store
Build brand awareness
Establish loyal customers
Generate new customers
Streamline customer communication
Provide a seamless shopping experience
Provide customer service and support
Ask for feedback
If you're not including SMS in your holiday marketing campaigns, then you'll be missing out! Don't worry, it's not too late. Now is the perfect time to start planning your SMS ecommerce campaign for Christmas or Boxing Day.
So, how do you create a stunning Boxing Day SMS campaign?
Grab attention with visuals: On Boxing Day, grab your customers' attention through including visuals in your SMS. Include bright, appealing photos of your products and a clear call to action. This is a great way to increase traffic to your online store.

Source


Offer big discounts: Offering big discounts is a great way to stand out from the crowd. Remember, almost every brand will have a Boxing Day sale, so you will have to be competitive. For example, you can offer clearance discounts on stock that hasn't been selling well. However, getting the price right is important, because you don't want to be selling yourself short.
Make it short and sweet: Remember that your customers will likely be tired on Boxing Day, after their big Christmas party. They are also likely to be tired of shopping. Make sure your SMS is short and to the point to help reduce their fatigue and inspire them to visit your store.
Host a flash sale: If you're looking to quickly clear out excess stock, then try hosting a flash sale. Grab your customers' attention and leverage FOMO tactics with words like 'everything must go', 'today only' and 'last chance' in your SMS.

Source
Offer 'me time' deals: Boxing Day is also a great time to offer indulgent deals that spoil your customers. Appeal to their desire for some 'me time', selfish shopping. Promote your special products with words like 'exclusive', 'luxurious' and 'deluxe' in your SMS.
Use humour: Sometimes, Boxing Day has been known as the gift-returning day. You can tap into your customer's sense of dissatisfaction with their Christmas presents through tempting them with your sale. Use humour in your SMS to tickle their interest.
Countdown to the new year: Since Boxing Day is only a few days from the new year, it's the perfect time to persuade your customers to purchase something that will make their life better for 2022. Make your sale short so that they only have a limited time to reinvent themselves or their wardrobe for 2022. Also include FOMO tactics for a highly successful SMS campaign.


Automate: Boxing Day should be a relaxed day, so give your customers time to respond to your SMS. Set up and automate abandoned cart messages to remind them to make a purchase. Follow up with your customers the next day with a secondary offer like free shipping to encourage them to keep shopping.

Is your ecommerce business ready for Boxing Day?
Now that you've got some ideas, it's time to start putting your Boxing Day campaign together. Boxing Day is fast approaching, so here's some tips to set up your ecommerce store for success:
Prepare your Content:
Create a content calendar to get organised
Plan out copy and visuals for social posts, emails, SMS and blogs
Create specific landing pages for your sales
Prepare your Shop:
Prepare your website technically: ensure your website is updated, runs smoothly, and will be able to cope with increased traffic
Ensure your Shopify shop is ready to go and that checkout process is simple
Prepare delivery: check your stock levels and prepare shipping and delivery systems to cope with the increase volume of sales
Follow our tips to nail your Boxing Day SMS campaign and see sales soar for your ecommerce store.
Looking for more advice on how to recharge your marketing efforts for your ecommerce business? Talk to Margin.