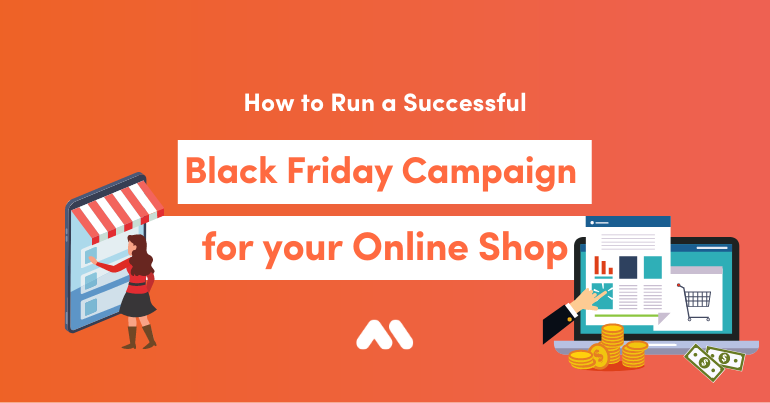 If you're running an online shop, now is the perfect time to start preparing your sales campaigns for Black Friday.
Held on Friday 26 November, Black Friday is an American sales event that is growing in popularity in Australia. The weekend is starting to overtake Boxing Day as the busiest retail event of the year.
Although we don't have Thanksgiving Day or the public holidays, Australians are jumping on the Black Friday trend and making the most of the sales.
In Australia, the name Black Friday can cause some confusion. Traditionally, the name Black Friday in Australia referred to the Victorian bushfires of 1939.
In 2017, a study found 1 in 4 Australians had never heard of the sales event. Now, 94% of Australians know about Black Friday, 77% know when it is, and 44% plan to take advantage of it.
Black Friday sales generally continue over the weekend, until the Monday after. Known as Cyber Monday, this is your last chance to grab a bargain.
So, why should you run a Black Friday campaign?
For most businesses, Black Friday and Cyber Monday bring a short-term spike in sales and new customers. It's a chance to boost revenue, but doesn't create lasting impact.
However, this doesn't have to be the case. With the right strategy, you can use Black Friday to acquire loyal customers who bring long-term value to your brand.
Engage with your customers through personalised interactions during your sales to make them feel valued and encourage them to return to your store later.
Black Friday is the perfect chance for you to generate brand awareness, build engagement and loyalty, acquire new customers, and increase your sales in the slump before the Christmas rush.
How do you run a successful Black Friday campaign for your online shop?
Make it personal: Personalising your campaign is a great way to cut through the noise and stand out from the crowd. Segment your customers based on their location, age, gender, purchase frequency, and then target your offers. Also think about what motivates them to make a purchase, if it's for themselves or as a gift.


Reach out through emails & socials: Promote your sale through email campaigns and social media posts to generate awareness, engagement and interest. Reaching your audiences ahead of the sale is crucial because you will be competing for their attention with thousands of other brands.

Source
Include SMS Marketing: SMS marketing allows you to cut through the noise and reach your customers directly in the moment. Compared to email marketing, SMS has a much higher open rate of

98%

. This is a great way to reach your customers during the competitive time of Black Friday. Learn more about SMS marketing in our recent

blog

.

Update your website: With the high volume of traffic expected on the day, it's critical to make sure your website and online store are running smoothly. Remember, your customers have a short attention span, and won't wait for a slow page to load. Also take the time to ensure your checkout process is smooth, efficient and easy to complete.

Extend your sale: Your Black Friday campaign doesn't have to be one-day only. You can extend it for the weekend to Cyber Monday or for a week, two weeks, or even a month. Special deals for a limited time can encourage visitors to buy through creating a sense of urgency. Customers who buy once and

32% more likely

to return, while customers who buy twice are

54% more likely

to return. With a well-planned campaign, you can keep customers returning to your shop for more deals.

Source

Include rewards & referrals: Include rewards in your campaigns to incentivise customers to make a purchase. For example, offer them 10% off their next purchase, free shipping, or buy-one-get-one-free deals for your latest products. Also, asking for referrals is a great way to acquire new, loyal customers. Referred customers spend

11% more on their first order

, are more likely to buy again, and are five times more likely to refer their friends too.


Offer special bundles: Offering exclusive bundles is an effective way to reach customers because it makes your sale feel more special. In ecommerce, customers are less likely to buy on impulse compared to at a physical store, so special bundles help to drive extra sales.

Source
Prepare delivery: Think about how your shipping and delivery systems will cope with a significant increase in sales on the day. Make sure you have enough of your best-selling products in stock and ready to go. If you have a multichannel store, offer options like click and collect to improve efficiency. Remember, more than

40%

of customers wouldn't recommend a brand if it had slow delivery.

Link to loyalty programs: After the sales are over, reach out to your subscribers with offers to join your loyalty program. This makes your customers feel valued, and helps to increase long-term customer retention.
Creative ideas to make your campaign stand out:
Your Black Friday and Cyber Monday campaigns will be in a hugely competitive market. Even if your campaign is super strategic and well-planned, if no one hears about it, then it won't be a success. Here are some quick creative ideas to make your campaign stand out from the crowd.
Create a gift guide
Write a related blog post
Create a teaser or sneak peek video
Partner with an influencer for social posts
Offer mystery rewards on your website
Create a mobile game/ app with surprise deals
Donate to a charity (this helps improve your reputation and entice customers who aren't interested in the sales)
Now is the perfect time to start creating your Black Friday and Cyber Monday sales campaigns. Start your promotion at least a month before the sales, so that your customers know what to expect.
A great first step is to create a content calendar to organise what content you are going to create, share and promote, and when. Plan your social posts, creative copy, visuals, emails, blogs and then think about how you can automate your campaign.
Get started now to make the most of this year's biggest ecommerce and retail event.
Looking for more advice on how to level up your marketing efforts for your ecommerce business? Margin is here.