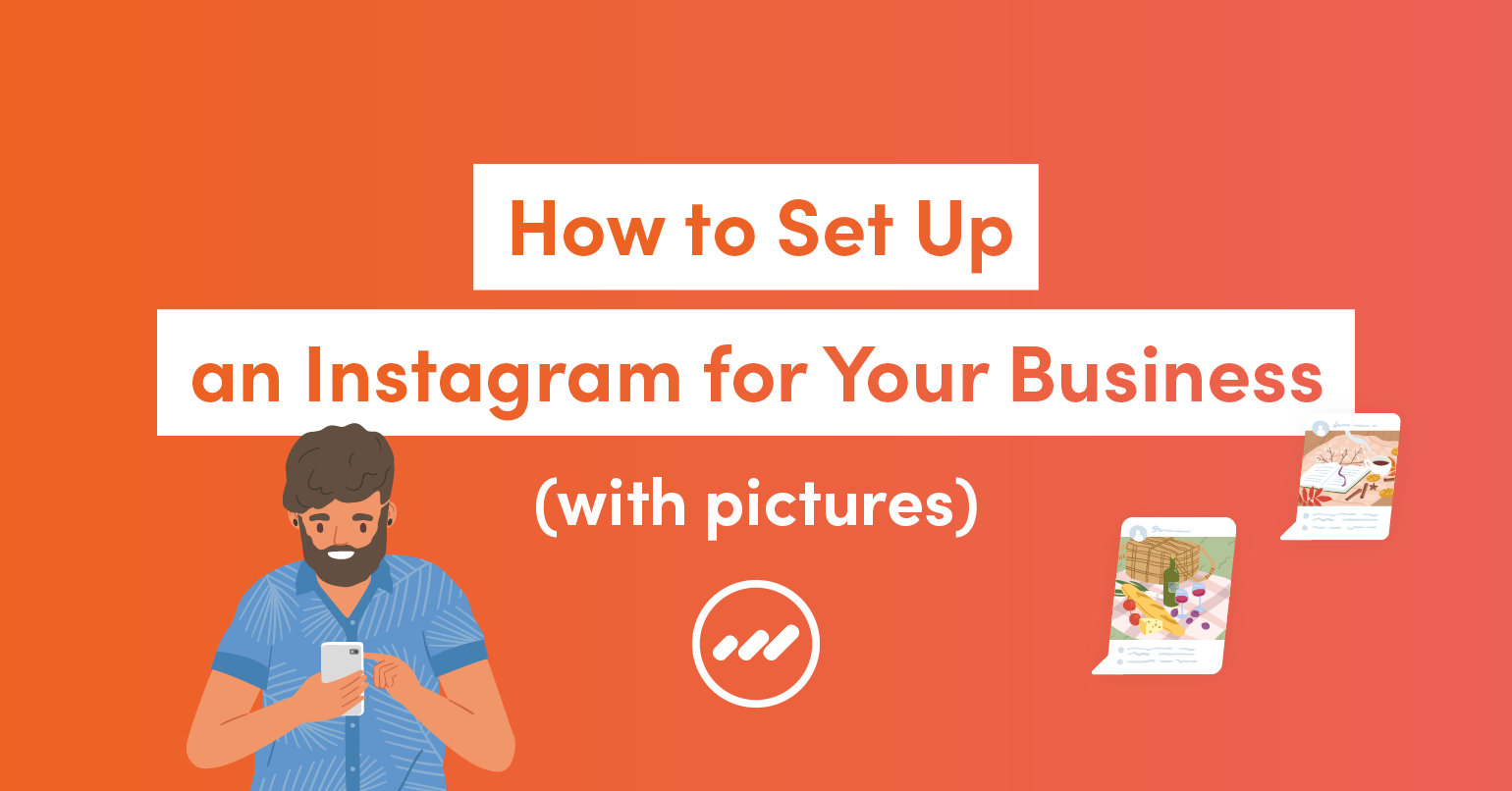 The rise of the internet has had a significant impact on small businesses...and not just in the way we sell or communicate with our customers but even in the way customers become aware we exist!
Every year seems to see the rise (and fall) of a new social media and you'd be forgiven for occasionally feeling fatigued by it all - there's a fair bit to keep up with!
Instagram...Facebook...Twitter. You may have used these platforms in your personal life but did you know all of these apps have special features if you have a business account?
We wrote a blog recently about setting up a Facebook Business account - check it out here.
If you're like me and plan for 2021 to be the year you start to take your business and talents to the next level, setting up professional social media accounts is the perfect place to start.
Before I go through the step-by-step, let's start with the 2 core questions to determine whether this is the next best step for you and your business.
1. How visible do I want my content to be?
While this may seem like an obvious one, it's worth noting regardless. When your Instagram account is being used for business, it is 100% visible to anyone who searches you. If you want potential followers to have to request to view your content, you'll need to change your account to a private account.
2. Who is your target market?
For the most part, Instagram is a strong performer when it comes to reaching a variety of different demographics however it is important to consider one particular identifier when it comes to any social media, and that identifier is age (or generation.)
Pew Research conducted a study into Social Media use across generations and found only 16% of Australians over the age of 50 reported using Instagram
In contrast, 71% of young Australians (18-24 years old) reported using Instagram
If you're trying to reach a more mature audience, it may be wise to focus your efforts on more traditional channels such as TV and Radio.
Now let's get down to the nitty-gritty!
Step 1. Create the Account
Make sure you have the Instagram app on your device.
If you're already signed in, find your display photo on the bottom right of the screen and hold your thumb on it.
Click on 'Add Account'
Select 'Create New Account
Following this, you will be asked to create a Username. This is how your customers will find your account. We suggest you use the name of your business. I will be using my full name as this is how employers/industry connections will find me.
Now it's time to create your password! Make sure it's something you remember….in fact, it might be best to write it down somewhere safe!
Congrats, you have officially made your Instagram account!
You're not done though!
The next couple of steps give you the keys to really making your business account a reflection of your business.
Next, Instagram will ask you if you'd like to connect to Facebook.
Skip this step for now.
Then, Instagram will ask you to find followers through your contacts.
Skip this step for now.
Following this, you will be asked to upload a display photo for your account.
Seeing as this account is for your business, it's best to use a logo or image associated with your business.
I'll be using a logo I made for my website.
You'll be asked if you'd like to 'share this photo as a post'
We suggest you turn this feature off.
Now you should be able to see your profile!
It's looking awfully bland isn't it….let's change that!
For our next step, select 'Edit Profile' and input the following information
Name: Type in the name of your business
Website: Copy and Paste the URL of your business website (if you have one)
Bio: Write a quick, punchy bio that sums up what you and your business offer. I'm keeping mine nice and simple
Step 2: Make the Account for Business.
Directly under these forms, you will notice a button that says 'Switch to Professional Account' - click on this!
From here, you'll be asked to select the category that best describes your business. I chose Digital Creator but obviously, this might not be the best fit for you. There are lots of options there!
You'll also be asked if you'd like to display this on your profile - we suggest you opt-in!
Anything that makes you more recognisable to your customers is never a bad thing.
Next step - you'll be asked if you're a Creator or Business. Select the second option that reads 'Business'
Make sure the information here is up to date and correct as it will be displayed publicly to assist in potential and current clients contacting you.
Now it's time to connect your Business Facebook Page
If you're yet to create a Facebook Page for your business, read our recent blog: How To Create The Perfect Facebook Business Page
I already had set up a Facebook Page so this bit was quite easy for me.
P.S. If you can't see your page here, make sure you're an admin of the page on Facebook.
Step 3: It's time to share our first post!
Get ready to introduce your business to the Instagram Universe.
There is a photo of myself that I based my logo on which I am going to share...however it may be more appropriate for your business if you use a photo of your product/service or perhaps a photo of your team.
Next, you'll be asked to write a caption. Don't overthink this too much as you'll be able to edit it later and if you continue to post regularly, the post will become hard to find.
In the caption for my first post, I introduced myself and my offerings. I also stated the reason for the account and invited viewers to follow me to stay up to date with my future work.
Instagram also allows you to add a location. We highly recommend you tag your location as the city you are in. We'll come back to this soon!
Make sure that sharing to Facebook is turned On.
….and press share!
Congrats! You're one step closer to being a big deal on Instagram.
Step 4: Build your Instagram Network
So now your Instagram is audience ready, we need to ensure we have an audience in the first place.
It's time to find some industry relevant accounts to follow.
Firstly you need to answer two questions…
What city do you live in?

What industry is your business in?
Eg. 'Marketing Brisbane'
Got that answer? Great!
Head to the explore page and type in your answer and then select 'tags'.
You should be shown a bunch of pages relevant to your industry and geological location.
We strongly suggest you follow these accounts even if they are known competitors.
This allows you to see what they're doing well and what you could do better.
But please...It goes without saying, don't steal other businesses' content.
Step 5: Keep your Instagram regularly updated.
While this is the last and probably most overlooked step, we would argue that it is the most important.
You don't need to be posting content every single day, but having a good bank of content ready to post is never a bad idea.
This could be photos of you and your team, catalog photos of your goods or quotes from industry heroes.
For my business page, I'm going to use a template to create a 'quote post'.
Using inspiring quotes from people I admire, I'm going to make 20 of these to have in my 'content bank'.
This way, I won't need to make a new one every time I want to post something.
Step 6: Final Notes and Alternative Content
So you've now got all the essential steps and tips for creating your business Instagram page!

Before we wrap it up, we've just got a few final notes.
Tagging your location.
We said we would come back to this! Tagging your location on Instagram significantly boosts your engagement rates.
Another great feature that uses location on Instagram is the ability to search for 'Places' in the Explore Tab.
Accessing this feature allows you to see the top posts in your local area and the profiles who posted them.
If you are looking to connect with influencers or to find local businesses for collaboration, this is a great tool.
You can also create your own custom location tag on Instagram.
Different Types of Posts
Posting on Instagram isn't limited to just photos.
As time has passed, Instagram has introduced many different ways to share content on the app.
These include:
IGTV

Carousels

Reels (I'll be writing a blog about these soon!)

Stories

Lives

Videos
Having a beautiful and inviting Instagram is crucial for the success of your business.
By reading these steps, you're now one step closer to a sales-boosting Insta!
Are you ready to take the next step?
Here at Margin, we want to take your business to the next level.
Don't just wing it. Get started with the right digital strategy. Choose the best digital channels for your products and services.
Book a FREE Digital Marketing Audit today.