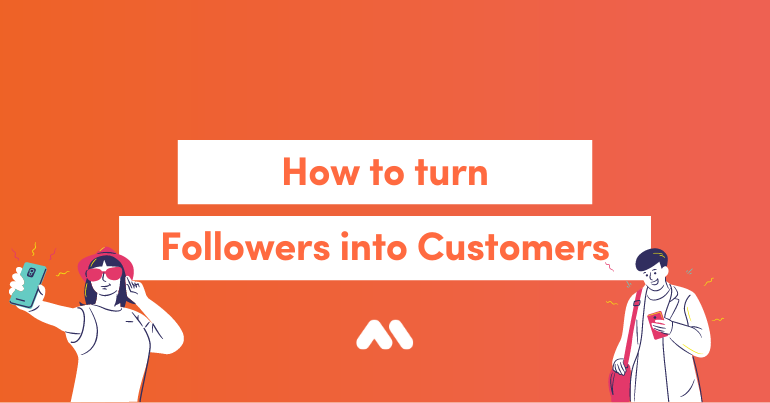 Running a social media strategy with a thriving audience feels great for your business. But, how do you turn these followers into loyal, paying customers?
If you're pumping out content and engaging with your audience but not seeing an increase in sales, then it can be hard to see ROI from your efforts.
Social media isn't just for building brand awareness, it can also be utilised for generating leads and making sales. So, social tactics can be leveraged at each stage of the marketing funnel, from awareness to consideration to decision.
So, how do you turn followers into customers?
Know your audience: Knowing your audience is crucial to convincing them to become customers. Think about their pain points, and how your product or service can solve them. Also aim to remove any barriers or friction towards buying your product and make the process easy for your customers.


Engage with your audience: Engaging with your followers on social media is important for building trust and a sense of community. Responding to any comments, questions or complaints also helps to establish

social proof

.


Share valuable and varied content: Create social content that resonates with your audience and provides valuable insight into your industry. Share a variety of content to keep your audience engaged, including company success stories, customer stories, product demonstrations, educational content, industry news, and more.


Post to a consistent schedule: Create a social media calendar to keep track of your content and posting schedule. Make sure to post when your audience is most active and most likely to respond.


Listen to the conversation: Social listening is an important tool for monitoring your brand's presence on social media. Pay attention to the conversations surrounding your business and industry, and respond to any specific mentions.


Audit and refine your strategy: Look at your social media analytics to see which content is performing best and which needs improvement. Taking the time to audit your strategy will help you to engage more strongly with your audience in future.
Another great way to convert social media followers into customers is through sharing lead magnets. A lead magnet is an irresistible bribe that gives specific value to a prospect in exchange for their contact details.
Lead magnets help to push prospects along the funnel, into leads and customers. Examples include: reports, ebooks, guides, toolkits, worksheets, podcasts, videos, free trials, free quotes, case studies, free consultations, product comparisons and loyalty programs.
Sharing lead magnets on socials is easy. Here's our 10 top tips for getting the most engagement with your lead magnet on Instagram, Twitter and Facebook:
Add a link to your bio: Your bio is the perfect place to highlight a link to your lead magnet. Also include hashtags and emojis for more engagement.

Source


Pin the post to the top of your feed: Pinning your post is the best way to ensure it doesn't get lost in your feed and that visitors will see it straight away.


Change CTA button: Think strategically about your Facebook page's call to action button. Make sure your CTA is aligned to your business goals. Designed to show your most important objective to your audience, the CTA button can be great for increasing conversions. Your CTA is one of the first features visitors see when they visit your page, so make sure it's updated for lead generation.


Source



Use cover photo, description & link:

Your cover photo is also a great way to appeal to new visitors. A well-designed, on-brand image really adds to the aesthetics of your page. However, you can also use the cover image for promoting your lead magnet. You can:

Add call to action copy and an arrow that points to your CTA button
Add a relevant and compelling description and link to your cover photo
Add a video cover

Promote CTA button: This is a paid Facebook ad feature which allows you to expand the reach of your CTA and encourage more people to convert. Learn more about how to set it up

here

.


Tease your lead magnet content in posts: Share small sections of the content from your lead magnet in posts to lure readers into wanting more. Show them the value of your content, without giving too much away.


Create lead generation ads: Lead generation ads are a paid Facebook feature that allow you to convert customers within Facebook. Customers can click through and fill out a form without leaving the platform. This is a great way to reach leads, because it's simple and easy to complete, and so reduces friction.


Source
Promote multiple times: Social media posts have a very short shelf life. On most platforms, your posts will only reach your audience for a few hours. So, if you only post once, you're missing out on reaching a huge part of your audience. To make sure your page doesn't feel like spam or too focused on sales, mix up your posts with other content. Remember your lead magnet solves a problem for you customers, they need and want to see it.


Use Facebook Live: Creating live video content on Facebook Live is another great way to reach your customers and drive traffic to your lead magnet. Before launching your livestream, make sure you have chosen a topic related to your lead magnet. During the session, provide value to viewers through instructing them about the topic and answering questions. Then, just include links in the comments section to your lead magnet or ask viewers to message you with their details.


Create Stories: Creating stories on Facebook and Instagram provides a visual way to engage with your audiences and share your lead magnet. Simply add an image or a short video and overlay some text with 'link in bio'. Also include hashtags to help viewers link your content.
So, now you've got our tips on how to turn your social followers into customers with the help of lead magnets, it's your turn. Try out our ideas to see your social conversions soar.
Looking for more social media marketing? You've come to the right place.