As part of our LinkedIn Knowledge Series, we're looking at everything LinkedIn Marketing, from beginners guides to advertising best practices, and we're kicking off with our guide to use Sales Navigator like a marketing pro.
What is Sales Navigator?
Sales Navigator is one of LinkedIn's Premium service options. Upgrading your account does cost more, but you have access to a larger set of tools specifically for sales and marketing.
It provides marketers with more extensive user details and advanced search and filtering options, so you are able to find more qualified and relevant prospects for your business. And any marketer will know that reaching the right people is one of the biggest challenges.
The service is available for a 30-day free trial, so you can test the features out before committing to it. After that however, the service starts at around US $80 for a month.
The platform is separate, so you'll create a new account and anything you do on your account won't affect your LinkedIn page.
Pro Tips to kick-start your account:
1) Take your time with set-up
When you first sign into your account, you will be given the option to set your targeting preferences, like what vertical, regions, and job titles you want to target. You also have the option of saving your existing LinkedIn connections as leads.
In this initial process you can also sync with your Salesforce account and import your accounts and contacts, as well as see companies that Sales Navigator suggests for you. Take your time with this process and fill out as much information as possible. Don't skimp on the info, that way you can get the most out of your account and can hit the ground running once you're all setup.
2) Find and save the right leads
Once you've set your preferences, you can search for new prospects, and the best part, save them for future reference.
Searching for prospects is easy, just click in the search bar at the top of the page, or for advanced search filters, click on Lead Builder to the right of the search bar.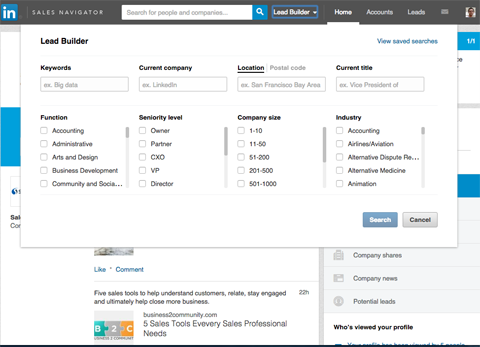 Lead Builder allows you to search for job titles ("sales manager") or companies ("Microsoft") and use the various filters to refine your search.
Once you've searched for prospects and found one relevant to your buyer persona, you can save them as a lead by clicking on the Save as Lead button next to each result. This way you can keep up to date with your prospects and track the most recent updates and news related to them on your home page.
You also have the option to save the search itself, so you won't have to refill all the search criteria the next time around.
3) Utilise TeamLink
TeamLink is only available through the slightly more expensive option of a team account, which allows you to send 30 InMail messages per month (rather than 15 with the professional account).
But the real advantage of TeamLink is that it allows you to tap into prospects who meet your search criteria but also share an acquaintance with you, be it first or second-degree.
This filtering option helps you find the strongest path to someone you'd like to meet by showing you the best routes to an introduction. Those routes can be through your direct connections and through people on your sales team, even if you aren't directly connected.
4) Tag your prospects
You may start to build a long list of prospects in your account, so the best way to keep track of them is with tagging. You can add tags and leave notes on every lead in your account, and create custom tags to align with your terminology.

Once you've identified a qualified contact, you can tag them by role (like "decision maker", "marketing exec") and then leave yourself notes (like specifics of their role or how they've been interacting with your brand).
It's a simple but often overlooked feature and it's the best way to keep track of your movements and identify unique objectives or tactics for different contacts.
5) Download the mobile app
You might not be at your desk all day, every day, so the app version of Sales Navigator is a good way to keep up-to-date while you're on the go.
You'll be sent updates about saved accounts and leads, like when they publish a new post, show up in the press, or share a company update. You can use this information to reach out to them quickly and while it's still relevant, rather than when it's all forgotten.
You can also see daily account and lead recommendations and browse profiles, then send InMail and messages on the go, so you don't miss the chance to interact with a prospect at important or relevant times.