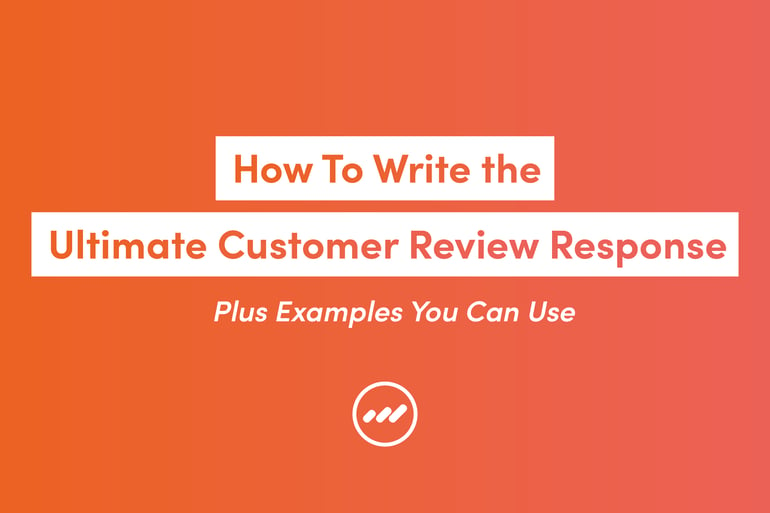 Customer reviews can be both positive and negative; and with the constant increase in social media usage, reviews are often left online for the public to see.
Customers are more likely to make an immediate decision on whether or not they want to involve themselves with a company based on the reviews of others' experiences.
As the title of this blog suggests, we are going to teach you How To Write The Ultimate Customer Review Response- Plus Examples You Can Use for your business.
How To Respond To Negative Reviews
Receiving and responding to negative reviews is difficult for every business, however there is an appropriate way to approach your response to a customer that may leave a negative review:
Address the customer directly beginning with, "Dear [INSERT CUSTOMER NAME]," and then continue to add onto the response with an apology and a call to action (What you will do to compensate for the customer); "Thank you for your feedback. We are deeply sorry for the inconvenience and we aim to not make this mistake again. We will get you in touch shortly with [INSERT NAME OF DIRECTOR OR BUSINESS OPERATOR], in the meantime if you have any other queries or concerns please do not hesitate to contact our team directly, we hope that in the future we can give yourself and every other customer the positive outcome you deserve." Lastly, you can conclude by stating that you wish them a nice day and look forward to getting in touch with them soon.
Whilst negative reviews may make you or your staff feel disheartened, as shown above, it is important to keep your cool, make the customer feel valued and reassure them that they are a priority to your company. You aren't always going to receive positive reviews, so the best thing you can do is be timely in your responses and keep professional!
Check out our blog post for further information about Complaints On Social Media- How Should Your Brand Respond?
How To Respond To Neutral Reviews
Neutral reviews, as you might imagine, frequently combine positive comments with negative feedback.
It's important to reinforce the positive comments at the beginning of a response to a neutral review, for example: "Thank you for your response [CUSTOMER NAME], we are pleased to hear that you enjoyed your service." In a neutral comment there will always be a "however" statement, so ensure you then follow up by saying, "We are sorry to hear you weren't fully impressed with [xyz], please do not hesitate to get in touch with us via [CONTACT]. We look forward to hearing from you about ways we can improve and make your experience completely valuable next time."
Similar to the negative review response, you need to apologise for the lack of fulfillment and offer the customer the opportunity to discuss things further with a staff member or operator of the company. This reinforces the importance of making the customer feel valued by the company.
How To Respond To Positive Reviews
As a business owner, responding to positive reviews is VITAL in reinforcing the appreciation you have for loyal and happy customers. It's also an opportunity for your business to grow!
Show your appreciation for the customer/ client that took the time to write a positive review; not only does their review make you a happy business owner, the customer has just helped your business rankings! Ultimately, great reviews serve as proof for attracting potential new customers and influencing their decision making process.
Based on ReviewTrackers, expressing gratitude to customers through review responses makes them feel valued, therefore they are more likely to want to help your business grow with their reviews in the future!
One way of expressing gratitude is by saying, "Thank you for the kind words, we are looking forward to continuing to have you as a client for the years to come."
If a positive comment about a certain employee is made, be sure to state that you will pass along the compliment, this makes the customer feel they are being listened to. "We will definitely pass the compliment along to [NAME OF EMPLOYEE]."
"It is great to hear such supportive feedback from you, as our constant hard work and effort is paying off to deliver you the most positive experience possible!"
Have a read of our blog which details 5 Ways To Strong Customer Service On Social Media.
No matter what review may be left on either your website or a review website, there will always be an appropriate response that you can make. Noticing and resolving certain issues that may arise in reviews shows that your company really values its customers, loyal or new.
And of course responding to positive reviews further reinforces your appreciation for your customers! The worst thing you can do is not reply at all.