As of May this year, Instagram has 5 million monthly active Australian users. That's a lot people posting and engaging with images every month.
It's not surprising that image based apps like Instagram and Twitter are still on the rise, with visual content 40 times more likely to get shared on social networks than any other type of content.
But what types of images get the most engagement? How can brands optimise their posts to reach the most users?
There are certain image types that get shared and liked more than others,
Here's 9 that you can use to help build your brand on Instagram:
1. Inspirational quotes
Whether you think they're cheesy or not, inspirational quotes generate a lot of engagement and are a great way to connect with people.
The best kinds are motivational or touch on a universal subject to connect with followers.
These types of posts are great for businesses in the fitness, sports, fashion, or entrepreneurial industries. Take Lululemon's post below.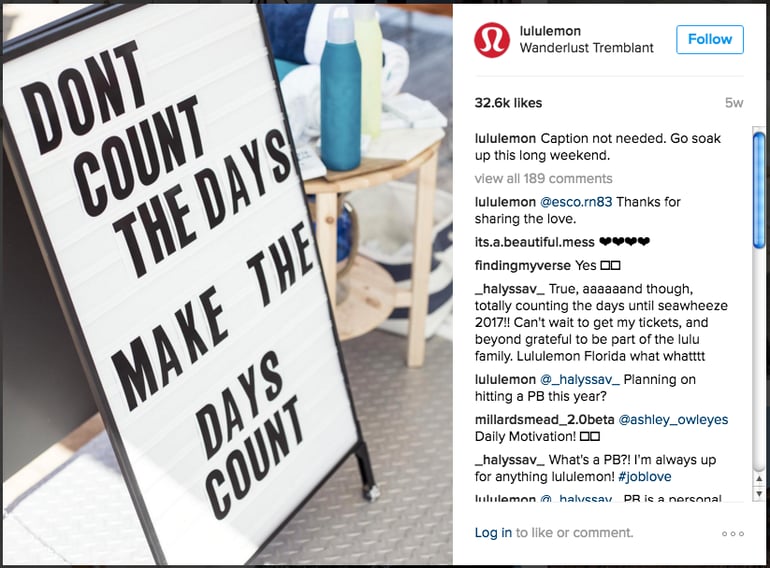 2. Food
Food never fails to generate engagement, no matter the platform. Our blog about 10 Of The Best Australian Food Blogs remains one of our most popular posts.
There's something about good photos of delicious looking food that inspire people to like, comment, and share.
It's easy to see why Australian account talinegabriel is so popular.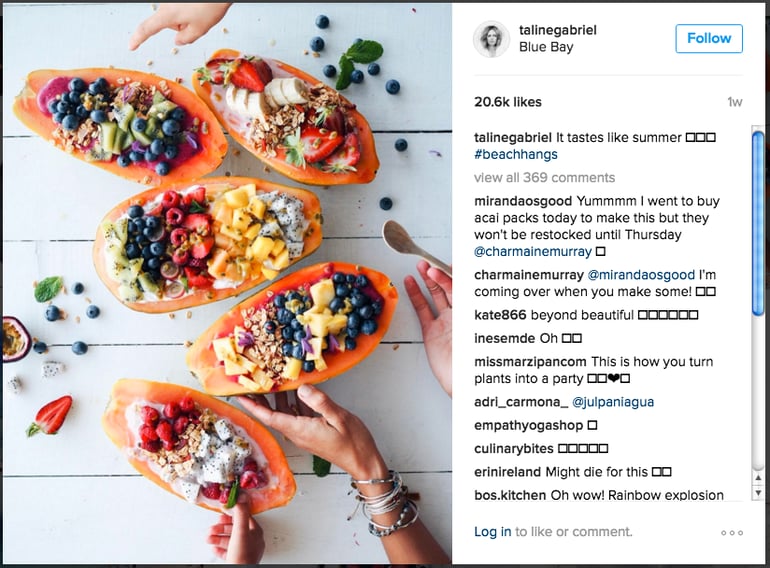 3. Human faces
Posting faces is a great way to show the human side of your brand. People will connect in a more emotional way to photos of real people.
Not only could it work for selling your product, but it's a good opportunity to show yourself or your employees in a down to earth way.
Take Subway, for example: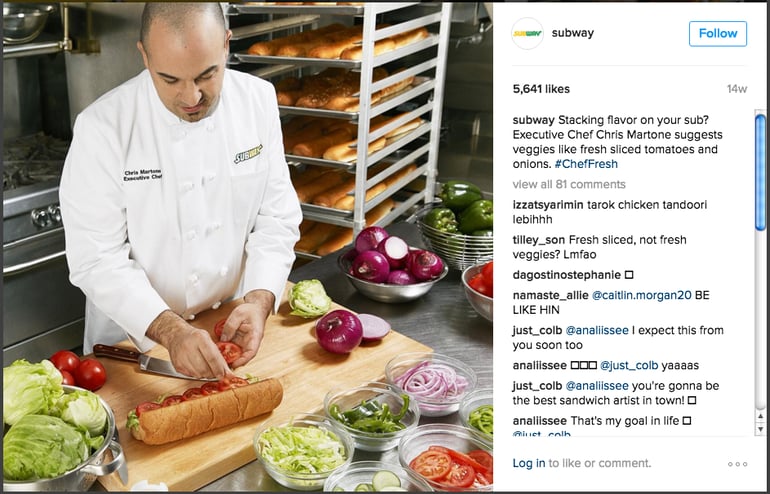 4. Landscapes and scenery
A beautiful photo of landscapes or scenery always stands out in people's feeds. Sometimes it's a nice change from all the selfies.
Even if your business doesn't have anything to do with the outdoors, you can incorporate landscape and scenery images to get any kind of message across.
Australia on Instagram use landscapes really well to inspire people to travel.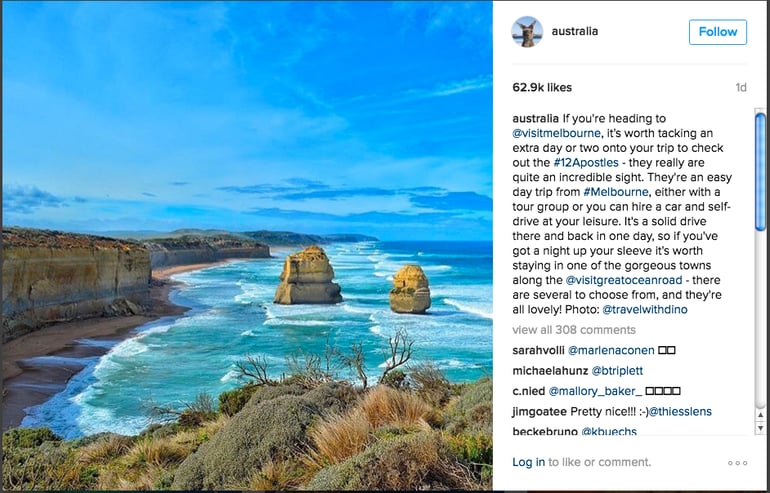 5. User-generated images
Sharing images from your followers or customers is a great way to show that you care about them and what they think about your business.
There's no better way of promoting your business than getting your happy customers to do it for you.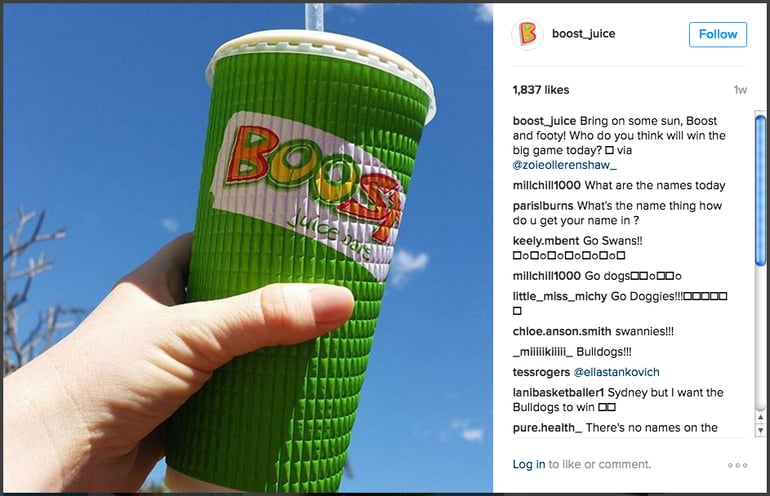 6. Animals
This one's pretty obvious. Never before have pictures of puppies or funny cat videos been so popular on the web and on mobile. Everyone is an animal lover, and cute, funny, or touching images of animals are instantly shareable.
NatGeo are one of the best.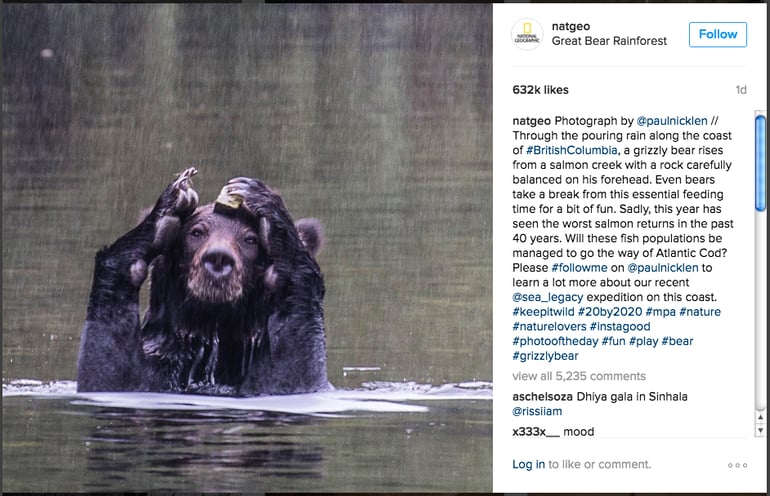 7. Behind-the-scenes
Giving your followers a behind-the-scenes look into your business is a great way to show the human side of your company.
It's a great way to make human connections with people and show all the work that goes into making your product or service happen.
The Print Bar from Brisbane do this really well.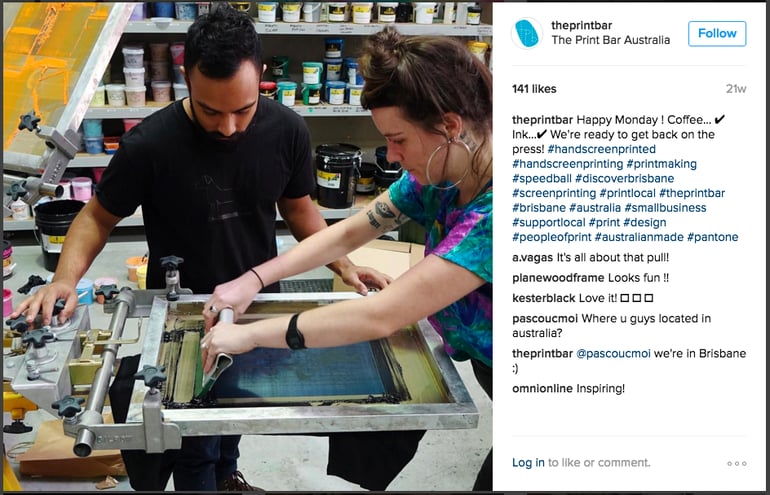 8. What's trending
Although there's a limited used by date for content like this, tapping into what's trending at the time can boost interaction and engagement with your brand.
It's a great opportunity to make the most of trending hashtags as well.
Take the Pokemon Go craze as an example, nearly everyone jumped on board.
9. Videos
Now that Instagram has Stories, videos have become even more popular on the platform.
Videos capture attention and are a great way to get people to linger over your posts, rather than scrolling quickly through.
You can also see how many people have viewed your video, as well as the likes, which is a great way to see how far your brand is reaching.
Eat Street Markets' videos always get great engagement.