For thousands of not-for-profit organisations, the key revenue they generate is through collection stalls in shopping centres. Blinded by the illusion that digital campaigns need excessive money or education, these organisations are missing out on desperately needed funding by not embracing a digital profile. However, for a number of savvy charities, incorporating a digital media platform in their marketing mix has provided incredible results, enabling their important messages to be shared worldwide. Here are five great examples of not-for-profits that have excelled at digital public relations.
1. Kony 2012 - Invisible Children
We could not start this discussion without mentioning Kony 2012, the viral marketing leader of 2012. Beginning with this powerful YouTube video, the organisation tested the power of the internet by seeing how fast they could spread information about notorious war criminal Joseph Kony and the invisible children. In six days, the film reached over 100 million views, with 3.7 million pledging support for his arrest in a week. This is not considering the thousands of marches and protests worldwide. By utilising digital media, Invisible Children proved that education is key, and if you have a passionate cause, the people will follow.
2. Because of Them, We Can - Por Ellos, Si Podemos
Because of them, We Can creator and photographer Eunique Jones Gibson has launched a new art-based digital campaign, in an effort to eradicate the negative stereotypes of the Latino community in media. Focusing on influential Latinos, such as astronaut Ellen Ochoa, musician Carlos Santana, actress Eva Longoria, and Judge Sonia Sotomayor, the series poses children dressed up as these people, along with inspirational quotes.
As explained by the artist, "It is a movement and my full-time mission at this point. As long as there are trailblazers past and present to highlight, stereotypes to refute and children to inspire, you can count on seeing these images." Furthermore, with the viral quality these sort of images possess, it will help to further spread the message and minimise discrimination worldwide.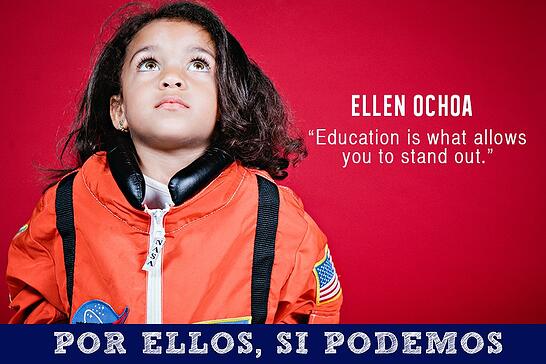 3. Be More Heroic
The schoolyard can be a difficult and sometimes dangerous place for over a quarter of school students, due to the devastating actions of bullying. Now, with the added 24-hour access the internet provides, many students don't feel safe, even in their own homes. US anti-bullying foundation, Be More Heroic, has teamed up with social media platform Yappie (previously Dubbler) to create an anonymous safe space for students to interact, featuring voice dubs, images, music and photos.
Co-founder Sierra Dowd explains:
"Everyone's talking about [bullying], and no one is doing something [emphasis added]. The funny thing is, bullies and victims have so many similarities. In the end we all want to be loved, we all want to be respected, we all want to be happy. Why are we destroying each other?"
By allowing anonymous interaction, Be More Heroics grants victims a space to engage, resolve, and make positive strides together. It even allows bullies, who are often victims of bullying themselves, to make amends and better themselves.
4. Heifer International
In 2012, global hunger organisation Heifer International was the first not-for-profit organisation to release a digital magazine for tablet devices. Named World Ark, the publication falls somewhere between a magazine and catalogue, featuring reports on sustainable development; showcases of the work Heifer does; as well as gifts readers can purchase for impoverished families internationally, such as pigs, chickens and stoves. Available on the App Store and Google Play, providing e-commerce with information is an innovative way for a not-for-profit to expand their message and mission.
5. Do Something
One of the only ways to make a change is to educate and inspire the youthful leaders of tomorrow. Unfortunately, in the case of not-for-profits, it is illegal to recruit anyone under the age of majority (the age in which someone becomes legally classed an adult - in Australia this is 18 years of age).
Do Something is aiming to bridge this gap, enabling teens to contribute to social change. After registering, teenagers can create and contribute to a number of local projects, all of which do not require an adult, money, or a car. From educating seniors on the internet to helping bring a stop to bullying, Do Something empowers teenages to be the change they want to be, and showing it's never too early to contribute to a better future.
If you'd like to keep up-to-date on the latest marketing and tech news, be sure to subscribe to our blog via email. You can find the subscription box to the right on this page.
Margin Media is an inbound marketing company based in Brisbane. We offer a range of digital marketing solutions to help your business increase its website traffic, qualified leads and customer base. To find out more about our services, visit our home page.