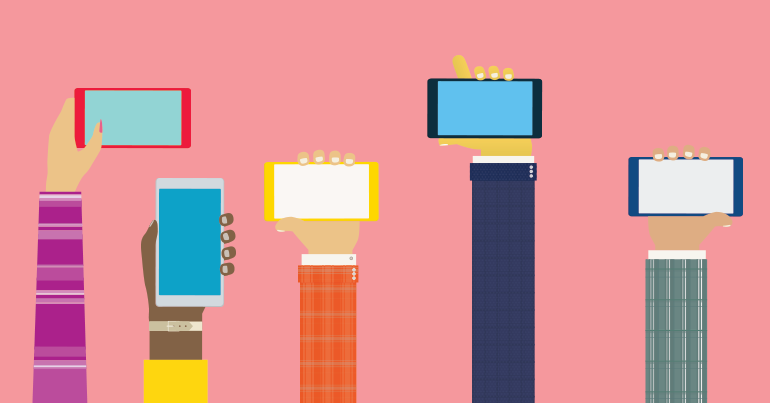 Just like parents, major athletes and Beyoncé; a digital marketer is always switched on.
We can try to avoid technology when we get home from work but the reality is for some business professionals, it is hard to leave all of your work at the office, and if you work from home it is even harder to create balance and space; especially when you have multiple projects happening at once.
At times, we forget about our mental health and overall wellness. If you are one of those people who finds it challenging to switch off once you leave the office or maybe you just want to find better ways to balance your career and personal life, then this article is for you.
Below we have combined 3 mobile phone apps that can help ease you into a slightly less stressful life, one that allows you to enjoy quality relaxation time and possibly binge a new Netflix Original series (I can vouch for Stranger Things!).
Headspace
Headspace is an app that focuses on mental health and meditation. Their whole philosophy is that "Brilliant things happen in calm minds". Being on technology means our minds are constantly running and makes it nearly impossible to switch off. I was skeptical about using meditation as a way to unwind as I feared that sitting quietly with my thoughts for 10 minutes would ultimately cause more stress.

Gladly, I felt the opposite.
Meditation is linked to productivity, efficiency and focus as well as stress relief - all great advantages to business professionals and everyone in general. At times it can often feel like there isn't enough time in the day, let alone a spare 10 minutes, but by using Headspace's guided meditation you can enhance your overall productiveness, and, more importantly, calm and focus your mind for better mental wellbeing.
You can meditate anywhere!
Wunderlist
Wunderlist is the easiest way to keep on top of professional and personal agendas. Whether you're planning a much needed holiday or overseeing multiple projects, this app keeps your life in check by making it easier to plan and prioritise your commitments.
Having a virtual planner like Wunderlist, allows you to also share your to-do list with others. If you have a team that needs to know your whereabouts, you can share your meeting schedule. If you have a significant other that doesn't often go grocery shopping, you can also share the shopping list with them. See, easy!
Expressing what you need to accomplish by planning and displaying your agenda into a well organised calendar, not only helps to clear your mind but it also lifts productivity. If you are traditionalist and typically prefer a paper diary to lug around; try downloading this app. It may just change your mind.
Sprout Social
If you would like to leave your work at the office and keep your weekends stress free and away from updating social media, then this app is something you should already have.
Sprout Social not only allows you to plan and compose your social posts months in advance, it also lets you schedule your posts to be uploaded! You can schedule everything from Facebook to Google+ (ooops, too soon?). While it is a great tool for composing and planning, you should also utilise their analytics to track your engagement and effectiveness of your content - only on weekdays to keep your sanity.
The only downside is that this app does not directly upload your Instagram posts but still allows you to schedule your content and notifies you when the time is ready to upload.
If you can plan enough content for your week and weekend, this application will take the work out of remembering to post, and give you some much needed free time away from your phone and computer.
Thanks to the constant stream of new and innovative apps being developed for business professionals, it is becoming more achievable to lead a less stressful and more balanced life. By planning and being aware of your mental wellbeing, you can boost your efficiency and create a calmer environment when you're not at the office.