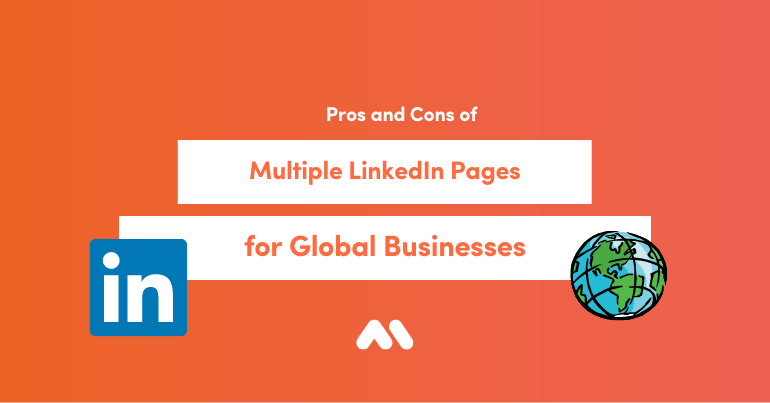 If your business is trying to reach customers all over the world, then having a standout LinkedIn company page is crucial.
With the right strategy, you can use LinkedIn to share content, build brand awareness and connect with customers across the globe.
Around 800 million people use LinkedIn worldwide. According to research by Hubspot, LinkedIn is known to generate leads 277% more effectively than Facebook and Twitter.
This means if your business isn't there, then you're missing out! A LinkedIn company page is an essential addition to your marketing toolkit.
Why should I create a LinkedIn Company Page?
Having a LinkedIn company page can bring your business many benefits. Through your business' page, you can:
Amplify your brand
Build brand perception and awareness
Connect with your customers
Reach your target audience
Share content
Drive traffic to your website
Gain SEO rankings
Stand out from competitors
Establish social proof and reputation
Create public relations opportunities
To get the most out of your LinkedIn company page, you need to ensure it reaches the right people. One way to achieve this is to create a dedicated LinkedIn company page for each country or region your business serves.
Instead of having one global page, you can create distinct pages that are relevant and engaging for local audiences. To set this up, all you need to do is create a separate LinkedIn account for each country.
Does my business need multiple LinkedIn Pages?
There are many benefits to having multiple LinkedIn company pages for your business. Here's just a few to get you thinking.
Pros:
Localise your brand: Instead of seeing your brand as a global giant, customers will be able to see your brand as an approachable local business. People who visit your pages will easily be able to tell if your business is active in their local area. This helps to build brand awareness and establish your presence in that country.

Having localised pages is important for connecting with your customers. With a local page, you can tailor the language, tone, and humour of your content to suit that audience. This is not just about engagement, it's also important so that you can be sensitive and not cause offence. For example, a joke that's funny in Australia may sound very different to an international audience.
Create a distinct feel: While it's important to keep your branding consistent across all your pages, you can also use them to create a distinct feel for each country. Tailor each page to suit its region. Think about how your products or services are used in that country, and what makes it a unique market.

Share targeted and relevant content: With multiple pages, you can share targeted content. When you post updates, you can

target

them to reach specific geographic locations, languages, industries, organisation size, functions and more. This helps to ensure your content reaches the right people

Increase local engagement: Creating unique LinkedIn pages for each country can help to increase local engagement with your business. This is because audiences enjoy reading content that resonates with their interests or experiences.

If you just have a global page, audiences can lose interest. For example, if you post about summer in Australia and people who read it are currently experiencing winter in the US, then they won't be interested. If you only share about summer on your dedicated LinkedIn Australia page, then this will help increase local engagement.

Speak to audiences in their language: Translating your page into the right language can improve your customer's user experience and make them feel more at home. Having multilingual pages can increase your online visibility, improve communication and accessibility, establish credibility and build trust with your audience.

On LinkedIn, you can display your

page's name, description and tagline

in over 20 languages. Members will be able to see your page in a language that's specific to their region.
Create a sense of community: Each LinkedIn page you have can represent their local market while being connected to your major brand. This can help to create a sense of community in each region and make your brand more approachable.

Connect with local culture: Through having multiple pages, you can share content that connects with each local culture. For example, you can post about festivals, holidays, special days and cultural events currently happening in your area. This helps to establish your brand's reputation as culturally aware and active.
Cons:
Having multiple LinkedIn pages can bring some challenges. These include:
Dilutes your brand
Leads to repetitive or inconsistent content
Requires more work for your team
For global businesses, we think the positives of having multiple LinkedIn pages far outweigh the negatives. Creating a distinct LinkedIn presence in each country that your business serves is a great way to connect with your customers.
Now that you know how to level up your LinkedIn company pages, it's time to get started. Follow these tips to see your LinkedIn community grow and your leads soar.
Are you ready to grow your business? Talk to Margin.